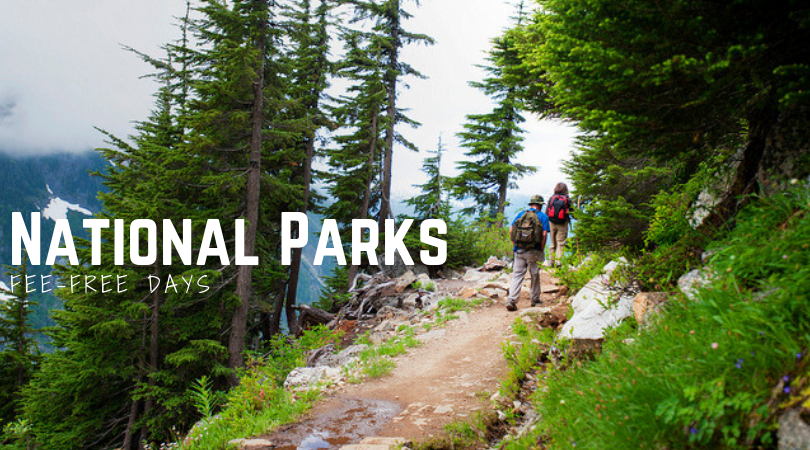 On a budget?  Our National Parks offer free admission days for 2019. The number of fee-free days has been reduced from ten days under the Obama administration to only five days under the Trump administration, so you'll definitely want these days marked on your calendars!
Free U.S. National Park Admission Days for 2019
Monday, January 21 – Martin Luther King, Jr. Day
Saturday, April 20 – Start of National Park Week / National Junior Ranger Day
Sunday, August 25 – National Park Service Anniversary
Saturday, September 28 – National Public Lands Day
Monday, November 11 – Veterans Day
Note: The waiver of the fee applies only to entrance fees. It does not include fees for camping or other special uses.
Which Parks to Visit?
In the Pacific Northwest, we have four major national parks:
Mount Rainier National Park (Washington) – Find out when you'll enjoy Peak Wildflower Season at Mt. Rainier National Park
North Cascades National Park (Washington) – Read about our Favorite Hike in North Cascades National Park
Olympic National Park (Washington) – Check out our Road Trip Around Olympic National Park
Crater Lake National Park (Oregon) – Read about Off-Season Fun at Crater Lake National Park
There are dozens of other sites — national monuments, historical parks and preserves  — that are managed by the National Park Service as well. 
Some of these other sites are always fee-free, such as the John Day Fossil Beds National Monument (Oregon). Others require an entrance fee, including Mount. St. Helens National Volcanic Monument and the National Historic Oregon Trail Interpretive Center.
photo: Cascade Pass Trail, courtesy of North Cascades National Park
photo: Cascade Pass Trail, courtesy of North Cascades National Park