Dear TripFinder,
I would love to find a good orchard near Seattle to go cherry picking with my kids. I am willing to drive 2-3 hours. My goal is to buy tons of (ideally organic) cherries to make jam. I would be fun if there was a bit more than just cherry picking – a petting zoo, hay ride or farm tour would be icing on the cake.
Thanks, Heather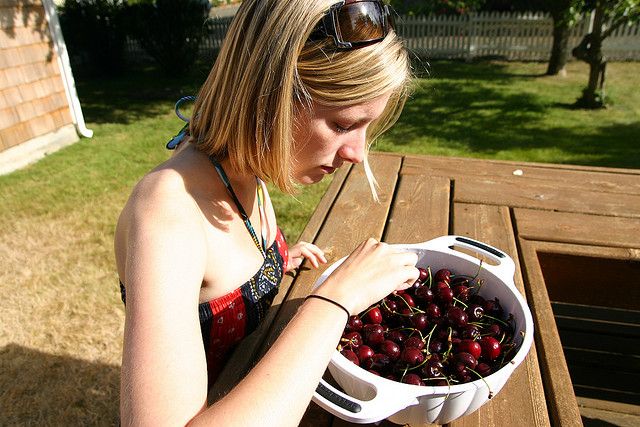 Dear Heather,
We're fortunate to have some of the juiciest cherries in the world in Eastern Washington, and there's nothing tastier than a cherry you've just picked yourself. Get your cherry pitter ready, because I found some great options for cherry picking not far from Seattle in the Yakima Valley!
A popular U-pick orchard for juicy bing and beautiful rainier cherries is Barrett Orchards (1209 Pecks Canyon Road – Yakima, (509) 966-1275). U-pick for cherries starts June 23, 2018. Their Cherry Festival is the first weekend of July 2018. While not certified organic, practice organic growing methods. The farm also grows other fruit (like strawberries) and has a sweet farm store of goodies to eat and housewares.
Another spot is Bill's Berry Farm (organic) (3674 N. County Line Road, Grandview, 509-882-3200). Ride their haywagon out to the orchard, followed up by a BBQ lunch and a fresh cherry donut. They've even got a petting zoo. Pick cherries into July.
By the way, the best online informational resource for finding U-pick farms year-round in Washington is pickyourown.org. It's updated regularly, though I would love to see them improve the user interface a bit – it's tricky to find what you're looking for but keep digging.
Got a burning travel question? You ask, we'll answer.