No doubt, this is an exciting week for outdoor enthusiasts. Some public lands
have now opened up
for hiking, boating, and fishing (with
safety guidelines
), and more will follow soon. However, the new coronavirus hasn't gone anywhere, so maintaining physical distance from one another is still crucial. Plus, we're being asked to stay as close to home as we can when choosing a hiking trail.
All this means your most popular nearby trail is probably the last place you'll want to take a hike, because we need to spread out. So where to go?
Enter the new guidebook series from the Mountaineers Books: Urban Trails Guidebooks.  There's a book for nearly every urban region within the Pacific Northwest that is packed with close-to-home trails, a range of city and county parks and greenspaces to close-in state parks and other lands. I can guarantee your region's book will have several trails and natural areas you've never heard of, or at least that you've rarely visited. The bottom line is, if you're an explorer who'd love to stay active over the next many months as we continue to deal with this new coronavirus, you're going to want a wide variety of hikes close-to-home, and this guidebook series will put those hikes right into your hand. Obviously this book series was created long before the pandemic turned our lives upside down, but it is almost as if they are tailor-made for this socially-distanced, stay-close-to-home time in our lives.
All of these books can be purchased online at Amazon and even for Amazon Kindle, so you don't have to wait for a copy to arrive via shipping. You'll also find them at your local indie bookstore, which is a great place to buy them when they re-open as indie bookstores are hurting from the shuttered economy.

COVID-19: How to Explore Nature Without Leaving Your Neighborhood   | COVID-19: Which Northwest Public Lands are Opening, and Guidelines for Using Them
Below I highlight trails from a few of these great Urban Trails guidebooks that are quieter alternatives to the most well-trodden hikes in your region.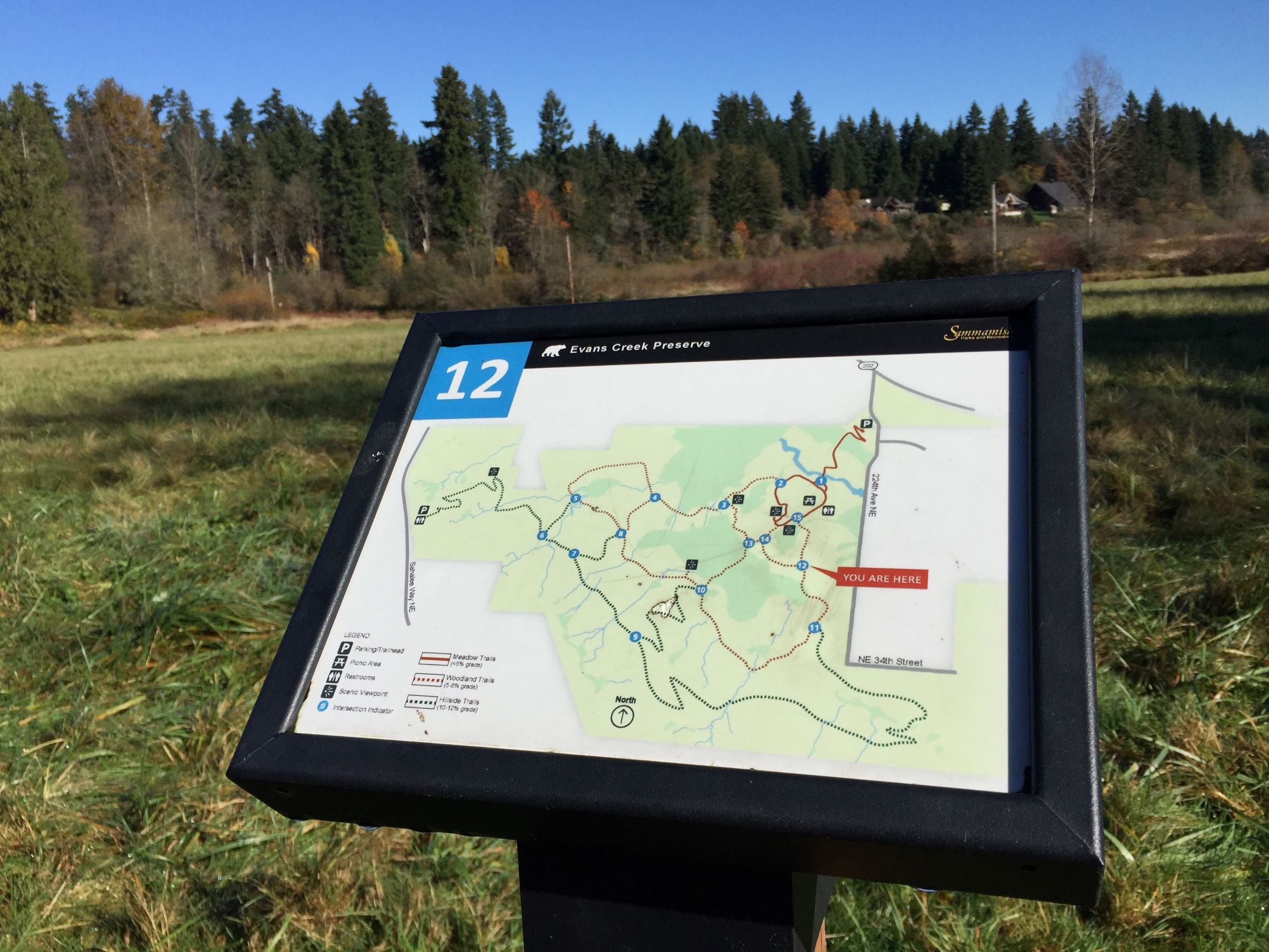 URBAN TRAILS: Eastside – Bellevue, Issaquah Alps, Redmond, Snoqualmie Valley, by Craig Romano
As tech jobs fueled new housing developments in the cities east of Lake Washington, demand for nearby places to hike, ride mountain bikes and enjoy nature skyrocketed, leading to the preservation of lands and the construction of trails to explore them. Many trails in this book came to be over the past two decades, and while some weather hundreds of boots per day, others will give you some quiet solitude.
Instead of Marymoore Park, try Evans Creek Preserve (Trail #31  in the book). Up to 3.5 miles of mostly-easy trails which can be looped take you through diverse habitats for birds, butterflies, frogs and other critters (hello, black bear!), from open meadow to upland forest.
Instead of Juanita Bay Park, try Hazel Wolf Wetlands (Trail #33 in the book). Over 3 easy miles of trail and boardwalk lead you through bird-loving boggy forest and wetlands, where yellow warblers serenade you and great blue herons stalk their prey.
Instead of Rattlesnake Ledge, try Big Tree Ridge (Trail #38 in the book). At 4.4 miles round-trip and 1350 feet gain, this hike on the less-visited side of Cougar Mountain ends in the aptly-named Million Dollar View.
URBAN TRAILS: Seattle – plus Shoreline, Renton, Kent, Vashon Island, by Craig Romano
We're the most populous city in the Northwest, and we're ready to get outside! Seattle is blessed with huge urban parks and gorgeous beaches, but we've all seen photos of Green Lake, Alki Beach and Golden Gardens brimming with unmasked masses these past few weeks.  Are there wild places around the city to spread out?
Try birdwatching at the Union Bay Natural Area (Trail #14 in the book). About 1.5 miles of trails wend through swamp, tall grass, deciduous woods and marshy shoreline atop this capped old landfill by the UW, well-known as the best spot to see a variety of birds within the Seattle city limits.
Grab your bike or scooter and head to the paved, nearly 6-mile long Soos Creek Trail (Trail #40 in the book), a long sliver of nature that bisects Kent Valley suburbia.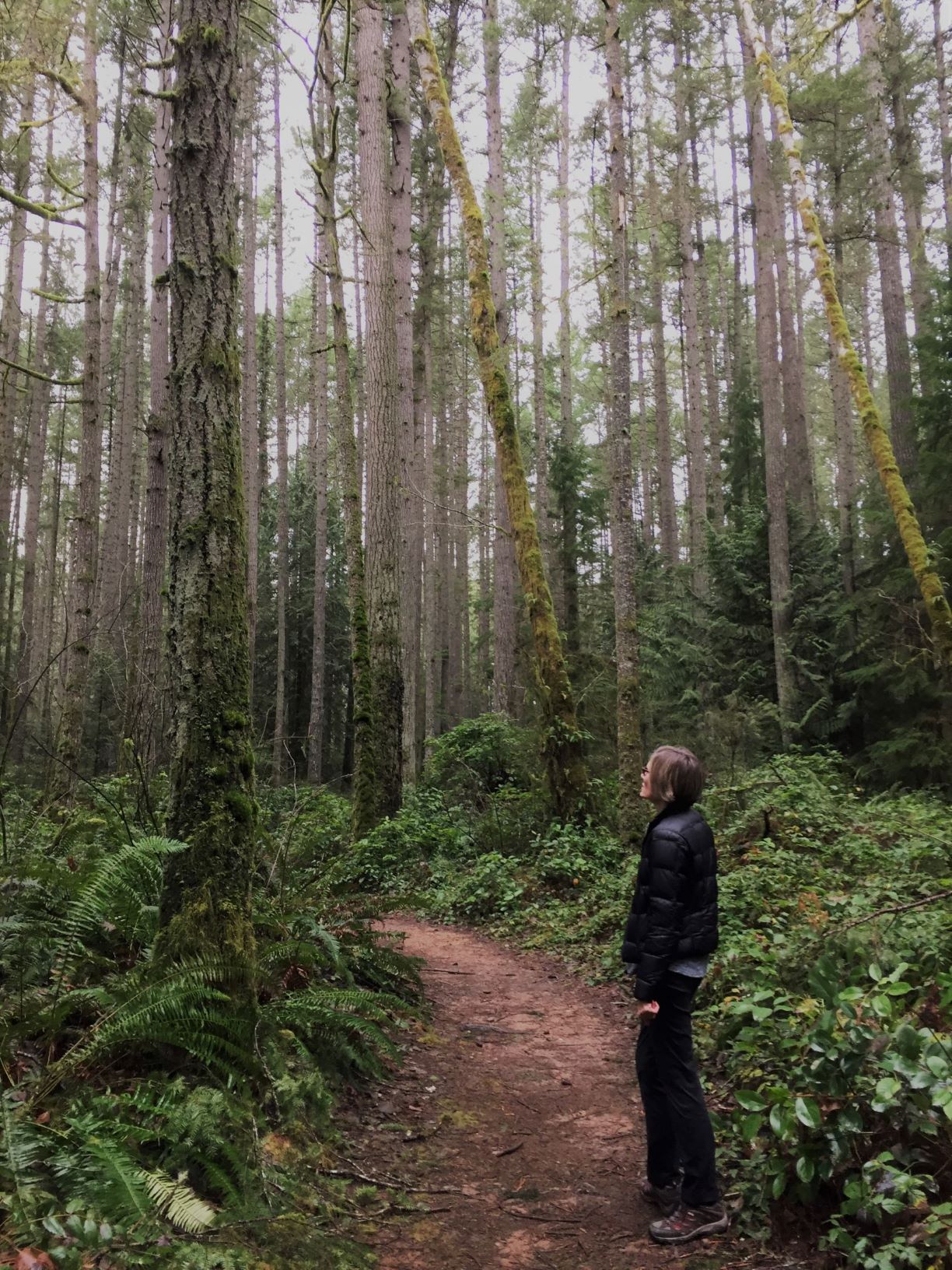 URBAN TRAILS: Kitsap – plus Bainbridge Island, Key Peninsula, Bremerton, Gig Harbor, by Craig Romano
There are plenty of wild places to avoid crowds on the west side of Puget Sound, but the trail up to the summit of Green Mountain isn't one of them. Fortunately, this book features 35 other trails.
On Bainbridge Island, Grand Forest Park (Trail #33 in the book) gives you eight miles of looping, quiet trails that skirt alongside verdant ponds and old homesteads, over bridges and across a meadow.
Banner Forest Heritage Park (Trail #10 in the book) is over 600 acres of second-growth forest in between port Orchard and Gig Harbor. With nearly 30 miles of trails for hiking, running and mountain biking, it's easy to find solitude.
URBAN TRAILS: Everett – plus Whidbey Island, Camano Island, Western Snohomish County, by Craig Romano
Does summertime in Jet City mean boarding the small foot ferry to Jetty Island's sunny beach to fly a kite and build sandcastles? Save it for next summer! This book features plenty of options to get outside where you can be socially-distanced.
You won't see many people but  may come upon forest critters on the Japanese Gulch Loop Trail (Trail #9 in the book), an emerald canyon that abuts the sprawling Boeing complex in Everett.
River Meadows Park (Trail #24 in the book) This former homestead still has an orchard with old-growth fruit trees, plus miles of trails to roam through a huge meadow, cedar forest and alongside the Stillaguamish River.
URBAN TRAILS: Tacoma – plus Federal Way, Auburn, Puyallup, and Anderson Island, by Craig Romano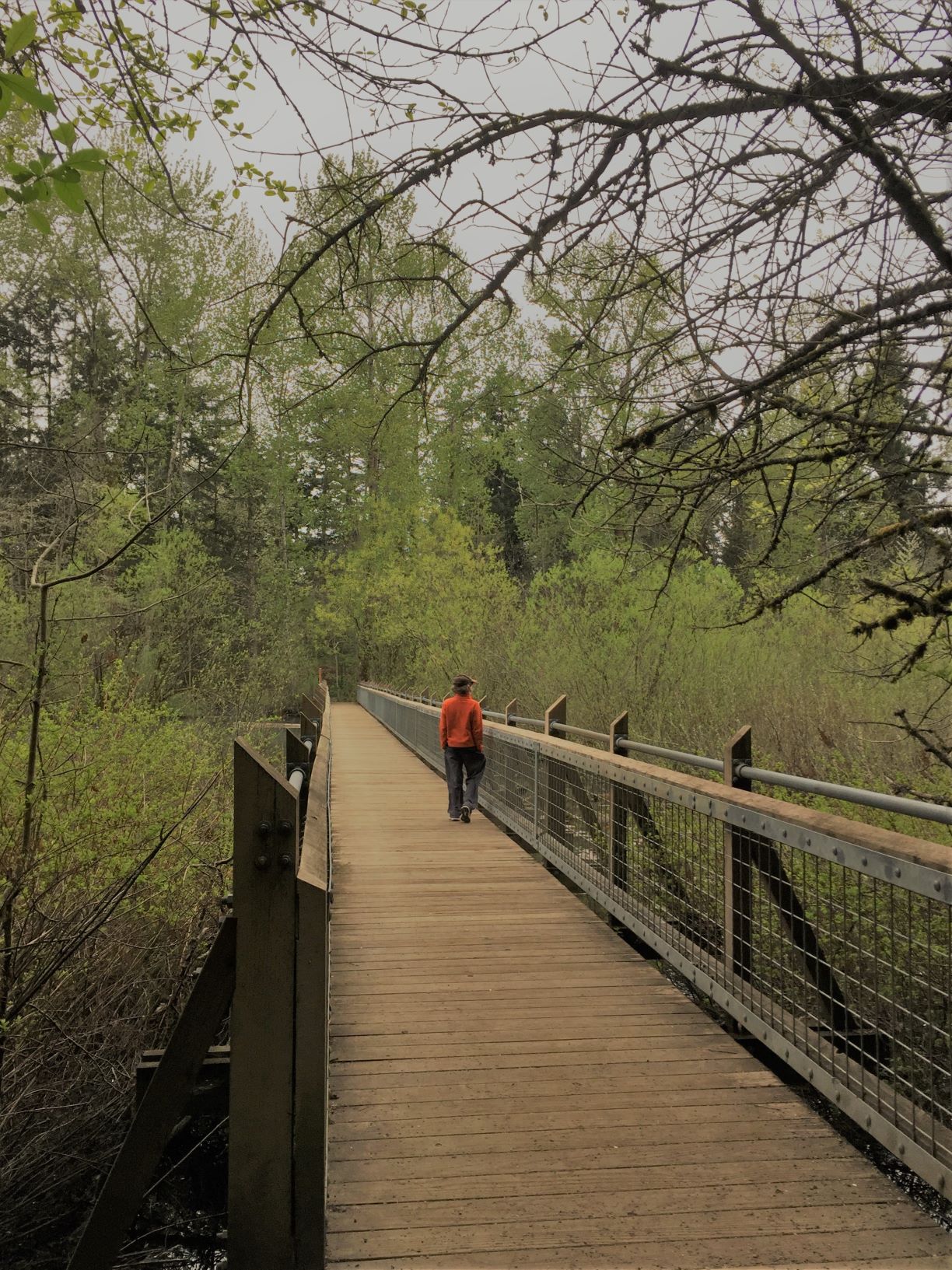 On a sunny summer afternoon, the place to be in Tacoma is the easy, breezy Ruston Way waterfront park. But everyone else is there, too. And although you can reach solitude in many parts of Pt. Defiance Park, you must travel some well-trodden paths to get there. Fortunately, the Tacoma area is dotted with many secret swaths of nature.
If your legs want a climb, try the Puget Creek Natural Area (Trail #4 in the book) which is a nice forested path up (or down) a ravine and alongside a salmon-spawning creek in north Tacoma.
South of the Narrows Bridge is Titlow Beach Park (Trail #5 in the book) where about three miles of trails loop you around two lagoons, through some deciduous woods, and along the rocky beach which boasts some nice tidepools at low tide. Both Amtrak and freight trains barrel through here a few times per hour, which tends to keep the crowds away except for the spray park and playground area.
Snake Lake (Trail #7 in the book) is adjacent to the Tacoma Nature Center and has long had an affiliation with the local Audubon chapter, which might give you a hint how fantastic this loop trail is for birding. Bring binoculars and enjoy the interpretive nature signs along the two miles of trail.
URBAN TRAILS: Bellingham – Chuckanut Mountains, Western Whatcom, Skagit Valley, by Craig Romano
You can bet the trail up to the summit of Oyster Dome will be anything but uncrowded. But it's not too much of a challenge to find a quiet trail or spacious beachfront path to keep a safe distance from others in this corner of north Puget Sound.
The South Bay Trail (Trail #1 in the book) connects downtown Bellingham to the Fairhaven neighborhood via Boulevard Park. This is no ordinary waterfront stroll–two lengthy portions of the trail are on rebuilt railroad trestle that spans open water, wide enough to stay safely socially distanced if you keep moving. Come here to watch the sun set over Bellingham Bay and the Olympics.
See a cascade in the city. Whatcom Falls Park (Trail #5 in the book) is 240 acres of shady forest, a tumbling creek and a lagoon that provides habitat for dabbling ducks, plus more than five miles of trails that pass four cascading waterfalls on Whatcom Creek.
Stimpson Family Nature Reserve (Trail #20 in the book) near Lake Whatcom is a wonderful, peaceful escape for quiet contemplation in these crazy times. Four miles of trails take you through mature woods and around wildlife-loving wetlands.
URBAN TRAILS: Olympia – plus Capitol State Forest, Shelton, Harstine Island, by Craig Romano
Crowded parks lead to closed parks, warns the city of Olympia's parks department. From grassy prairie to open shoreline, the South Sound has plenty of spots for everyone to spread out.
Instead of Nisqually National Wildlife Refuge, try the Scatter Creek Wildlife Area (Trail #27 in the book), over 1,000 acres of rare prairie habitat managed by WDFW. The grasslands here are native glacial outwash prairie and you might spot birds unique to this habitat like Lazuli Bunting and Horned Lark.
Harstine Island State Park (Trail #35 in the book) is for solitude seekers who want to roam a cobble beach at low tide without sharing the awesome views of Mt. Rainier and nearby McMicken Island.
URBAN TRAILS: Portland – plus Beaverton, Lake Oswego, Troutdale by Eli Boschetto
Portland is a wild city, with lots of urban nature for hiking, biking, kayaking, and social distancing.
It's pretty easy to find distance in Portland's sprawling Forest Park (Trails 9-13 in the book) because it's one of the largest urban city parks in America, over 5,100 acres (by comparison, Central Park in New York City is about 840 acres) and has over 80 miles of trails.
One of my favorite places in Bridge City is the first place I ever visited there, the Portland Audubon Sanctuary (Trail #1 in the book) on the southern edge of Forest Park. Over four miles of trails through quiet, still forest transport you into nature to the beat of a woodpeckers' drumming and the warbler's sweet singing.
Tualatin River National Wildlife Refuge (Trail #32 in the book) has 4.5 miles of trails and several unique wildlife habitats, including wetlands, open water and oak prairie. On a morning walk you'll see lots of shorebirds, waterfowl, warblers, woodpeckers and more.
Coming Soon: URBAN TRAILS: Vancouver, WA (Longview, Battle Ground, Camas, Yacolt Burn State Forest) and URBAN TRAILS: Spokane (Coeur d'Alene, Kootenai County, Centennial Trail) are available now for pre-order, will release on October 1, 2020.