You have heard me go on and on about my adoration for farmer's markets before. My friends will tell you that I drag them for miles off a previously-planned itinerary if I see a sign for one.
But this past weekend, it was my friend Susan who spotted it first. We were on our way to Port Townsend for a wedding when suddenly, she swerved the car off of the road and whipped it around. I followed her gaze and that's when I saw two rows of popup tents and pickup trucks. Susan smiled slyly. "You want to stop, right?"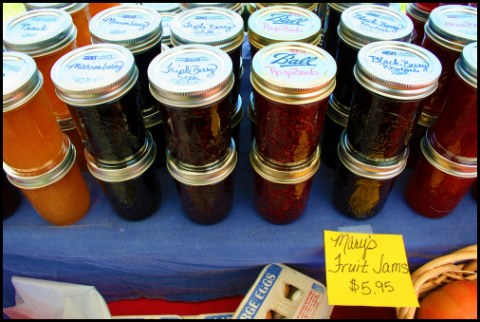 Course I did.
A wonderful farmer's market should be one of the first things they consider when they do those livability lists. I mean, sure we need great parks and good schools, too, but I thank my lucky stars for access to organic produce, farm-fresh eggs and homemade jams.  And with farmer's markets three days a week, well the Port Townsend area has got to rank as one of the most livable places on earth.
I might live there someday, but this weekend was just a visit. A good friend was getting married in the afternoon at Fort Worden State Park, but there was a bit of time yet to explore around the Quimper Peninsula on the way.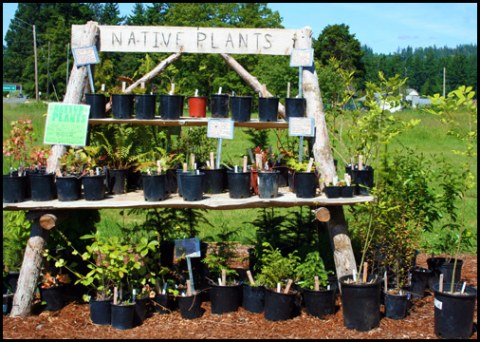 It seemed we'd stumbled upon the Chimacum Farmer's Market as it was just getting underway. My rumbling stomach was immediately pulled in several directions. Metro Bagels was our first stop, where correctly-proportioned bagels were piled deliciously into oversized jars. They'd been freshly made that morning, boiled of course, perfectly browned on the outside and beautiful. I took a 'parmesan' and an 'everything' to go.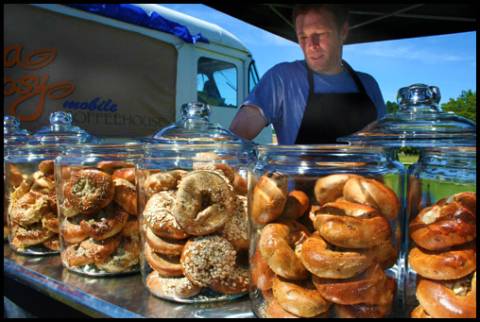 Mary Brackney's fruit jams from Wildwood Farms down in Quilcene was the next attraction. Choosing two jams, my self-imposed limit, proved difficult. I needed one reliable fave, so I chose peach. And I wanted a unique variety, too. Rhubarb sauce, maybe. Or apricot. But then I saw the tomato jam, and that was it. Mary's husband Pete grows all the fruit on their homestead. All of it. I wish I'd have bought six jars and not two.
The Port Townsend area has three ciderhouses, and all three had booths at the farmer's market. Susan and I steered clear of them. See, we had plans to visit a cidery or two after lunch, before the ceremony. I'll tell you all about that another time. But for now, for all you cider fans, I have this.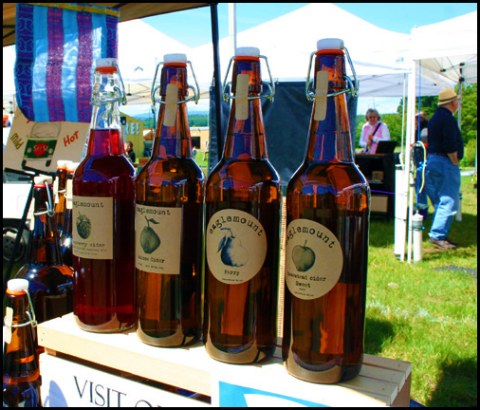 Beautiful, huh?
The Chimacum Farmer's Market (map) is every Sunday 10am-3pm, June through the end of October. Many of the vendors also attend two other markets in the area – both are in Port Townsend on Wednesdays (3-6pm) and Saturdays (9am-2pm).
Come hungry.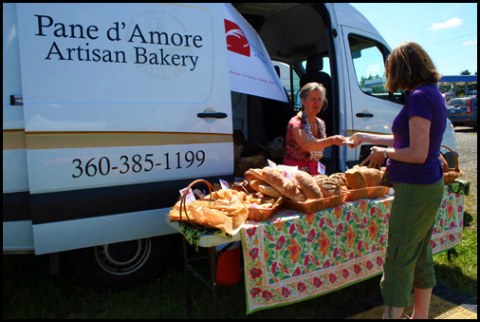 Looking to make it an overnight? Check out our past post, Port Townsend Sleeps.