Is wine totally passé?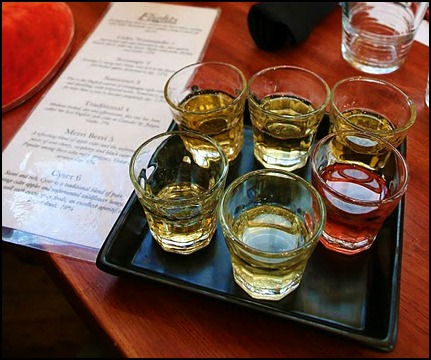 That's a cider flight. Before our lunchtime stop at Merridale Cider in Vancouver Island's Cowichan Valley a few months ago, I couldn't have told you a single thing about English-style craft cider. Now, I'll tell you a thing or two. It rocks with food. Really good cider (and Merridale's  is really good cider) can pair with seafood or a salad vinaigrette as well as or better than any good Riesling or Sauvignon Blanc. This cider is more robust than wine, yet more refined than beer.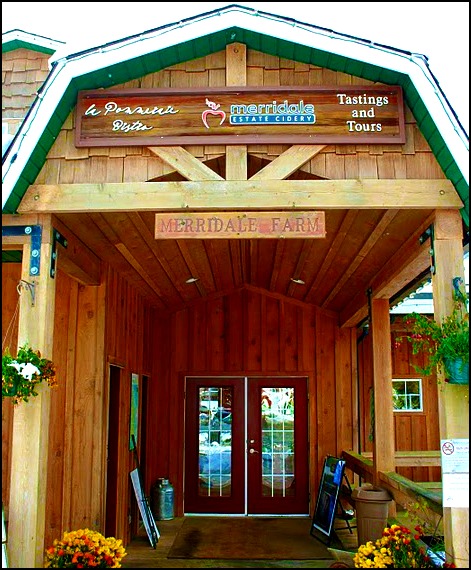 Also, great ciders like Merridale's don't use just any old apples. Merridale's ciders are made from heritage varieties of English and French cider apples with wonderful varietal names like Dabinett and Frequin Rouge. They use only 100% pure juice to make their cider, and they don't double press– and only the first pressing is used. Then, they allow for slow and natural fermentation. These are their secrets to craft cider this good. We were fortunate enough to learn these secrets from one of the owners of Merridale, Janet Docherty. Janet and her husband, Rick Pipes, bought Merridale cidery and orchard in 2000, though the cidery had been in operation since 1990. Craft cidery is clearly a labor of love for Janet and Rick, and their enthusiasm for the craft extends beyond their own business; Janet is an enthusiastic and involved advocate for BC's agritourism community.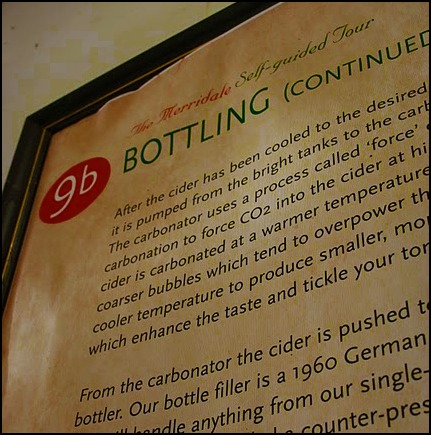 Merridale Cidery is well-known for its cider throughout the region; they're BC's first estate cidery and really, truly know what they're doing, and do it so well. But there's more. We also tasted their apple brandy, a perfect finish to the amazing lunch we had in their bistro. Yep – Merridale also has a brandy distillery and an on-site bistro! You'll find a spa, too, where you can get your facial in an upscale yurt. And they do patio wood-fired pizza nights. And they host weddings. I'm telling you, this place is something else.
When you go, you have to make time to tour the distillery, because you have to see this.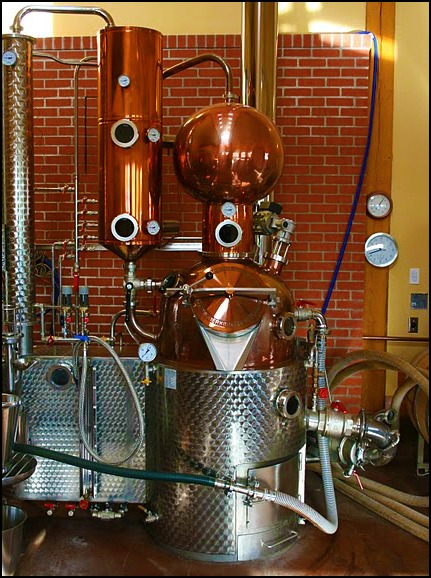 I felt a little like getting a tour of Willy Wonka's Chocolate Factory, and I'm sure my eyes were as wide. This is a still, a hand-crafted Mueller still from Germany that Merridale uses to make their brandy. Brandies are made by carefully fermenting the fruit and then distilling.
So, what did we love? Almost everything we tasted. Of all of Merridale's ciders, these were our favorites.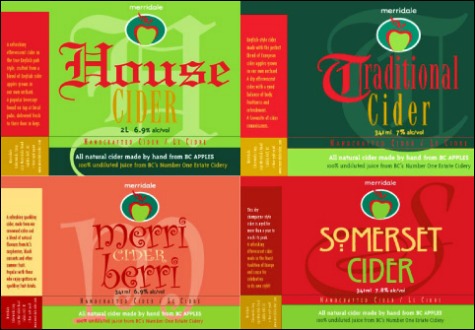 Want a taste? Merridale Cider and the rest of the Cowichan Valley are a short sidetrip from Victoria or Nanaimo. The ciderhouse is open Mon thru Sun, 10:30am to 5:00pm.
For more great travel photos, check out today's Photo Friday over at Delicious Baby.