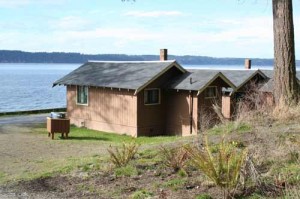 For those of you lucky enough to have an upcoming trip planned to Cama Beach State Park's cool waterfront cabins, we've got some tips to help you make the most of your cabin stay. Our associate Lesley just returned from a quiet, peaceful three-night stay in a waterfront cabin, and shares her impressions and practical tips below.

My overall impression of the cabins at Cama Beach State Park? They live up to the hype. This is an incredible escape during the off-season months.  The value is simply sensational (our deluxe waterfront cabin was just $41 a night–about half the price we'd have paid in the summer months).
This is not luxury living; a basic cabin stay at Cama Beach is just a notch or two up from a deluxe camping trip, but the amenities sure feel like luxuries during the winter months compared to winter camping:  an actual roof over your head, heat, on-demand hot water, electricity, and refrigeration. If you're looking to keep a few more of the conveniences of home, the Deluxe cabins offer a great value at just a few additional dollars per night over the Basic cabins.  In addition to all that the Basic cabins provide, the Deluxe cabins have a bathroom with a shower, a phone, and internet access.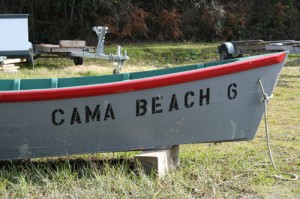 We were blessed with mild and mostly dry weather during our February visit. We also enjoyed plenty of solitude–there were only a handful of other visitors there during our stay. The cards and board games we brought along came in handy, and we spent a lot of time sitting outside, taking in the views and the water, or stargazing at night.  Even in poor weather, we would've had an excellent vantage point for the view; the kitchen table looks out the front window right onto the beach. I wished there were a covered front porch large enough to sit on, though.
The price of these cabins literally doubles in the summer months, which slightly diminishes the value for me.  The park is far more crowded then, too.  Personally, I'd rather camp in a tent in the summer. I think Cama Beach is particularly attractive to families in the summer because  your kids will have other kids to play with, the Park sponsors educational programs, and you can grill out. And to stay on the beach an hour from Seattle, what more can you ask for, really?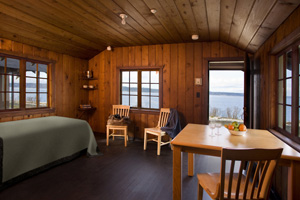 If you go, here are a few practical tips.
There are no cars allowed near the cabins. You'll park your car at one of several parking lots up on a hill above the waterfront. There is a shuttle van available during "business" hours (ending at 6pm) that will cart you and your stuff down to the beach.  To get the shuttle, you may have to call a number provided to you in your check-in materials, and it will pick you up at the upper parking lot with your luggage and take you to your cabin.
Will you arrive after 6pm? Be prepared to carry your luggage down a steep, possibly wet hill, possibly in the dark, to your cabin.  Luckily, we didn't pack a lot and were able to fit everything in the provided cart (kind of like a giant wheelbarrow) and on our backs, but we were tempted to bring more, which would've required two trips.
Be sure to bring warm bedclothes and warm pajamas in the winter and shoulder seasons.  Though there is electric heat in the cabin, the heat is in the living space and in the bathroom; there is no heat wall unit in the bedroom.  And, the cabin is not insulated in any way, as far as I could tell.
You may want to bring earplugs to sleep, especially during a busy time of year.  The walls are just thin wood and actually seem to resonate the noises inside.  We were clearly able to hear our neighbors in the cabin next door as they talked, walked, and scooted chairs across the floor.  Also, keep this in mind when you are making noise yourself.
You are expected to clean the cabin upon leaving, which includes wiping off surfaces and sweeping and mopping the floor.  Be prepared and allow time to do this.  Cleaning supplies are provided.
If you don't want to use a microwave to cook, you are limited to eating cold food, grilling outside, using your campstove outside (though there aren't a lot of places to set it up), or being more creative.  That's right – the cabins have no stove. We brought our trusty electric tea kettle and were making tea and coffee, instant oatmeal, instant soup, etc.  There are some strict rules about appliances you are able to bring. Though electric kettles are not on the forbidden list, they may be looked down upon.  We kept ours under wraps! There is a rather large refrigerator in each unit with a real freezer.
What is there to do? There are board games available to check out at the Welcome Center. In the summer, there are boating workshops, boat rentals, horseshoe rings, and educational programs for kids.
Camano Island State Park next door is a very beautiful excursion if Cama Beach State Park is feeling too limited.  The beach there is much longer and there are plenty of hiking trails.
Contact Cama Beach State Park at (360) 387-1550, or visit their website.