On a recent hike on the wet west slope of the North Cascades, I ambled along as fellow hikers zoomed past me to the summit. And in between admiring the subtle beauty of a Queen's Cup and the showy flair of a Tiger Lily, I realized something. I don't hike to bag peaks.
If I reach the top, if I see a panoramic view, that's great and I'm happy. But what really gets me on the trail are the encounters with nature that I have along the way. The owls and the warblers, the cedars and hemlock, the trillium and yes, lilium columbianum, our Northwest tiger lily.
When I moved to the great Northwest from the flat Midwest, I didn't know a Douglas Fir from a Western Red Cedar. Then I was gifted the Northwest Native Conifers poster (the one pictured below) from Good Nature Publishing by a co-worker. It went into a frame and up onto my office wall at work. Each day I felt surrounded by nature and inspired to learn more and explore.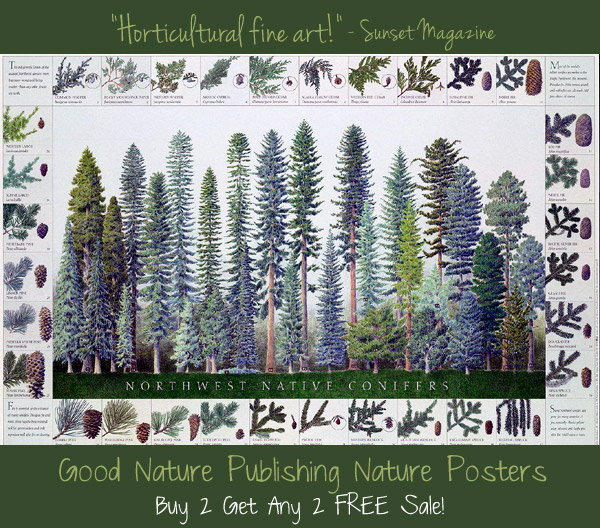 That's why I am so excited to welcome Good Nature Publishing as Northwest TripFinder's newest sponsor. Their beautiful posters hang on my walls, and they've helped me bring the natural world into our home.
Right now, Good Nature Publishing is offering a sale on their website where you can buy two of their posters and get two free. It's an incredible deal, especially with holiday gifts in mind. Posters range from trees to woodland wildflowers to wetlands. To see their whole collection of artwork and place an order, click here.
What about you – how do you bring Northwest nature into your everyday life?