Every fall when I pack up our outdoor gear, I make a list of the things we need to repair or replace. It's a wishful list. Times are tough, and I'm not buying much new gear these days.
But REI.com is hosting a special deal right now, the kind of deal I can't quite ignore, no matter how much my pocketbook tells me I should.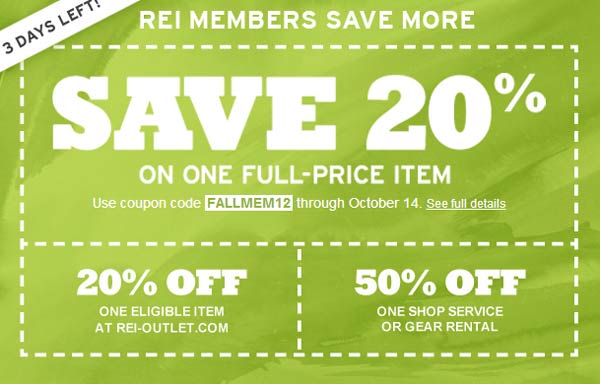 See,their "20% off one full-priced item" deal for REI members is exactly the kind of break one needs to purchase one of those big-ticket camping items you've had your little outdoorsy heart set on. You know what I'm talking about. That 3-season tent. A down mummy sleeping bag. A new pair of snowshoes.
The great thing about shopping at REI.com is that you don't have to deal with the crowds that descend on the store every Saturday, and you get free U.S. standard shipping on orders $50 or more.
But remember, this deal is only good through Sunday! SHOP NOW.
P.S. You have to be an REI Member to take advantage of the "FALLMEM12" 20% off coupon code.