When you step into Seattle's Pike Place Market, you step into the heart and soul of the city. Everything is here – our gardens, our art, our sea, our food, our music, our people… our history.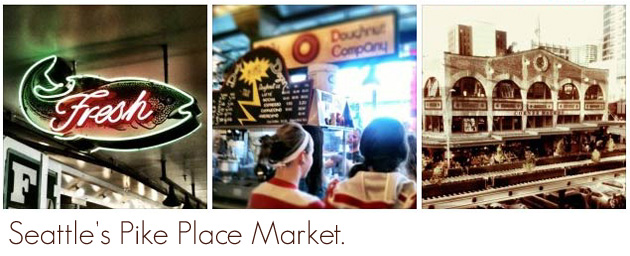 "The Market" as locals call it, bursts with vitality in summer months, with the freshest flower bouquets and the brightest produce and biggest salmon. Talented buskers play tunes, fish get thrown and throngs of tourists from all over the world shuffle slowly though the walkways elbow to elbow. It's a whole lot of fun, even for a local.
Come autumn, there's a marked shift in ambiance at the market. For one thing, you can walk freely without stepping on somebody's open-toed sandal or sending a stack of apples rolling down the  hall. You can also buy a pound of smoked salmon without waiting in line, and leisurely discuss the season's anjou pear crop with the gal at your favorite produce stand.
Sometimes I just find myself at Pike Place Market. I'll get off the bus downtown at 3rd and Pike, not yet fully awake and in need of that second cup of coffee, and next thing I know I'm standing in front of The Daily Dozen Doughnut stand faced with the most important decision of my day – cinnamon or powdered? If I'm unable to decide, they'll mix and match. And if I eat too many, my dentist's office is just above the doughnut stand.
Holiday Shopping at the Market
In winter, the Market can be downright desolate on weekdays, presenting the perfect opportunity to do some Christmas shopping in peace! You can find offbeat, affordable, useful gifts here, and you need not look hard to find them. Here are a few of my favorite stops for gifts at Pike Place Market:
The Spanish Table for specialty cookware like paella pans and beautiful ceramics.
DeLaurenti for goodies to assemble into specialty food gift baskets – perfect for hostess gifts or your favorite gourmand.
Market Spice for their custom spice blends like salmon and rib rubs and many different kinds of curries. They have the best Herbs de Provence I've ever cooked with. Their flavored salts are amazing.
Fini is a tiny boutique with big personality. Shop here for affordable but stylish sunglasses, hats and gloves.
The Great Wind-up is a favorite stop for novelty items and, yes, wind-up toys.
Tenzing Momo for little packets of incense, candles, tarot cards and other offbeat stocking stuffers.
Metsker Maps for travel guidebooks, maps (of course), and flags from around the world. They also stock those cool nature posters from Good Nature Publishing.
Le Panier for French macarons in gorgeous colors.
What are some of your favorite shops at Seattle's Pike Place Market?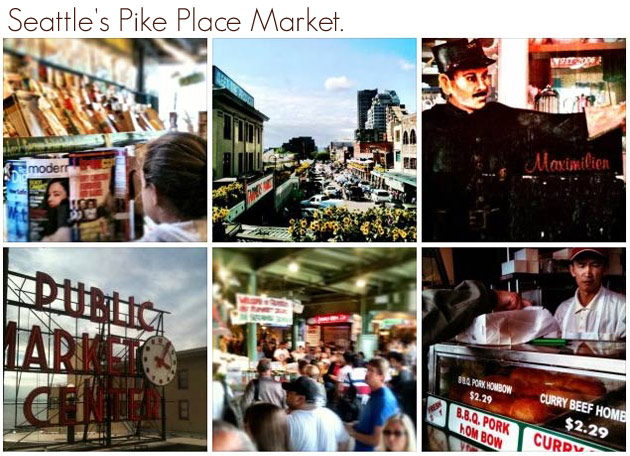 …did I miss something?  What would YOU add?