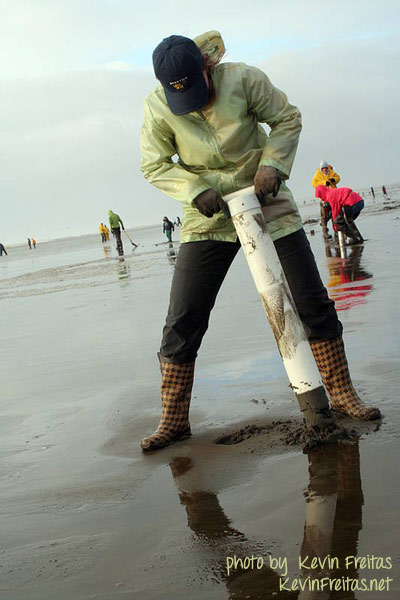 To learn all about razor clamming, including what equipment and license you need and how to use the gear to dig for clams, check out 
Northwest TripFinder's Guide to Razor Clamming.
Get out your clamming tube! This year may just be a record razor clam season at some Washington state beaches.
We hear that Mocrocks has the largest population of razor clams in the last 16 years. Twin Harbors estimates are more than double over last fall, and Copalis Beach is going to be good as well.
The fun begins with the evening tide on October 13 at four ocean beaches.
The Washington Department of Fish and Wildlife (WDFW) approved the dig after marine toxin tests on all four beaches confirmed the clams are safe to eat.
Digging days and evening low tides for beaches scheduled to open are:
Oct. 13 (Saturday), 5:41 pm (+0.3 ft.); Long Beach, Twin Harbors, Copalis, Mocrocks
Oct. 14 (Sunday), 6:26 pm, (-0.5 ft.); Long Beach, Twin Harbors, Copalis, Mocrocks
Oct. 15 (Monday), 7:11 pm, (-1.1 ft.); Long Beach, Twin Harbors
Oct. 16 (Tuesday), 7:57 pm, (-1.5 ft.); Twin Harbors
Oct. 17 (Wednesday), 8:44 pm, (-1.6 ft.); Twin Harbors
Oct. 18 (Thursday), 9:34 pm, (-1.4 ft.); Twin Harbors
For future clamming dates, just keep an eye on WDFW's clamming calender.
Low tides will occur relatively late in the day, so diggers need be prepared for darkness during evening digs in the fall according to WDFW.
Where to Stay
Need ideas on accommodations for your Washington Coast razor clamming adventures? You'll find our top lodging recommendations for the Long Beach area in our Trip Guide to the Long Beach Peninsula. You'll find suggestions for places to stay near Copalis or Mockrocks in Northwest TripFinder's Trip Guide to North Beach.
Photo by Kevin Freitas. See more of his great photos of clamming and more at kevinfreitas.net.