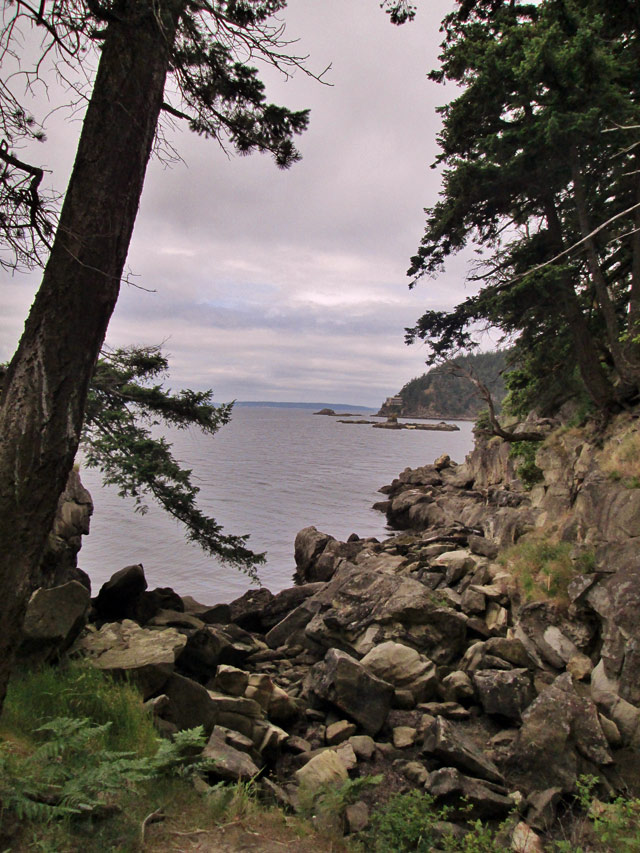 Everyone knows that if you're just trying to get to Bellingham, Interstate 5 is the fast way there.
But not everyone knows there's a slow road to Bellingham, a scenic drive to rival all scenic drives. The route takes you from the charming seaside town of La Conner all the way to Bellingham's Fairhaven District. You'll stop at beaches and forests along the way, as well as some truly excellent local eateries and bakeries. This stretch has some of the best food of any rural area in the Pacific Northwest.
The scenery highlight of this route is Chuckanut Drive, the last ten miles of the trip. Motor along a scenic cliff where the blue waters of Puget Sound are backdropped by the beautiful Olympic Mountains. Also known as Highway WA 11, Chuckanut Drive is famous for its resemblance to California's Highway 1, though at ten miles this stretch is much shorter.
THE DRIVE
Start: Conway
End: Bellingham
Length: 40 miles with several stops.
Good to know: This scenic drive makes a great day trip from Seattle, or an overnight trip if you stay over in Bellingham. The drive is partly through patchworks of farmland and includes some turns, so follow our map below closely for the exact route.
Shorten the drive: To shorten the total drive or as an alternative route, exit I-5 at Cook Road and visit the small towns of Allen and Bow before re-joining Chuckanut Drive for its final stretch to Bellingham.

View Chuckanut Drive in a larger map
This scenic drive begins when you exit I-5 at Conway, a small town with not much more than a produce market (in season) and gas station, should you need to fill up for your drive. Head west on Fir Island Road to make your way towards La Conner.
All around you is farmland, and in springtime this majorly fertile landscape is bursting with bright colors from tulips and daffodils (read about the Skagit Tulip Festival each April). In winter, however, the star attraction for tourists are the birds. If you see a car pulled over and folks are nearby peering through binoculars, they might be looking at a peregrine falcon as it dive-bombs a flock of shorebirds. Or maybe they spotted a merlin perched in a tree, or a rare snowy owl. If you are so inclined, make a short side trip to the Skagit Wildlife Area for a walk on the dike to spot birds in the habitat-rich estuary (see map above, Discover Pass required). Note that waterfowl hunting runs mid-October – January, so it's a great idea to wear very bright colors in the wildlife area.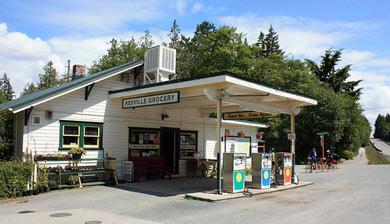 One of my favorite stops on this route to La Conner is Rexville Grocery, which is actually much more than a grocery and vintage gas station. It's got a cafe, beer on tap, famous sandwiches and a great community vibe.  Stop to pick up some roast turkey sandwiches with and lingonberry preserves if you're planning a picnic lunch up the road.
Your next stop is one of Washington's most-loved small towns, La Conner, set along the southern end of the Swinomish Channel. If I were asked to recommend a romantic overnight excursion from Seattle, La Conner would be near the top of the list. It's a fishing town-turned-artists' enclave comprising a few quaint streets lined with restaurants, boutiques, galleries and gift shops. Overnighters will find several inns and B&Bs to choose from.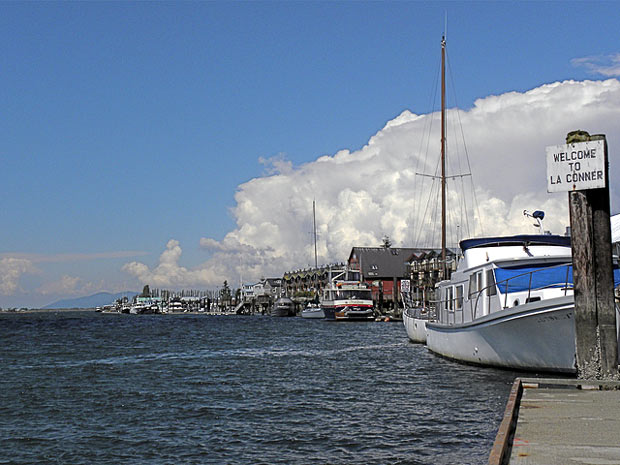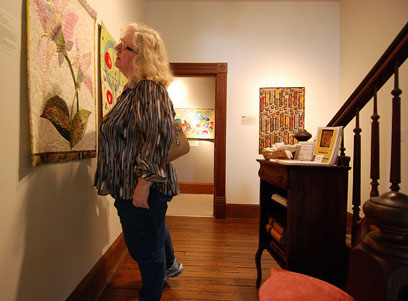 For a quick stop in La Conner, just take a stroll through town or squeeze in a visit to one of La Conner's museums (see map). Quilting is a thing in La Conner, so if it's your thing too you should head to the Quilt and Textile Museum, located in the historic Gaches Mansion (Wed-Sun: 11am-5pm). Otherwise drop in on the Museum of Northwest Art (Sunday, Monday noon-5pm, Tuesday – Saturday 10am-5pm) showcases a permanent collection of northwest artists, as well as revolving shows through out the year. Hungry? La Conner has a few fine dining places for a night out, but for a quick breakfast or lunch just head to Calico Cupboard Cafe and Bakery (I love their vegetarian Skagit Hash).
When you've had your fill of the cuteness of La Conner, head north. You'll continue through farmland (and more tulips in springtime), cross Highway 20, then cut across more farmland. At this point, you start to leave the Skagit River estuary behind and enter the Samish Flats.
Your route will soon join the shore with Padilla Bay on your left. Stop at Bay View State Park (Discover Pass required) if you'd like to spread out a picnic lunch and do some birdwatching while you're at it. Across the road is Padilla Bay National Estuarine Research Reserve. You'll find natural history exhibits, a shorefront viewing tower and short trails (Free, Wed-Sun 10am-5pm).
Keep to the north to reach the quaint town of Edison, where Breadfarm is a great stop for bread and pastries to enjoy now or later (we always get a loaf to go).  Head out of town on W. Bow Hill Road, driving under a mile until you come to the intersection with Hwy 11, or Chuckanut Drive. On the corner is the Rhododendron Cafe and Farm to Market Bakery (yes, Edison's famous bakery relocated here). Stop here for a steaming bowl of posole, a slice of lime-soaked polenta cake or a gooey cinnamon roll.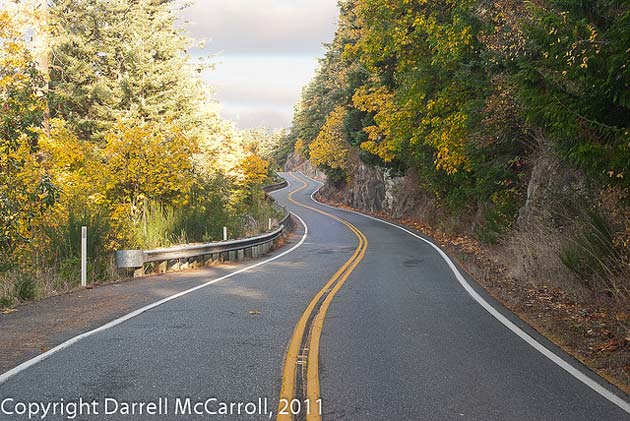 Cross more of the Samish Flats as you head north. This fertile delta is a haven for thousands of migrating shorebirds (and the falcons that hunt them) in wintertime. Soon you will meet the shoreline at the foot of Blanchard Mountain. As you skirt the mountain's edge with the water of Puget Sound down below, keep an eye towards the sky to spot hang gliders that frequently launch from the cliffs above.
There are two stops to tempt you out of your car here. View-seekers with strong legs will enjoy the 6.5-mile round-trip hike to the top of Oyster Dome (the trailhead is right on Chuckanut Drive). Just up the road, shellfish-lovers will find their bliss over a meal at Oyster Bar, a popular local restaurant that clings to a cliff above Taylor Shellfish Farms.
From here, the road twists and turns as it winds its way around Blanchard and then Chuckanut Mountain. Larrabee State Park comprises most of Chuckanut, and the 5-mile Fragrance Lake Trail is a family-friendly excursion.
Chuckanut Drive soon leaves the mountains behind and comes to an end in the historic Fairhaven neighborhood of Bellingham. Take some time to enjoy this great part of Bellingham, then head back towards Seattle on the fast road, Interstate-5.
photos: View of Chuckanut Drive by Heather Harvey.