On a budget? Then mark your calendars! Our National Parks offer FREE admission days for 2016.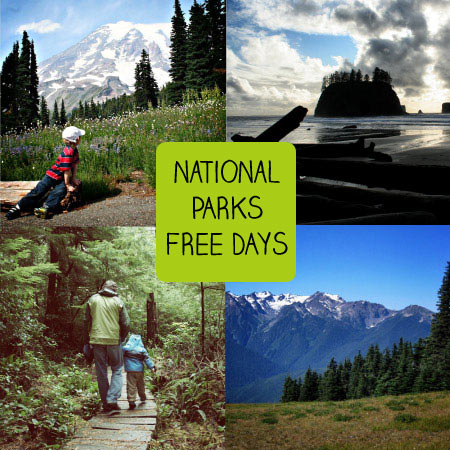 Free U.S. National Park Admission Days for 2016
January 18 – Martin Luther King Jr. Day
April 16-24 – opening weekend of National Park Week
August 25-28 – National Park Service Birthday
September 24 – National Public Lands Day
November 11 – Veterans Day
Which Parks to Visit?
In the Pacific Northwest, we have four major national parks:
Crater Lake National Park (Oregon)
Mount Rainier National Park (Washington)
North Cascades National Park (Washington)
Olympic National Park (Washington)
There are dozens of other sites — national monuments, historical parks and preserves  — that are managed by the National Park Service as well. 
NEW! Free Parks Admission for 4th Graders and their Families Starting Fall 2015
In February 2015, President Obama announced that the National Park Service will give all fourth graders and their families free admission to national parks and other federal lands for a full year. The "Every Kid in a Park" initiative aims to get all school children into the great outdoors. The program begins in the fall of 2015, so stay tuned for how your family can obtain your free parks pass.
Happy exploring!