Take a walk through a Japanese Garden. The Seattle Japanese Garden (1075 Lake Washington Blvd. E) opens for the season this weekend and hosts a a Shinto blessing and drop-in calligraphy workshop on Sunday (more info). Come sample the early spring color by walking the 3.5-acre garden's formal paths around ponds and over stone bridges. Open daily in March 10am-5pm, closed Mondays, admission is $4-$6.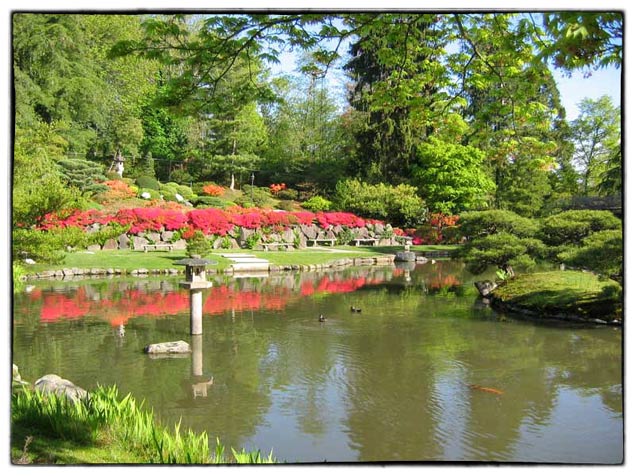 Go out for brunch this weekend. The Seattle Times has ten Seattle brunch spots that bring the kind of inventiveness you've come to enjoy on local dinner menus to their brunch menus. Also, check out our list of hot Seattle brunch places, crowd-sourced from local travel bloggers. If you're in Portland check out Breakfast in Bridgetown for a plethora of ideas and make sure Gravy on Mississippi is on the short list.

Hop a ferry to Whidbey Island and hike through the Saratoga Woods Preserve, just a few miles north of Langley. This 110-acre forest, managed by the Whidbey Camano Land Trust, comprises diverse habitats from wetlands to a high bluff with unobstructed views of Saratoga Passage, Camano Island and the North Cascades. After your hike, stop in for a bowl of steaming Penn Cove Mussels at Prima Bistro in Langley.

Sample the best Chinese food on the West Coast. Vancouver's top critics announced the Chinese Restaurant Awards, naming their top 20 Chinese dishes in Metro Vancouver. Forget pork-fried rice–this list is more along the lines of deep-fried pumpkin sticks with egg yolk sauce and smoked live lobster with mushrooms. Not surprisingly, 13 of the winners are from Richmond, famous for its Food Street, a cluster of hundreds of Chinese restaurants along Alexandra Road.

Hug a (very big) tree. It's nearly official – the biggest specimen of my absolute favorite tree, the Ponderosa Pine – has been measured at LaPine State Park in Central Oregon. Big Red stands 168 feet tall with a trunk circumference of 29 feet. It'll take some pretty long arms to get a good hug around that!