At Seattle's Pike Place Market, we all know that fish get thrown down the hallway. But the best action happens out on the sidewalks.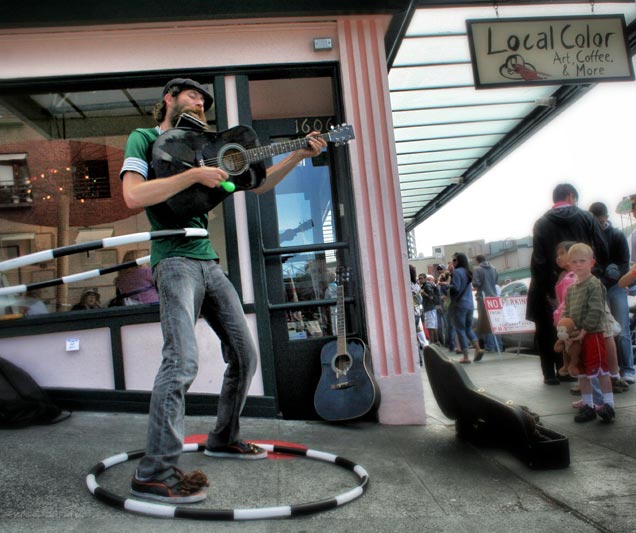 The sidewalk musicians are called "buskers," an English term meaning street performers. A busker might be a juggler, puppeteer, musician, or mime, or may combine a few of these entertaining activities as the busker pictured above does.
Have you noticed that Pike Place Market has a lively energy that reaches out and grabs you as you stroll through its halls or walk down its narrow streets?  Buskers are an important component of the Market's vibrant cultural community. They help bring music, art and human interaction onto the sidewalks. Without them, the Market would be subdued (and I dare say a bit boring!)
There are 13 locations throughout Pike Place Market where performers entertain. This is regulated, and all buskers are required to purchase a performer's badge ($30 for an annual permit). There are painted musical notes on the sidewalks to mark where they are supposed to stand. The number painted on the note is the number of performers that can play there at one time. Each can perform at one of these locations for up to one hour at a time.
If you enjoy the music or art of a street performer while at the Market, be sure to leave a tip. Remember, this is their day job and they are paid only in tips!
Have you stopped to enjoy the performance of a busker at Pike Place Market? Tell us about it in the comments below.