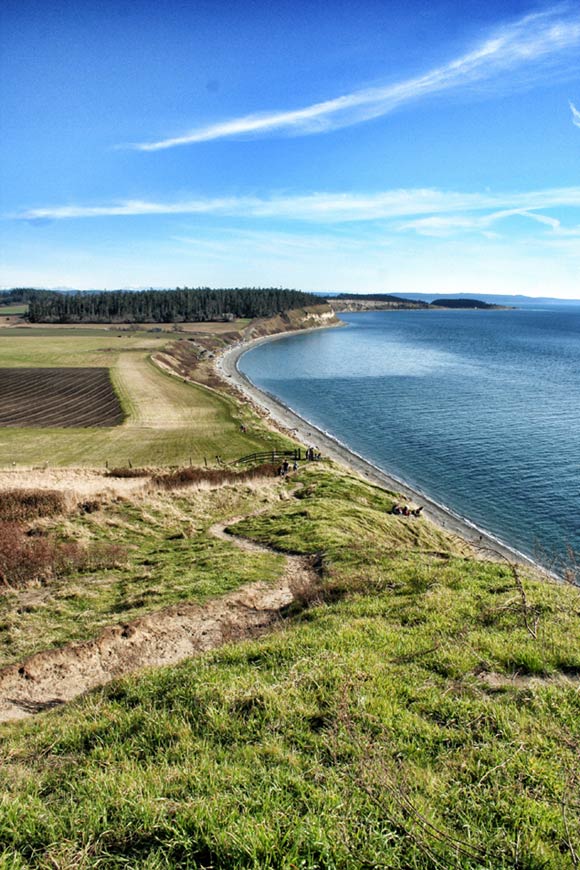 Whidbey Island has got to be close to the top of my list for Pacific Northwest getaways. To tell you the truth, it feels like more than just a getaway destination to me; it's like I'm destined to live there or something. Is that weird? Do you ever get that feeling when you go somewhere, like instead of feeling new the place feels like home? Who knows – maybe a few years from now Northwest TripFinder will be headquartered from one of those cute Victorians in Coupeville.
Anyway, whatever time of year you visit Whidbey Island, there's a short hike that should be on your list. It's not a difficult hike but it is exposed, and the west side of the island can get hit with fierce winds in winter. So bundle up when you're up on that bluff!
The loop hike known as "Ebey's Landing" is set on a large swatch of land in the island's middle near Coupeville called Ebey's Landing National Historic Reserve. The land is protected for historic preservation, natural beauty and recreational enjoyment. The 17,000+ acres of this preserve is a patchwork of state, national, and private lands.
WHY GO: This hike has it all – pounding surf, high bluffs, emerald grassy fields, a wild beach – all of it across from the dramatic Olympic peaks. And, much this land is a remnant of a rare ecosystem in Puget Sound now – prairie.
Be sure to look down in the springtime, because you'll see prairie wildflowers seldom seen elsewhere in the region, including the rare golden paintbrush. The dry soils here even host prickly pear cactus. Look up, too, as the sight of a soaring bald eagle or two is quite common.
More on Hiking Ebey's Landing
The full hike is 5.6 miles round-trip and gains 260 feet in elevation. Dogs are permitted on leash. This hike is good for kids, but remember to bundle them up on windy days. For a full hike description, read Craig Romano's article on hiking Ebey's Landing.
Getting To Ebey's Landing
The easiest access to Whidbey Island from Seattle is aboard the ferry from Mukilteo to Clinton, a 20-minute crossing. From there, Highway 525 is the main road that runs the length of the island until around Coupeville when it becomes Highway 20.