When it comes to recreational vehicles, my tastes trend toward the old and cute.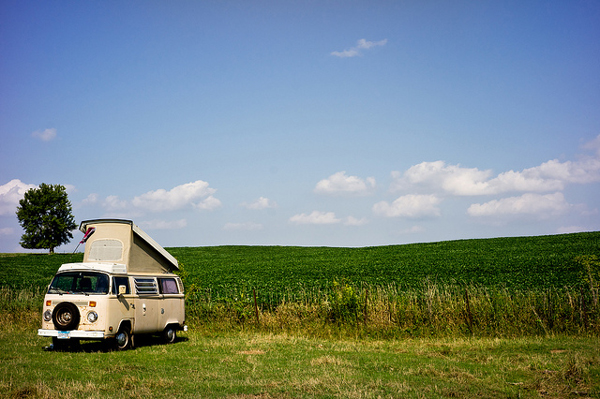 I adore vintage campers. I don't own one, yet. The teardrop camper up there in the Northwest TripFinder logo is, so far, just wishful thinking in pixels. But when my new Sunset magazine arrived last week with a yellow vintage-style teardrop trailer on the cover, I felt a pang of envy. I want that.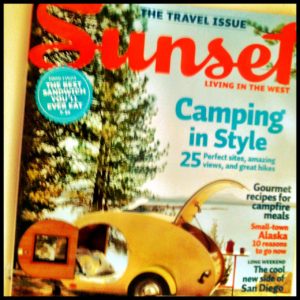 I showed it to my husband. "Do you think you could build this for me?" It was an honest question. He has a toolbox.
He answered with laughter. But this got him to reminiscing about the chuck-wagon trailer his own father built and pulled along from state to state while the family spent their Augusts camping in the White Mountains of New Hampshire. I'd heard the chuck-wagon stories before, like when his Mom has a glass too many of the white zinfandel that comes in a box. I'll tell you about the chuckwagon sometime, I promise.
But today, I am daydreaming.
In my daydream, it's all very easy. We're motoring along through Central Oregon somewhere when suddenly I spot a popup vintage VW Westfalia! It's parked along the side of the road and bears a sign on it that says: "Mint Condition – $750." Of course we pull over, pay cash for it and speed off. We then quit our jobs, pack up that Westfalia and road trip down to Mexico.
~End daydream~
Both of my sets of grandparents lived in trailers. Not camper trailers, the other kind. One set of grandparents lived out in the Arizona desert and although they lived in a stationary double-wide, they had all of these old camping trailers all over the place on their property. So when we'd visit, instead of staying in a local hotel, we'd sleep in a camper.
Not unlike these.

On your left, a Bee Line, manufactured in Elkhart, Indiana, probably in the late 1960s or early 1970s. On your right, a Shasta Airflyte. With wings.
Basically, this is tin can porn. There's a whole Flickr group devoted to it. They have camp-ups. They document their camper restoration projects.
And then they go inside of each other's campers and have lunch.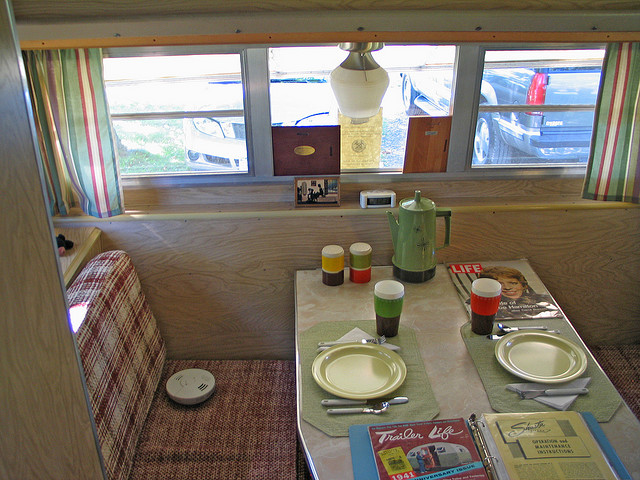 Can you imagine? Check out that teapot. I LOVE that teapot.
Now about those teardrops.
Teardrop campers defeat the purpose for some. Really, the only thing you do inside is sleep. The kitchen is still outside. The camper itself is hardly roomy enough to sit up in. Sure, they're compact and efficient, but are they really much more than a glorified tin tent with storage unit?
Ah, but there is the cuteness factor. Which, of course, is priceless.

And although the Serro Scotty on the left is vintage, the teardrop on the right is homemade. Homemade teardrops are a thing. And for as long as they've been around (since the 1930s), many have been home-built. You could pick up a design and instructions in Popular Mechanics. Their sleek and aerodynamic design makes them a favorite pull-behind for smaller cars. Lightweight materials help ease the gas guzzling.
Check it out – this home-built teardrop trailer was built small enough to be towed by a Mazda Miata.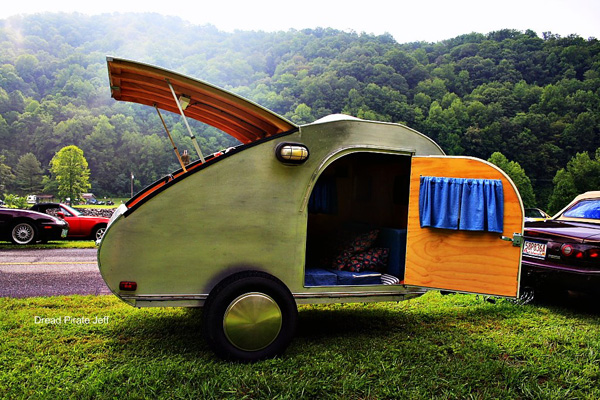 You can pick up a new model for about five grand. There's a directory of manufacturers here.
Or, you can make your own. That's what Mr. and Mrs. Chiot did. They chronicled their trip pulling the tiny trailer they built in several installments on their blog, Chiot's Run.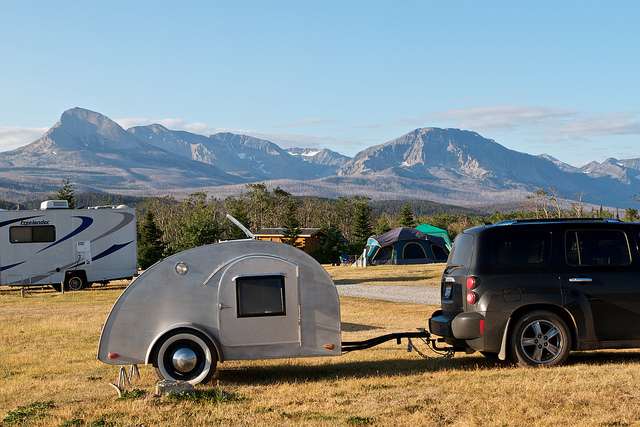 Cute, huh?
A girl can dream.
Like this post? Follow us on Facebook and never miss a new one. Sign up for our free email newsletter and get TripFinding goodness delivered to your inbox each month, packed with destinations, itineraries and lodging deals.
Many thanks to Flickr Creative Commons! These photos are linked to – just click on the photos or photo descriptions.