We know you have questions, so here's the deal: You ask, we'll answer. Sweet, huh? Whatever your Northwest travel inquiry, we will put on our concierge hats and try our best to answer you.
Dear TripFinder,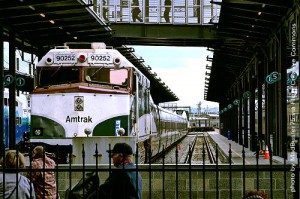 We're taking the train from Seattle to Portland next weekend. Where should we stay that is close to the train or easy by public transit?
Thanks,
Callie from West Seattle
Dear Callie,
Amtrak is a fabulous choice for traveling to Portland from Seattle (or vice versa) for a weekend getaway. The train drops you off at Portland's nostalgic Union Station, set along the Willamette just north of China Town and east of the Pearl District. It's a great location for reaching any number of Portland's neighborhoods quickly via the MAX, Portland's Light Rail. From the train station, walk or hop on the MAX green or yellow line heading south to cover the ten blocks between you and downtown.
Hip and affordable, the Ace Hotel (1022 SW Stark St, from $150) is a terrific place to stay for your car-free trip to Portland. It sits just off Burnside, where downtown borders the Pearl District. Powell's City of Books is just one block north. Rooms are mod but pretty basic, with large wall art and an in-room record player with a curated selection of 1980's vinyl.
Another great, affordable hotel in this area is the McMenamins Crystal Hotel (303 SW 12th Ave, from $85) where you can get a queen or king room with shared bath or private bath. Save time for a dip in the soaking pool. Zeus Cafe downstairs has many McMenamins favorites, from truffle fries to Terminator Stout on tap. There's also an onsite brewery and pub.
A very affordable option is to hop on the MAX yellow line heading north from Union Station and go just a short distance across the river to the Albina / Mississippi stop. Walk one block north to the McMenamins White Eagle, where you can get a comfy room with shared bath for $55 a night and stay in the heart of this vibrant, artsy PDX neighborhood.
If you've got a Chinook Book, there's a nice Amtrak coupon in there – 50% off one Amtrak Cascades ticket when you purchase one at full price.
Have fun!