When my subscription issue of Sunset magazine arrives in our mailbox each month, my husband knows just what to do. He leaves me alone! It takes a good couple of hours sprawled out on the couch for me to make my way through a new issue. I pore over the home decor ideas, daydream about travel destinations, take detailed notes for my garden, and plan out meals from the recipes.
It's true, I'm a HUGE Sunset magazine fan, and so of course was overjoyed to see my May issue arrive yesterday, on a Saturday. A day when I actually had some time to sit around and read a magazine! And, this month's cover story is on one of my favorite topics–camping!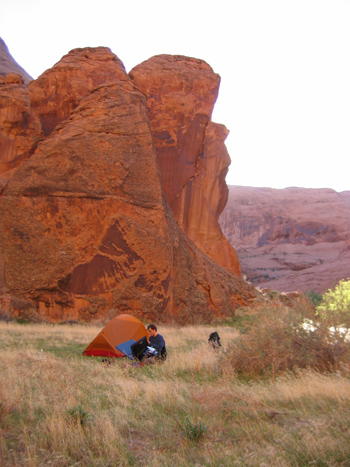 Fifty campgrounds were selected as the best places to pitch a tent in the West. I have no bones to pick with their list – the writers clearly did their homework. Not only does the article recommend great sites, it tells you how to book your reservation and has great tips on scoring even the most popular sites (hint – it's a little like getting tickets to a rock concert that you know will sell out within minutes). Never been camping before? The May issue of Sunset also has an illustrated guide to all the gear you will need as a beginning camper, from your sleeping bag to a quality first-aid kit.
I often camp at least a night or two when I travel throughout the West–from hiking trips in southern Utah to visiting family in New Mexico–and I admit I've struck out more than once.  For instance, we once made an unplanned stop for the night at a remote National Forest campground in southwest Idaho. It was already a bit crowded with some nice folks on a religious retreat, but they made room for us. The problem? They spent the better part of the night speaking in tongues. Then there was that time I booked a waterfront campsite on Lopez Island for our wedding anniversary, only to discover upon our arrival that each campsite was about 10×10 feet in size and separated from each other by a thin string of rope. Of course, we were sandwiched between a family of six on one side and a group of high school boys on the other. Great view? You bet! Romantic? Not so much.
Needless to say, I will now be keeping Sunset's list close by as a reference so I'll know just where to go!
One thing that really impressed me about their list is the variety of campgrounds they highlighted – from geography to topography, from state parks to national parks. Also, several are quite off the beaten path. I've been to a good many of their recommendations here in the Pacific Northwest, and they are all campgrounds I would gladly return to. Here are a few unexpected picks that stood out on their list:
OREGON: Strawberry Campground, Malheur National Forest. Only 11 campsites at 5700 feet! Right near the Strawberry Mountain Wilderness. This is a great area of the state for hiking, and a perfect side trip if you are headed in this direction for the John Day Fossil Beds or to go birdwatching at Malheur National Wildlife Refuge.
WASHINGTON: Lone Fir Campground, Okanogan National Forest. This campground is off Highway 20 in the Methow Valley, west of Mazama. Although this campground is not far off the highway, its beautiful and is in a great location for nearby hiking trails into North Cascades National Park and the Pasayten Wilderness. The only drawback is it tends to melt out a little late in the season.
BRITISH COLUMBIA: Nairn Falls Provincial Park, north of Whistler. This campground makes my list not because I've been there before, but because I hope to go! I hear the hiking in this region is phenomenal.
Happy camping!
Photo: That's Brian setting up camp at a lovely spot in the Escalante region in southern Utah.