What can I possibly say about Orcas Island that hasn't already been said? This pastoral island is patchworked with swatches of farmland and small island villages. The largest of the San Juan Islands, Orcas is about 60 square miles, but you can cover the main roads by car in just a few hours. That is, unless you pull over every time you see a sign that says "Pottery." (I've obtained my favorite coffee mugs and serving bowls this way.)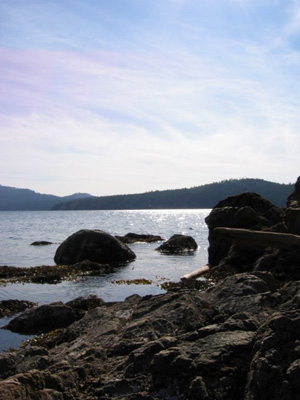 The main village on Orcas, Eastsound, has good restaurants, groceries, antique shops and a bookstore.  Moran State Park even has its own mountain you can hike to the top of (Mount Constitution) with a view from the top you have to see to believe.
Truly, it's  one of the most beautiful places in the Pacific Northwest. And if you haven't visited yet, well then you really must go.
An old standby for budget travelers on Orcas Island is Doe Bay Resort, on the far eastern end on… Doe Bay!   While it's no longer quite the funky hippy haven it once was, Doe Bay still has its organic charms and clothing-optional hot tub, and is just rough around the edges enough to be interesting.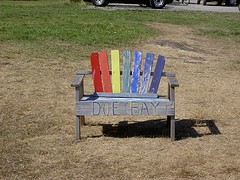 Cheap? It depends.  Doe Bay offers a variety of choices to fit your budget: cabins, a hostel, camping, and even yurts. The hostel option is pretty expensive for what you get ($35 per person) and a cabin with kitchenette (which you'll perhaps really want on this far end of the island) starts at over $100. Oh, and the yurts are not the state park kind. They have no running water or electricity. Don't like to cook? The Doe Bay Cafe, their onsite restaurant, has improved in recent years and the last time I ate there, it was tasty and the service was simply great.
Photo of Orcas beach by me; of Doe Bay chair by Colbs.