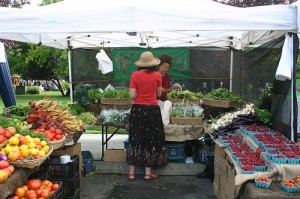 It's very important to have that favorite place.
What kind of favorite place is that, you ask? It's that place you daydream of quitting your job and moving to someday. You may visit this place only once a year, but still you feel like you've truly come home each time you visit. And yet, a long, slow weekend visit there is just perfectly relaxing enough to send you back to your real home with a smile on your face and a fresh outlook on life.
I have a friend who spring breaks to Saltspring Island BC year, after year, after year. It is, indeed, her favorite place. She has real estate websites for Saltspring Island bookmarked on her computer. She loves watching the painters and potters of Saltspring in action, and buys a good deal of the local art for her home in Seattle. She can spend hours photographing the numerous cottage gardens on the island. And her favorite Saturday pastime is a visit to the farmer's market for organic produce, local goat cheeses and homemade chutneys.
Saltspring Island (also called Salt Spring Island), the largest and most settled of the northern Gulf Islands, is a unique place to visit; there's really no place else quite like it. As soon as you walk (or drive) off the ferry that arrives here from either Vancouver Island or the mainland, you will feel that you are in a special place. Some call it Island of Peace and truly believe Saltspring nourishes the soul and promotes a deeper quality of consciousness. A visit there is an immersion in local art in culture, and an experience of natural splendor. For some, especially those of the hippy, homestead and herbal persuasions, Saltspring Island is the very definition of idyllic. For all, it is a relaxing, fun getaway in a fabulously mild climate.
For more on the art, culture and people of Saltspring Island, I recommend this Seattle Times travel piece written by Carol Pucci.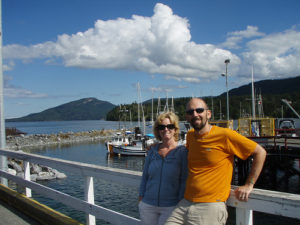 Getting to Saltspring Island is easy, and you have a few options. Most visitors arrive by ferry to one of the island's three terminals. You can depart from Vancouver/Tsawwassen and arrive at Long Harbour or Fulford. You can also depart from Victoria/Swartz Bay on Vancouver Island to Fulford or via Crofton to Vesuvius. For information and reservations call 1-888-BC FERRY or go to www.bcferries.bc.ca. Some lucky folks get to arrive by floatplane.
Which brings us to the topic at hand. Where to stay? There are a surprising number of cheap sleeps on Saltspring Island. The problem is choosing which fabulous place to book a room.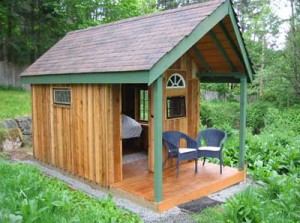 If you like funky, unique places to stay and are seeking an excellent value, check out the Valhalla Sleeping Units. Valhalla is an organic fruit tree orchard located in the center of Saltspring with three private cedar sleeping units — the playhouse, karma cottage, and luna lounger. The little cabins run $40 – $50 per night (all prices Canadian dollars). Please note that the washroom is a shared composting toilet a short walk down a path from your little cabin. And the showers are in town. But the units all have lights and power! No pets.
The Seabreeze Inne just outside of Ganges is a good value. It's basically a well-kept hotel, but some rooms do have an ocean view, and breakfast is free. Shoulder-season rates (through April) are well under $100 a night.
Right in the middle of the island is The Forest Loft, a cozy, second story suite with private bathroom and a private entrance in a modern cedar-shingled home. It even has a small kitchenette. Rates are just $65 in winter / $75 in summer.
If you like nature and hiking, book a room at the Caprice Heights Bed and Breakfast, halfway between Ganges and Fulford Harbour. From your front door you can take a forest hike up Mount Maxwell to an outstanding viewpoint. After that, relax on the big sunny deck, read a book on the brick patio, or wind down in the hot tub. The proprietors, Chris and Sara, say that "hospitality" is the word that pops up most often in their guestbook. The Arbutus Room is $90-$100; the larger suite, The Beams, is $125.
Hit the farm! Island Farmhouse B&B is a working farm situated on ten rural acres with both pasture and pond. Their tasty, organic breakfasts are made with eggs you can collect yourself! Two budget rooms that share a bath are $70 – $90 a night.
Want your own place? A Cabin in Echo Valley has everything you need for a cozy, romatic weekend – from a woodburning stove, to a library of books , to your very own herb garden where you can flavor up dinner cooked in your very own fully-equipped kitchen. There are even bikes for your use. Just $95 a night.
Truly, there are so many cheap sleeps on Saltspring Island, it might just replace the Willamette Valley and become my favorite place, too.
Photo of Saltspring Island farmer's market by UtahCanuck.
Photo of visitors to Salt Spring by Noah Sussman.