My neighbor Tom, who happens to be this blog's biggest fan, just spent a lovely winter weekend with his wife Lyanda and daughter Claire in Port Townsend, Washington.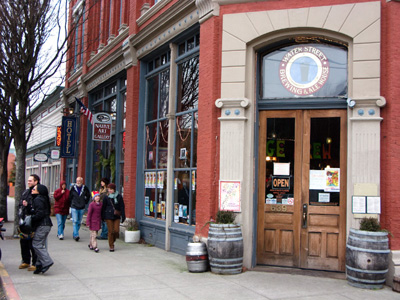 Lyanda, a book author, was the reason behind the family's trip. She was in PT for a reading and talk about her recent book (www.LyandaLynnHaupt.com). Tom, Lyanda and Claire quickly discovered lots more reasons to remember Port Townsend as an inexpensive, fun destination for future winter weekends. "There's a winter beer festival, a winter film series, great deals on downtown hotels, after-Christmas sales in all the shops, and great bands scheduled in the local venues," Tom shared with me. "Plus, Port Townsend is surprisingly close – less than a 2-hour trip from the city." This includes the 30-minute ferry crossing from Seattle to Bainbridge Island or from Edmonds to Kingston.
Tom has two cheap sleeps to recommend downtown. Both are in historic buildings, loaded with charm, and have screaming deals.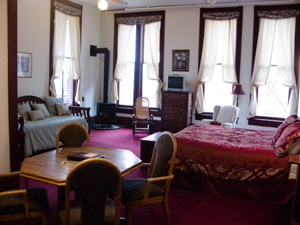 The Waterstreet Hotel website / 360-385-5467
Rates: $45 – $125 per night in winter; $50 – $160 in summer.
— Water views and decks from the back rooms
— Several very large rooms with bed, dining table, kitchen, loft, deck.
— Some rooms with full kitchen (not just microwave)
— Above a bar (Water Street Brewing and Ale House – "excellent food, beer and atmosphere but there was a beer fest going on when we visited, very loud even at noon")
— AAA discount
— Free wireless
The Palace Hotel: website / 360-385-0773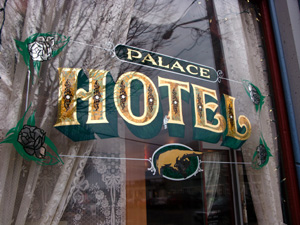 Rates: $59 – $109
— No water views
— Fridge and Microwave in many rooms.
— "Frillier" decor with Victorian sitting areas
— In the historic Captain Tibbals building
— Each room has a name (Captain Tibbals, Miss Claire, Miss Genevieve, etc)
— Former brothel! (see history page on website)
— Some rooms are European style with shared bath
— Runs "2 nights for the price of one" specials midweek in winter
— Free wireless
Another PT cheap sleep I have stayed in is the Aladdin Motor Inn on Washington Street. Rates are $65 – $110, and some have good water views. Also, Hostelling International operates the Olympic Hostel in old military barracks at Fort Warden State Park. Private rooms available.
Oh, I almost forgot. Tom has one more bit of advice to add for you all: "Don't forget to stop for a slice of pie at the Chimacum Cafe as you head back down to route 101!"
All photos by Tom Furtwangler. Interior shots are of the Water Street Hotel.