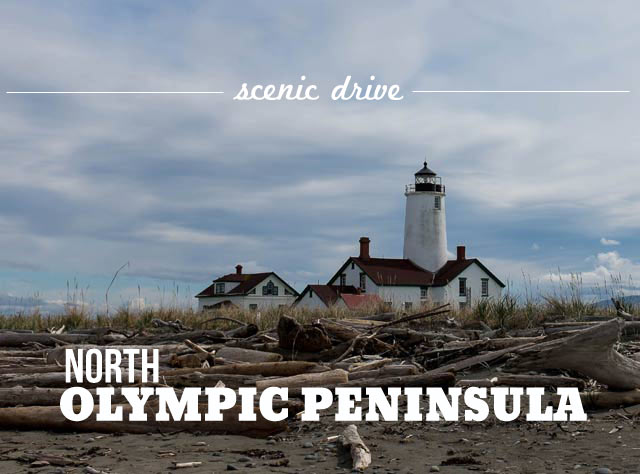 Scenery and history converge on the north coast of Washington's Olympic Peninsula. For this road trip you'll want to pack your camera and binoculars–the route is bursting with maritime heritage, military history and an abundance of wildlife.
The Details
Start: Kingston (take ferry from Edmonds)
End: Port Angeles
Length: 73 miles one-way, plus optional stops and sidetrips
Good to know: This scenic drive makes a fast-paced day trip from Seattle, or an overnight trip if you stay over in Sequim or Port Angeles. The drive is mostly along major roads with just a few detours for recommended stops. We've included several possible sidetrips that could stretch this into a 3-day trip from Seattle.
Shorten the drive: To shorten the total drive for a day trip, turn around in the Sequim area instead of continuing on to Port Angeles. Another option is to skip the Quimper Peninsula cideries and instead stay on SR 104 all the way to the junction with Hwy 101.

View Scenic Drive Itinerary: Olympic Peninsula in a larger map
_ _ _ _ _ _ _ _ _ _ _ _ _ _ _ _ _ _ _ _ _ _ _ _ _ _ _ _ _ _ _ _ _ _ _ _ _ _ _ _ _ _ _ _ _ _ _ _ _
This scenic trip begins bright and early at the Kingston ferry dock; if you are crossing Puget Sound from the Seattle area, try to catch one of the ferries from Edmonds that departs before 9am.
Kingston is a charming small waterfront town that often gets passed through but rarely gets stopped in. If you happen to arrive after 9am on a Saturday from May – October, make a quick stop at the Kingston Farmers Market to ogle the jars of handmade jams, pickles and honeys.
Otherwise, head right on out of town on SR 104, winding west and then north into the tiny seaside town of Port Gamble.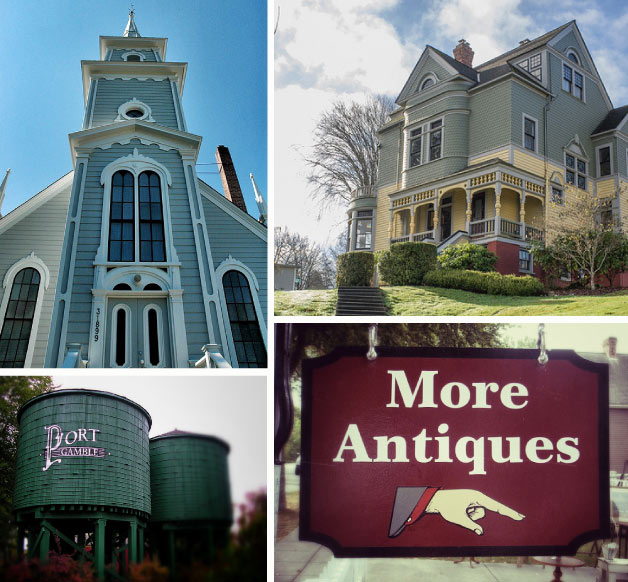 From its beginnings way back in 1853, the Poe and Talbot sawmill was Port Gamble–the company owned everything in the town. When the sawmill closed for business in 1995, it ended what had been the oldest continually-operating sawmill in North America. Though Poe and Talbot is no more, the New England-style homes and buildings created by the company's founders remain, and the entire community is preserved as a national historic district. Get out and stretch your legs on a stroll around the small "downtown" where you'll find tea and truffle shops, some antique stores and an old-fashioned general store. (This is a great time to grab a bite to eat or load up on snacks for your mid-morning hike at Fort Flagler.)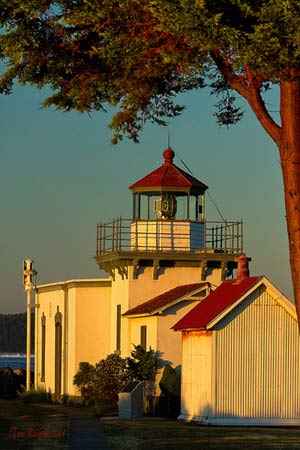 SIDETRIP: Birdwatchers and Lighthouse Buffs Detour to Point No Point. Early risers can squeeze in a stop to the historic Point No Point area on the way to Port Gamble, just eight miles off SR104. Turn right (north) on Hansville Rd NE. According to Seattle Audubon, Point No Point has one of the largest birdlists of any site in Washington, and has hosted a number of rarities in its tidal zone, beach and brackish marsh. Fall migration is a prime time to visit, but many of the wintering waterfowl will be visible all winter long. The lighthouse itself is the oldest in Puget Sound (built in 1879) and recently transferred ownership from the Coast Guard to Kitsap County.
From Port Gamble you'll cross the Hood Canal Floating Bridge, leaving the Kitsap Peninsula for the Olympic Peninsula. Pssst… Stick to the speed limit as I can personally attest that this is a known speed trap.
Prior to the construction of the Hood Canal Bridge in 1961, this crossing was done only by a ferry route that is no longer in service (though the ferry was reinstated for a few years in the early 1980s when the bridge failed due to a severe windstorm). Imagine how much more isolated the Olympic Peninsula would be from the Seattle metro area if this bridge had not been built. Fun fact: according to Washington's Department of Transportation, this is the longest of the world's seven floating auto bridges, and the only one that spans a saltwater tidal basin.
And what a tidal basin it is. Hood Canal is misnamed, in a way. Like many land masses and waterways in the region, it was named by Captain Vancouver on his 1792 expedition, and the story goes that he actually named it "Hood Channel" because, well, it is a channel (or more accurately a fjord) but it's most definitely not a man-made canal. Evidently his handwriting was a bit messy and "channel" was mis-transcribed as "canal."
Once you've crossed the bridge (going the speed limit of course), drive 5 miles further on Hwy 104, then take a right and head north on Beaver Valley Road (Hwy 19) up the Chimacum Valley on what is known as the Quimper Peninsula. To your left is an expanse of scenic, rural farmland; to your right is a densely-forested hillside. In 9 miles you'll find yourself smack dab in the middle of the small community of Chimacum. Here, you may decide between two sidetrip ideas for the rest of your morning: a stroll through the Victorian streets of Port Townsend or a scenic hike with history at Fort Flagler State Park.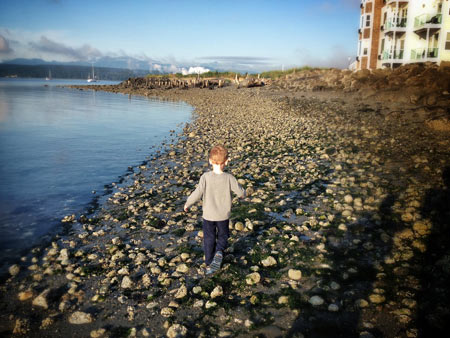 SIDETRIP: Stroll through Port Townsend. Ten miles ahead on 19 is Port Townsend, which is a trip destination in and of itself. A few hours is just enough to get a taste for this lovely, charming seaside town and its historic architecture, fun boutiques, farmer's markets and romantic restaurants.
Reader Dan Buck recommends:  "Stop for lunch at the Fountain Cafe, visit the Pacific Marine Science Center in the afternoon, then feast on locally caught salmon at the Silverwater Cafe in the evening. If your sidetrip to Port Townsend is overnight, check out the Tides Inn on the waterfront."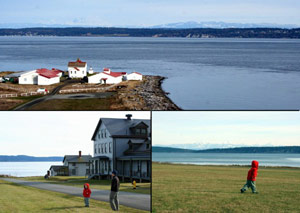 SIDETRIP: Hike at Fort Flagler State Park. How about a hike with a history lesson? Fort Flagler State Park is one of five impressive military installations that were established in close proximity to protect Puget Sound from invaders during times of war. Fortunately for us, all five were converted to state parks in the 1950's, giving the public access to thousands of near-shore acres and miles of prime coastline. Fort Flagler is the largest of them all.
For a fabulous day hike at Fort Flagler, park at the north end of the lower campground and start your 5-mile loop hike on the stony beach, enjoying the views across to Port Townsend in one direction and Whidbey Island in the other. If you see folks casting right off the beach, they're probably fishing for rockfish or salmon. Clamming is a popular activity here in-season. Dress in warm layers, as this trail then wraps around Marrowstone Point and the wind intensity may change on you. At 2.25 miles, leave the sandy beach and climb the bluff, hike around a lagoon, and eventually make your way back to your starting point. Along the way, you'll pass a handful of historic buildings, bunkers and other structures. Bring binoculars to spot majestic bald eagles on the bluff and dabbling ducks in the lagoon.
FOR MORE DETAILS ABOUT THE TRAILS AT FORT FLAGLER STATE PARK, I RECOMMEND DAY HIKING: OLYMPIC PENINSULA BY CRAIG ROMANO, PUBLISHED BY THE MOUNTAINEERS BOOKS.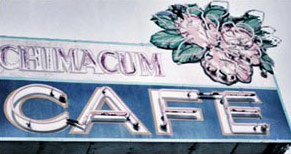 Hungry for lunch? Head to the friendly, family-style Chimacum Café for a burger, pan-fried oysters and a delicious slice of pie. Really, you must get the pie!
It's time to visit a few of the famous regional cideries. Head south of Chimacum on Center Road, watching for the turnoff for Country Meadow Road on your right to Finnriver, an organic family farm and artisan cidery set along a restored salmon stream. We stock up on their dry-hopped cider, and the sparkling apple blueberry is festive and delicious. The tasting room is open noon-5pm daily.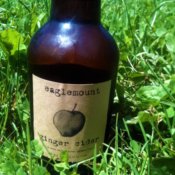 For a second cidery experience, get back on Center Road and head south until you can veer right onto Eaglemount Road, which takes you to Eaglemount Winery and Cidery. Eaglemount was the first licensed cidery on the Olympic Peninsula, and is known for excellent standard varieties as well as some unique experiments now and then that turn into local sensations. Quince cider was an instant hit for my palette. Stock up on their ginger cider for summer picnics.
Continue on Eaglemount Road until you junction with Highway 20, then take a left, heading west. In less than two miles this will meet up with Highway 101. Turn right (north) towards Sequim, hugging the west shore of Discovery Bay. The highway leaves the water for a spell, only to rejoin it at Sequim Bay, where Sequim Bay State Park offers some short trails and a nice dock to stretch out upon for a rest in the sun.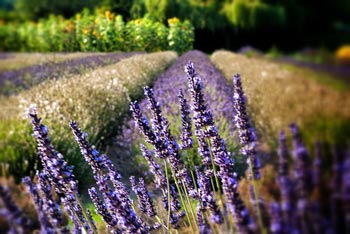 Once you reach the city of Sequim, take a whiff. This area is home to dozens of fragrant lavender farms. If you want to see one for yourself, head over to Purple Haze Lavender Farm to take in the pungent aroma of over 15,000 lavender plants and snap some gorgeous family photos in the colorful fields. Note: Their farm gift shop is closed in winter, but they have a shop downtown Sequim that is open year-round where you can purchase lavender goodies like soaps and honey.
Hungry? Try a burger of quiche at the The Oak Table, a family-friendly café in Sequim that makes its delicious menu items from scratch.
Once past Sequim the snow-capped Olympic mountain peaks will be in full view from Highway 101, but first a different sort of scenery is worth your detour. Enjoy a flat, easy hike within the Dungeness National Wildlife Refuge, home to a 5.5-mile long sand spit that juts out into the Strait of Juan de Fuca. Wear layers—the spit can be windy even on the warmest days. Hike for as long as you want on the spit, then turn around to the best view of the Olympics anywhere.
Head back to Highway 101 headed west to continue on to Port Angeles where you can get a room for the night, or headed east to return to Seattle by nightfall.
The seaside city of Port Angeles has good bakeries and restaurants, walking piers, and a car ferry that can take you to across the Straight of Juan de Fuca to Victoria. Port Angeles is the gateway to Olympic National Park's Hurricane Ridge area, with several trailheads for popular hikes through open wildflower meadows. Try to squeeze in a stop at Webster's Woods, a cool urban art park right in the middle of town.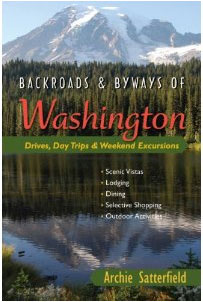 Backroads & Byways of Washington: Drives, Day Trips & Weekend Excursions by Archie Satterfield

Seventeen road trips and weekend getaways that reveal Washington's hidden charms.
From Olympia to Puget Sound and bustling Seattle, up to Bellingham and through the breathtaking Cascades, across lush rolling farmland heading to Spokane, delightful and unusual rambles abound in the Evergreen State. With longtime resident Archie Satterfield as your guide, discover the mountainous views along Chuckanut Drive, the state's first highway built for viewing scenery; step out of time in quirky towns like Old-West themes Winthrop; and enjoy some state history, be it the colorful legend of Molson or the lore around one of the West's most tenacious Indian chiefs, Spokane Garry.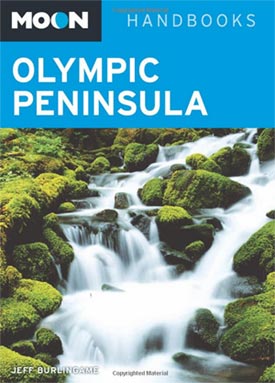 Moon Olympic Peninsula by Jeff Burlingame
Washington native Jeff Burlingame knows the best ways to enjoy the Olympic Peninsula, from strolling through the subalpine meadows and temperate rain forests of Olympic National Park to soaking and swimming at Sol Duc Hot Springs. With details on touring small towns, exploring the coast, and getting lost in nature, Moon Olympic Peninsula gives travelers the tools they need to create a more personal and memorable experience.
Photo credits: Dungeness lighthouse by John Hathaway, church by karma17, house by emmettanderson, water towers by brewbooks,  sign by  nick sherman  (Port Gamble), child by Dan Buck (Pt. Townsend) lavender by orkybash (sequim)