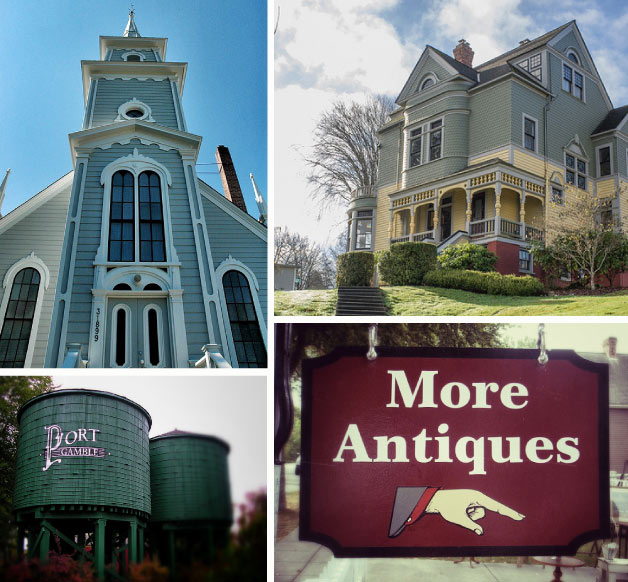 Is this town the definition of a picturesque seaside village of what? Port Gamble is pretty.  And old–it's one of the oldest settlements in the region. While 19th-century homes are a rarity in much of the Pacific Northwest, Port Gamble has a whole slew of well-preserved specimens, and they're all on the National Historic Register.
From its beginnings way back in 1853, the Poe and Talbot sawmill was Port Gamble–the company owned everything in the town. When the sawmill closed for business in 1995, it ended what had been the oldest continually-operating sawmill in North America. Though Poe and Talbot is no more, the New England-style homes and buildings created by the company's founders remain, and the entire community is preserved as a national historic district.
Getting There
Cross Puget Sound on a Washington State Ferry from Edmonds to Kingston, then head out of town on SR 104, winding west and then north into the tiny seaside town of Port Gamble.
Things to Do
Stretch your legs on a stroll around the small "downtown" where you'll find tea and truffle shops, a few antique stores and an old-fashioned general store.
Take a private class or rent kayaks at Olympic Outdoor Center, downtown Port Gamble. Paddling in these waters delivers big on stunning scenery of the nearby Olympic mountains, and a chance at seeing harbor seals or visiting porpoises.
Keep an eye out for seabirds and passing orca whales at nearby Salsbury Point County Park.
Take in the history of Port Gamble at the Port Gamble Historic Museum, or time your visit to go on one of the museum's ghost walks.
Pack your mountain bikes and take a ride on one of the many trails in the region, maintained by the North Kitsap Trails Association.
Where to Eat
Have brunch in the cafe at the back of the Port Gamble General Store for hot espresso drinks, Native American fry bread with sausage gravy, almond french toast, veggie hash, omelets and more. They're also open for lunch and dinner, and serve local beers and wines.
Stop in for a cup of Victorian ambiance in a cup at the Tea Room at Port Gamble. On Friday and Saturday nights, the same establishment features Bistro by Night dinners.
photos: church by karma17, house by emmettanderson, water towers by brewbooks,  sign by  nick sherman.