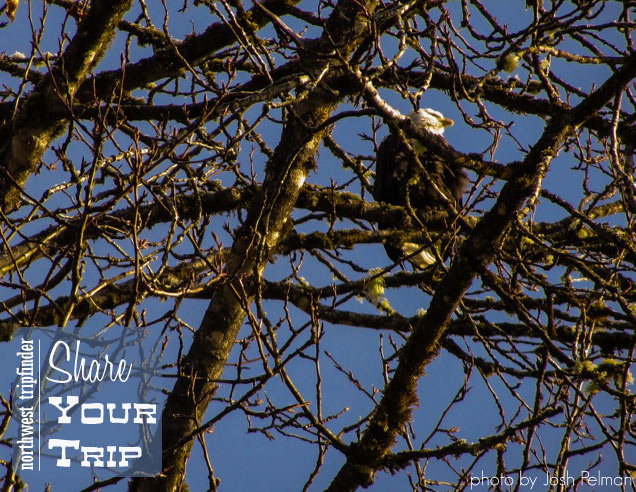 Even bald eagles enjoy relaxing in the sunshine.
Northwest TripFinder reader Josh Pelman captured this shot of an adult bald eagle from below during his trip to visit the Skagit River Bald Eagle Festival this past weekend. The pilgrimage to see this dense congregation of eagles is a winter tradition in the North Cascade Mountains along the scenic Skagit River. Several charming riverfront towns come together to celebrate the annual return of hundreds of Bald Eagles who overwinter here.
The attraction for eagles is the return of spawning salmon to the river. That makes for some good eating for hungry eagles.
Josh recommends Milepost 101 as a terrific spot for eagle viewing. "There is a wide bend in the river and a few birds up in the trees. Also ducks in the eddies. Climb over the jersey barrier and bask in the sun. We saw 11 eagles total."
After they'd had eyeful of eagles, Josh and his friends paid a visit to Birdsview Brewing Company near Concrete for a hearty meal and beer sampler.
SHARE YOUR TRIP: submit your Northwest trip right here.