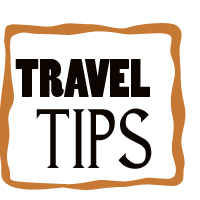 I don't know about you, but my wallet is weighing a bit lighter these days. Lattes have been downgraded to drip coffee, I haven't had good sushi in months, and my husband is wondering why we aren't buying the organic bananas anymore (I smartly figured the peel protects the fruit of a banana from harmful pesticides, hence worth the savings of 30 cents a pound. Hope I'm right about that!)
Turns out a lot of folks are thinking thrift about travel, and some terrific people have shared their budget travel tips over at Budget Travel's blog. Read it here: Reader's Money Saving Tips. Much of the advice you may well know, but a little refresher always helps in this economy.
We all know that traveling off-season saves us money. Book your vacation to France in the wintertime and you'll enjoy cheaper airfare, budget room prices, and tourists so few in number you could don a beret and practically blend in with the locals. Also, airfares change over time, so keep tabs on posted fares for your chosen destination for months in advance, using tools like Farecast and Kayak. That'll help you pinpoint the lowest fare going at the perfect moment.
Great. So what about tips on cheaper places to lay your head at night? Readers recommend seeking out hotels that include breakfast with your stay or B&Bs to save yourself some money and time in the morning. Check out state parks for cabin or yurt rentals that sometimes cost as little as $20 a night and include a kitchen, where you can whip up you own meals and save even more.
To these excellent tips, I've just a few to add.
The first of which, of course, is to save transportation costs and support your local economies by traveling locally in the Pacific Northwest!
A lot of places offer mid-week rates significantly lower than their weekend rates, so consider booking your trip mid-week. Also, some lodgings now are offering "recession specials" with still lower rates; its worth asking about this even if you don't see it advertised, as places may need to fill their vacancies and will work with you.
Test out your bartering skills. Seriously. I once avoided a $35 cleaning fee at cabin rental near Wenatchee by promising to clean it myself. At a newly-opened posh B&B in rural Oregon, my photographer friend offered to take some professional pics of the property for their publicity in exchange for two free nights, and they took her up on it.
Hostels are not just for European travel. Don't be afraid of them! Throughout the Northwest are hostels that rival other lodging options in comfort, cleanliness and charm – at a fraction of the price. Check out hostels in the Columbia Gorge, Vashon Island, and Victoria B.C.