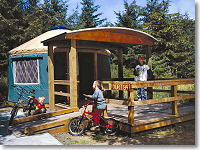 I just finished perusing Northwest newspapers and travel blogs for early fall destinations and travel ideas.
It seems that everyone is talking about yurts and cabins!
The Seattle P-I this week ran a story from the Medford Mail Tribune on Oregon yurts: Yurts prove to be a boon for campers at Oregon state parks, highlighting the ins and outs, the pluses and few minuses of this fast-growing accommodation alternative. Evidently inspired by state-run cabins in Minnesota, the Oregon coast yurt craze started in 1993 with just 2 14-foot yurts at Cape Lookout State Park, and their popularity was instant. Now, even with 190 yurts available to rent in state parks throughout Oregon, demand is still on the rise and the yurts at some parks are often reserved far in advance. More will be acquired to meet that demand (mostly on the coast) but state parks is now catching up to meet a related but slightly different demand from Oregonians – building cabins at state campgrounds. (See my recent blog post on deluxe Oregon cabins at state parks). Currently Oregon state campgrounds host about 60 that rent for $35 on up per night.
To the north is Mt. St Helens National Volcanic Monument, a destination that captured the attention of Terry Richard at The Oregonian: Eco Park: Sleeping at Mount St. Helens. The 90-acre Eco Park Resort on SR 504 has cabins, yurts and campsites scattered among the woods and wetlands, and has an onsite restaurant, the Backwoods Cafe.Yurts that sleep 6 are $75 and cabins for two are $100.
At the Seattle Times, some useful advice was dispensed in their Travel Q&A column about a good base from which to explore the great outdoors outside of Vancouver B.C. Kristin Jackson squashed the idea of Squamish as a desirable base, calling it "unappealing," and instead suggested that there are affordable places in Whistler (know of any, folks?) or Pemberton, just to the north of Whistler. Pemberton does offer some cheap sleeps, like the Holly Park Hostel and the Hitching Post Motel, so I think this is the better bet.