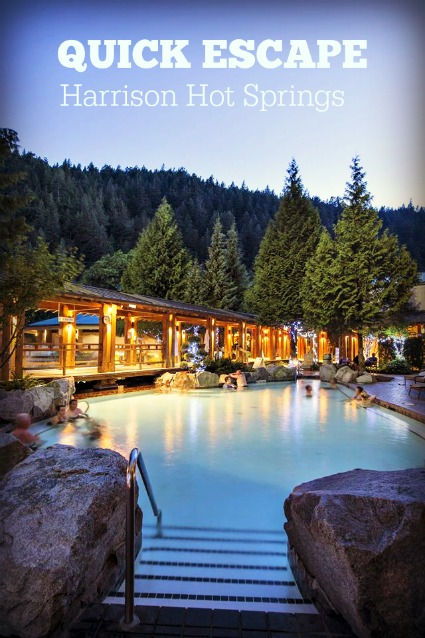 The thermally-active Pacific Northwest is home to many natural hot springs rumored to hold therapeutic powers to cure what ails you–or at least warm up your achy muscles after a winter hike.
Yes, winter hike… or summer, or fall, or whenever a dip strikes your fancy. That's the wonderful thing about natural hot springs–you can soak year-round, but in my opinion these warm mineral pools are best saved for the colder months. Here's why: Summer is the high season for hot springs, and you'll likely bump elbows with strangers while you soak away your aches and worries. No solitude, no bliss. Plus, who wants to beat the summer heat with… more heat? But come winter, those (relatively) empty, beautiful pools filled with steamy mineral water are just waiting to warm you up.
The only question then is, where to soak?
Most of our Northwest hot springs are in woodsy backcountry locales and accessible via well-maintained trails—check out our previous article that highlights our five favorite hot springs in Washington and Oregon.
And then, there's the stay-and-soak model, no hiking in required. These are locations where natural hot springs are tucked in scenic mountain foothills, but not set so deep in wilderness that a resort or two couldn't pop up and build a spa, piping in hot mineral water from its nearby source and offering the opportunity to soak and steam in luxurious comfort.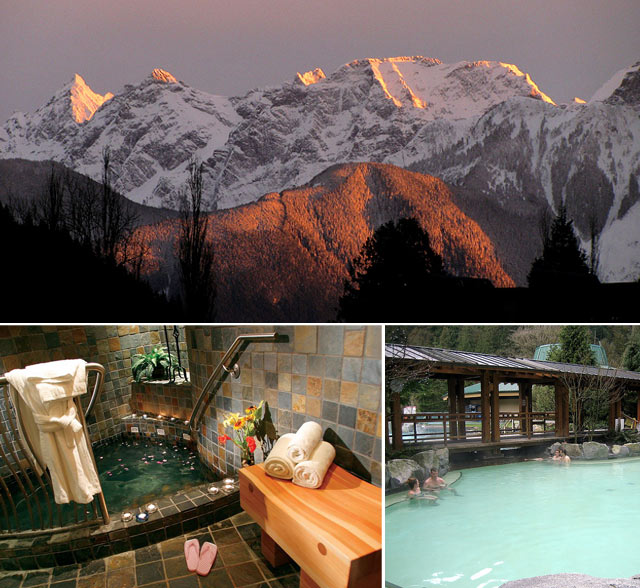 Harrison Hot Springs in British Columbia
One of the best spots for staying and soaking in all the Northwest sits just across the border in the small village of Harrison Hot Springs, BC, about about 90 miles east of Vancouver (about three hours from Seattle) on the eastern slope of the Coast Mountains on Harrison Lake.
To sample the rich mineral waters, you'll want to stay as an overnight guest at Harrison Hot Springs Resort & Spa (from $115 nightly, 866-638-5075), a family-friendly, lakefront hotel with five unique pools, both indoor and outdoor, all filled with water from the nearby hot springs, all accessible to guests only. The spring water comes out of the ground piping hot at 150 degrees Fahrenheit, then cool water is added to keep each pool at its own unique temperature. There's a kids-only pool, and kids are welcome in all but one adults-only pool. Rooms are somewhat small, but the resort has many comfortable common areas for reading books or playing a family game of Scrabble. The resort has several on-site restaurants. In town, Village Pizzeria makes several popular specialty pies plus pasta dishes.
Want to stay overnight somewhere else? The resort holds the sole water rights to the hot springs, though they also manage a sixth indoor pool also fed by the hot springs that is open to the public and accessible for a daily fee. The Public Pool is in the center of town at the junction of Hot Springs Road and the Esplanade. Open daily 10am-8pm, children and seniors $6.75, adults $9, families $27, toddlers and infants are free.
Getting there: Harrison Hot Springs is about three hours from Seattle (150 miles), and the route crosses the US-Canada border. Americans will need passports for this trip (find out how to get yours here). Note that children under the age of 16 do not need a passport to cross the border by land or sea–but they will need to show a copy of their birth certificate. See driving directions and route map here.
Extend your trip: Sasquatch Provincial Park sits four miles up the lakeshore from Harrison Hot Springs, and remains partially open in winter (as in, no camping or swimming until May). The park has two easy hiking trails and one interpretive nature trail: the Hicks Lake Trail (4 km round-trip), the Deer Lake Trail (2 km round-trip). The Beaver Pond Interpretive Trail is approximately a 500 metre loop.
More info: Harrison Hot Springs Tourism