Dear TripFinder,
Q: We're planning to camp this summer at Mt. Rainier to view wildlife and wildflowers. None of the Park's campsites have showers though. Any campground recommendations close by that offer a chance to get cleaned up each night after a day of hiking?
– Beth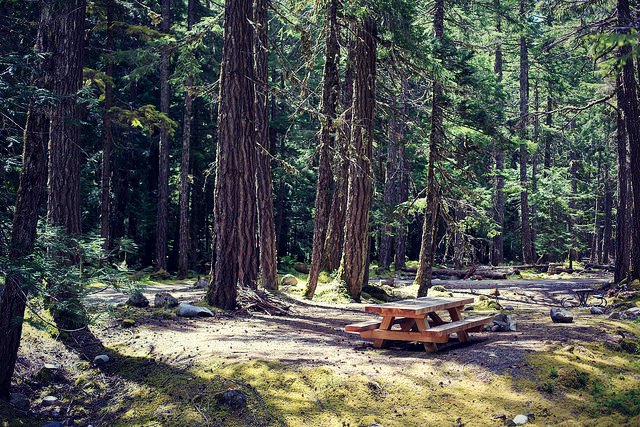 Dear Beth,
It's true–most National Park campgrounds have clean restrooms with running water, but no showers. This is true of Mount Rainier National Park's three developed campgrounds and it's true of campgrounds with Olympic National Park and North Cascades National Park as well. National Forest campgrounds in the Pacific Northwest are also not big on showers.
The obvious solution for shower-seekers is to stay at a nearby city, county or state park campground with coin-op showers and accept that you'll be driving an extra distance to reach the park trails each day for hiking.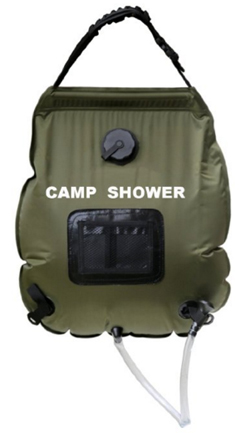 But first, there is another option. A practical, affordable and simple solution is to buy camping shower equipment for your camping adventures. First you need a solar shower that holds about five gallons of water. You'll probably want one of these per person. Fill it in the morning and hang or lay it in your campsite somewhere that will get some sun. The water will heat up during the day and be ready to hang up for a quick shower when you return. For privacy, this pop-up shower tent completes your camping shower system. Note that national parks discourage the use of soap as well as bathing within 200 feet of a water source.
If you want nearby public campgrounds with showers outside Mt. Rainier National Park, look at county, city or state parks that have campgrounds – most of them have showers. Here are three options around Mt. Rainier:
Alder Lake Park: This is your closest and best camping option (just 20 minutes from the Park's Nisqually entrance that accesses the popular Longmire and Paradise hiking areas). There are a whopping 173 campsites here (some may be reserved, others are always first-come, first-served) and plenty of coin-op showers. The scenic park, popular for swimming and waterspouts, is managed by Tacoma Public Utilities. Three other TPU park campgrounds with showers on the east side of Mt. Rainier are Mayfield Lake Park, Taidnapam Park, and Mossyrock Park.

Kanaskat-Palmer State Park: In the Green River Gorge area between Black Diamond and Enumclaw on the north side of Mt. Rainier, this park is about one hour from the White River entrance to the park. The park has 25 tent spaces plus 19 electrical spaces and six yurts. The six showers are coin-op.
Ike Kinswa State Park: Hwy 122 west of Randle, about an hour from the Ohanapecosh area of Mt. Rainier. There are 31 standard sites and 41 full hookup sites, and five cabins. The ten showers are coin-op.
Hope this helps!
Got a burning travel question? You ask, we'll answer.
Photo: National Park Service
New to Northwest TripFinder? Discover more year-round getaways in the Pacific Northwest by subscribing to our email newsletter.