The September issue of Portland Monthly magazine has an intriguing cover story featuring fall weekend getaways – 14 destinations on just one tank of gas. With gas prices hovering around $4 a gallon, this seems like a pretty smart feature for folks like us who love to travel regionally –on a budget.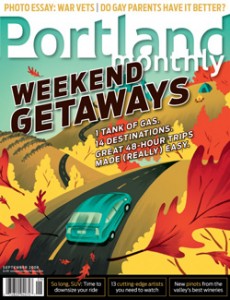 I flipped through the mag and noted a lot of places I would love to spend a weekend this fall – the Hood River Valley, Crater Lake, South Whidbey Island. And they conveniently outlined itineraries, including great places to stay.
But, wait. Near Hood River they direct you to the Sakura Ridge B&B. Sounds nice… for around $225 a night. In Tacoma you can stay at the swanky Hotel Murano, where a room will set you back up to $469 a night. In Woodinville, you won't find a room at the Willows Lodge for under $229 a night, and you might pay as much as $699 if that's your fancy.
Don't get me wrong – the article has great ideas for destinations and what they offer, such as recreational options, art walks, wine tasting and even bistros at which to sip your morning latte. But I found the picks of lodging to be a bit out of touch with ordinary folks in this less-than-stellar economy.
Oh, well. It just reminded me of why I started this website!