Port Angeles has long been a popular destination for tourists to Washington state. The small city, nestled between the Strait of Juan de Fuca and the Olympic mountains, makes a terrific base for Olympic Peninsula sightseeing and recreation. It's also a great launching point for ferries to Victoria, British Columbia (the Coho or Victoria Express.) And with many hotel choices, fabulous views, waterfront parks and great restaurants, it's a pretty nice base to explore from.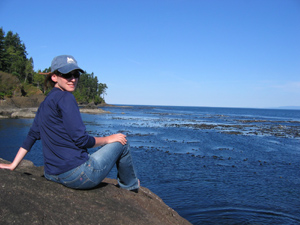 Tourists flock in the summer. But it is off-season, especially the fall months, when Port Angeles makes the perfect weekend getaway for Northwesterners. Vacancies are plenty, there is still great fall hiking to be had at nearby Hurricane Ridge just 17 miles away in Olympic National Park, and the fall harvest– from the land and the sea — will keep your senses happy and stomachs full. (One great place to start your sample the bounty of Port Angeles is this weekend's Streamfest.)
A leisurely good-weather day in PA might start with a strong cup of Zoka coffee and a pastry at Bella Rosa Coffee House (403 S. Lincoln St.) to go. Enjoy your hot beverage down at the City Pier, where a two-story tower gives you one of the best views to be had in the Pacific Northwest – a sweeping panorama of the strait. From here, you can stroll east for a mile along the Waterfront Trail, where interpretive signs teach you about the rich native history of the area and the diverse marine life stretched out before you. Or head west from the Pier along the Waterfront Trail, past the paper mill to the beginning of the two-mile long Ediz Hook, one of the longer sand spits in the world and great for birdwatching, picnicking or just drifting through the driftwood. For a longer walk or bike ride, head east from downtown Port Angeles beyond the Waterfront Trail's end at the old Rayonier mill to the Olympic Discovery Trail, 40-miles of mostly-paved trail, much of it waterfront, between Port Angeles and Sequim. The longterm plan is to eventually extend this discovery trail all the way to Port Townsend. The Port Angeles area boasts a bounty of great produce and seafood, so if your visit falls on a Saturday or Wednesday, be sure and check out the local farmers market for some local, organic flavor.
Of course, being in the rain shadow of the Olympic mountains the sun often shines in PA while the rain drizzles in Seattle. But on the off-chance that your weekend getaway gets rained on, there's plenty to do indoors. Visit the Olympic Coast Discovery Center, operated by NOAA, at the Landing Mall. PA's Fine Arts Center features work from Northwest artists, and the Clallum County Museum offers history buffs guided and self-guided tours. Or, you can always just pack your umbrella and wander through the many galleries, boutiques and antique stores downtown.
Looking to venture beyond town? Take a fall color hike from Hurricane Ridge on trails like Hurricane Meadows or Klahhane Ridge. Visit the Olympic Game Farm and get close to wildlife, at least from the comfort of your car, including zebras, lions and bears. Watch birds at the Dungeness National Wildlife Refuge. Go wine tasting at one of the north Olympic Peninsula's seven local wineries (November hosts two Peninsula wine events.) And PA is a great jumping off point for a day trip or overnight to Victoria B.C.
However you spend your day, make sure you save some time and money for a leisurely dinner at one of the best restaurants on the Olympic Peninsula, the romantic and delicious Michael's (117 B East First St / 360-417-6929.) The pastas are fantastic.
So, where are the cheap sleeps to be found in Port Angeles? Certainly one of the least expensive is the Downtown Hotel (101 1.2 East Front St / (866) 688-8600) where rooms start at just $45. Many of the nicely-designed rooms are European style, with shared baths. Even these Euro-style rooms have a washbasin and cable TV. One room, for only a bit more money, has an ensuite bath. The more expensive options (up to $120 / night) are much larger suites with kitchenettes. As for bed and breakfasts, the Ocean Crest B&B is always just $75 – $95 a night, and serves up all kinds of warm hospitality. The Angeles Inn B&B has low season rates (starting October 1) for under $100. (With tourism down from high gas prices, don't be shy about asking if the low season rates start sooner this year – I've heard some places are already honoring low season rates.)
Thinking of planning a fall getaway to Port Angeles? Here is a link to the Port Angeles tourism brochure, which is chock full of great suggestions on what to do, where to go, and local festivals and events you won't want to miss.