Below is a guest post from my sister Lesley. Lesley is a master barista, musician and music producer in Seattle.

This past October, my boyfriend and I decided to try something a little different for our last hurrah before winter and drove down to the Oregon Coast to stay in a yurt at Nehalem Bay State Park. We found it to be a great, inexpensive getaway and thought we'd share our experiences and tips with you.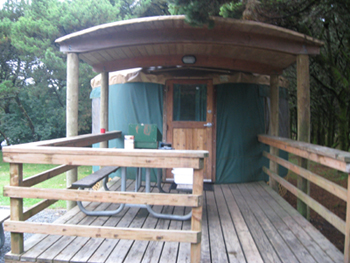 First of all, if you are driving from Seattle as we were, I would suggest an early start. We hit the coast mountains outside of Portland just as it was getting dark and faced a harrowing, dark, foggy drive over the mountains to the coast. After cautiously driving 15-20 mph through the thick fog, we finally arrived well into the night to find our yurt prepared for us, which is, by the way, one of the great bonuses of "camping" in a yurt. No tent to set up, no air mattress to inflate. Just walk in, turn on the light and the electric space heater, put down your pillow and sleeping bag on the mattress of the bunk bed, and fall asleep.
We awoke to a wonder of a campground. Among a sparse forest of wind-twisted and stunted conifers sat our yurt. We explored the campground and found a very well-equipped heated bathroom with hot water and showers just a few steps from our yurt! We also found no tent campers at this time of year, but an abundance of RV campers. We had a neighbor on one side of us, also in a yurt, who had a dog that had to be kept on the porch of the yurt and was not very happy about it. He definitely had some barking fits which were not pleasant. The campground was pretty desolate, though I could imagine how it would be bustling in the heart of summer. It seems that it would be a very family-friendly place, with lots of wide, paved roads for bike-riding, and facilities to keep everyone clean, warm, and well-fed.
Unfortunately, the only indication from your yurt that you are near the ocean is the roar of the surf. One must hike over grassy dunes to actually see the beach. Instead of the rocky shores of Southern Oregon, the beach here is very sandy and wide open. The park is situated on a sandy spit. We hiked down the middle of the spit to the Nehalem River delta. Luckily, we'd brought along snacks and water, as we did not anticipate just how long the hike would take. It's less than 2 miles down to the end of the spit, but hiking in sand is difficult! We hiked back along the beach in the sand and had moments of feeling lost, trying to remember landscape markers so we would know at what point we should climb back over the dunes to the campground. It took several hours and we were very tired afterward!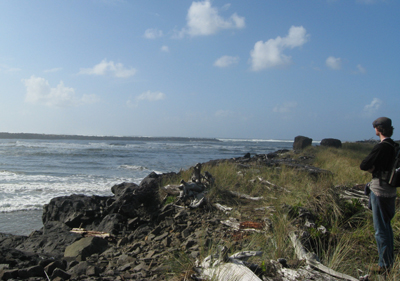 The yurts are a great homebase. The inside is warm and dry and the doors lock, so you can stow all of your belongings inside. The porch is covered with a picnic table, so even when it was raining, we were able to cook on our Coleman stove outside. We spent a little time on the second night just outside of our yurt sitting around a fire that we'd made in the ring provided.
The inside of the yurts are very private, but unfortunately, if you are sitting outside, there is very little privacy, which is different from the heavily-forested campgrounds I am used to. On the second night, a group of teenagers arrived very late in the night at the yurt next door and partied for a while, keeping us awake.
In the early morning, a storm blew in off the coast and I was glad that we were in a yurt. The rain made a loud pelting noise that kept me awake through the storm, but at least I had no fear of the yurt blowing away or leaking water, as I would've if we would've been in my little backpacking tent. We agreed the yurt was a great alternative to tent camping during the shoulder season when we probably would not have normally gone camping.
Renting a yurt at an Oregon State Park is considerably cheaper per night than any cabin or yurt in Washington State Parks. Our yurt rental at Nehalem was $27 a night; just across the Columbia River, yurts at Washington's Cape Disappointment State Park are now up to $60 a night. Of course, $27 a night is more than most tent camping fees, but having the "luxuries" of warm showers and electric heaters and lights made it completely worth it. (editor's note: Oregon Coast yurts are $35 – $41 a night as of 2011)
We found yurts to be a nice hybrid between staying in a hotel and camping, with immediate access to the beauty of the coast just steps from your yurt. I imagine it would also be a nice alternative for families, even those with babies and toddlers, as there is plenty of space in the yurt for everything you need to bring, and access to all the basic necessities. For campers looking for a private escape, however, make sure you go in the off-season, but even then you might share your vacation haven with a group of local teenagers looking for a place to get away and party on the weekends.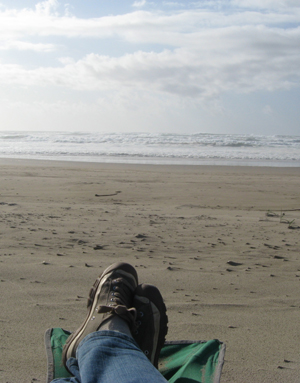 Nehalem State Park has more to offer than yurts and sandy beach, too. During the summer, you can rent a horse and ride it on the sandy beach. Surprisingly to us, there is a landing strip for small planes at the park should you prefer to bypass the harrowing drive through the coast mountains and just fly in!
Nearby sights to see are Smuggler's Cove, where you can watch pelicans and surfers ride the waves. If you have some kind of watercraft with you, you can explore Nehalem Bay and its wetlands. All along Highway 101, there are many waysides, which are really miniparks that offer great views and access to the beach. If you're into cheese, Tillamook is not a far drive down the coast and you can sample all that the Tillamook Cheese factory has to offer.
Our next Oregon Coast destination is near Yachats, where we've been before, but at a bargain spot on the beach called the Wayside Lodge. I will send in a report when we return!
Oregon State Parks offer rustic yurt rentals at 14 coastal parks and four inland parks. All are a bargain at $35-$41 a night (rates updated 2011). Each yurt sleeps up to five people and includes a futon sofa that converts to a double bed, a single or double-sized bunk bed, a coffee table, heat, lights, electricity, an outdoor fire pit and picnic table, a skylight, and a locking door. You bring your own bedding, food, dishes and cooking utensils, etc. Click here for rental information or call 1-(800) 452-5687.