Lucky, lucky you.
The owners of Queen of the Valley Inn Bed and Breakfast, a charming historic farmhouse B&B in La Conner, Washington, are generously giving away a night's stay to a lucky Northwest Cheapsleeps reader.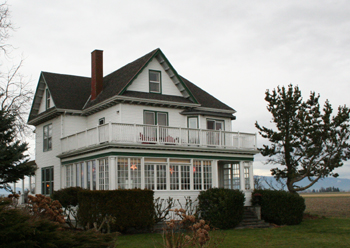 To enter, all you have to do is leave a comment below. In the comment, tell us what you ate for breakfast this morning!
You may remember I wrote about Queen of the Valley Inn's great "Financial Relief Package" a few weeks ago. Go soon – this special only lasts through the end of this month. My family spent a relaxing weekend at this B&B just after I wrote about it, and trust me – you won't be disappointed. Shelly and Chris are fabulous hosts (and cooks!), their inn is family-friendly, and you will feel right at home. Well, except you won't have to lift a finger!
Details: Good for one night, any single room. No black-out dates! Good 7 days/week. Expires 1 year from date of issue. Subject to availability, and advanced reservations required, of course. Value not to exceed $169.
How to Enter: To enter this March Giveaway, please submit a comment below. The contest begins today and ends on Tuesday, March 31, at 11:59 PM PST. We will choose one winner at random and notify you via email.
Rules: To enter, you must be age 18 or older. Submit only one comment per person on this post. If this is your first comment on Northwest Cheapsleeps, your comment will need to be approved before it is displayed. Duplicate comments will be deleted. Your email address is required when you post a comment but will not be displayed and will not be used for any reason other than to contact you if you win. Therefore, make sure the email address you give us is valid.
Good luck!