This past weekend I attended Green Festival in Seattle, a huge environmental expo featuring authors and educators, how-to workshops, and eco-friendly businesses and resources. The organic food was fabulous, I learned all about compact fluorescent bulbs, and was inspired to try a hemp chocolate shake. Yum!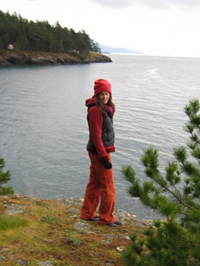 It also got me to thinking about travel and its impacts on climate change and communities. My husband Brian and I recently decided to limit our airline travel to one trip per year. We'd flown about five times last year, but then read that one coast-to-coast round trip airplane ride contributes a hefty chunk to one person's yearly quota of carbon (that is, if we had such quotas that set each person's carbon emissions at a yearly sustainable level.) I mean, wow. Air travel is more damaging than many other emissions because the CO2 is directly released into the upper atmosphere. The rising cost of oil consequently pushing air travel costs up has made that decision even easier to stick with.
The trouble is, we love to travel. Vacations are a means of renewing and recharging in our hectic modern lives. Experiencing new places and connecting with new people are enriching components of that.
We decided we'll keep traveling, but we're redefining it a bit. Instead of two weeks in Costa Rica this year, we'll take frequent, shorter trips much closer to home, and visit local, small businesses in our travels. On these trips we try to minimize driving, eat local and organic, and stay in inexpensive, family-run bed and breakfasts or small inns, or camp. To tell you the truth, we're loving it.
I'm starting to think local travel — taking shorter vacations near where you live and connecting with your local communities in the process — is a refreshing and progressive way to renew and recharge. And living the beautiful and diverse Pacific Northwest certainly makes it all the more enticing.
What do you think? How do you travel green?