Have you heard of "geotourism?" I first heard the term directly from Sheila Buckmaster, senior editor at National Geographic Traveler magazine, when I served on a panel alongside her in 2007. I remember scribbling the term in my notebook and thinking – that's what we need in Washington!
Geotourism is defined as a form of travel that aims to sustain or enhance the geographical character of a place—its environment, culture, aesthetics, heritage and the well-being of its residents. In fact, the term was first coined by National Geographic, and they remain a strong proponent of this concept today. And thanks to their new partnership with Experience Washington and Travel Oregon, geotourism has arrived in the Central Cascades!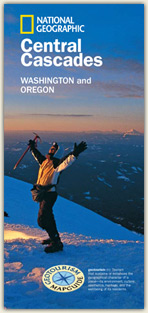 Check it out at www.thecentralcascades.com. There you'll find an interactive map guide to the 446 "geotourism locations" throughout the Central Cascades region. Each location fits into one of seven themes that help to define the character of the Central Cascades. Explore archaeological sites, scenic trails, wineries, wildlife habitats, places to eat and drink, lodging and agricultural sites. You'll also find a downloadable map that looks beautiful but is not terribly useful on the computer screen – if you want one of the geotourism maps to take with you on your travels, order one to be sent to you (it's $5 for shipping).
The sheer amount of fun things to do and experience on this map is mind-blowing, and all of the geotourism locations were nominated by Central cascades residents and visitors. I was particularly excited to see a favorite hiking destination of mine, the Goat Rocks Wilderness, featured as a geotourism location in Washington; I nominated it for consideration back when this project was just getting off the ground.
Scanning the list of 43 lodgings on the map, I couldn't help but wonder what makes a lodging geotouristic? Which kinds of lodgings enhance the geographical character of the Central Cascades–its environment, culture and heritage? Places like Carson Mineral Hot Springs Resort ($75/night) in Carson, WA, where the mineral water from nearby springs is thought to have healing properties.
Or the Cowboy Tree Inn in Silver Lake, OR ($75 / night) where 30 oz sirloin steaks remind you that you're staying at what was historically the halfway point on a popular cattle trail.
In Wolf Creek, Oregon is the Wolf Creek Inn ($75 – $105), a place I've been eager to check out for this blog. Opened in 1883, Wolf Creek Inn is the oldest continuously operated hotel in the Pacific Northwest. A neat little fact I learned from the geotourism map is that Jack London completed his novel Valley of the Moon while staying at the Wolf Creek Inn. According to the geotourism map,"it was an important stop on the 16-day stagecoach journey from San Francisco to Portland, and the Wolf Creek Inn has housed practically every important person found in the Northwest during the early history of Oregon, include Hollywood stars such as Clark Gable, Carol Lombard and Orson Welles, looking for refuge." As of this writing, the link to the Wolf Creek Inn's website on the geotourism map is incorrect; the correct url is www.historicwolfcreekinn.com.
More geotourism fun at www.thecentralcascades.com.
This blog post was adapted from my original post on the Central Cascades Geotourism project that appeared on The Signpost Blog at Washington Trails Association.