If you have kids, you might just relate to this: even though I love my son more than life itself, a little time away from him every once in awhile is the stuff dreams are made of.
Let's just say I am eternally grateful that my parents live a short ferry ride away from our home in West Seattle. And we've made pretty good  use of that ferry route this past year. Each Monday morning, my mother, Maria, walks aboard the Issaquah or the Klawhowya, crossword puzzle in hand, and floats across Puget Sound to the other side where she watches our baby for the day while Brian and I go to work. At the end of the day, she floats back to Olalla. Sometimes, my Dad floats along, too. And as I said, this is so we can go to work, which is not exactly an escape from reality. So on rare occasions, glorious special occasions, they float over on a weekend so that we can escape for real.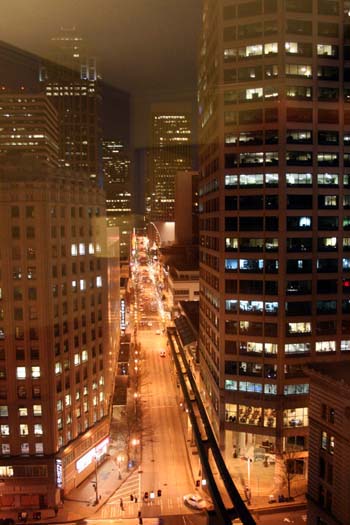 Last weekend, Brian and I got away for a full 24 hours of adult time to downtown Seattle for a weekend excursion. I'm still giddy just thinking about it. We went to a movie–in an actual theater. Then, we ate a meal that I didn't cook. As in, from a restaurant.  All this time we were just a few miles from our precious little boy, who was safe and happy at home with his grandparents. And most importantly, we slept.
As regular Northwest Cheapsleeps readers will note, I am not a 4-star hotel kind of gal. Get me in a quaint inn or an offbeat B&B and I'm happy as a clam. However, I've been feeling the pull to take advantage of the terrific rates at nice downtown hotels that travelers are enjoying when they strategically bid on a room via Priceline. I first wrote about this almost a year ago, when hotels like the Edgewater and Hotel Vintage Park began slashing rates for rooms available via Priceline because of the economic downturn. The deals live on.
Bidding for a hotel room using Priceline's "name your own price" bidding system is pretty simple, but it admittedly takes some guts because the deal is final before you know exactly which hotel accepts your offer (as in, no refunds or date changes allowed). Fortunately, a little preliminary research at a website forum called BiddingForTravel.com will give you a very close idea of which hotel will accept your offer. People post here about the hotel deals they got over at Priceline and the details of their offers.
When I checked in on the Seattle forum at BiddingForTravel a few weeks ago, I saw that folks who started their bids around $65-$70 for a 4-star hotel in the downtown area were securing rooms at the Westin or Hotel Monaco right away, so I headed over to Priceline to put in my bid. Ten minutes later, I had a confirmation of a Saturday night room at the Westin Seattle for $69!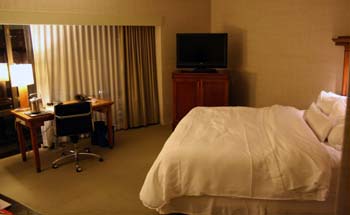 If you haven't used Priceline's "name your own price" bidding option before, here's how it works: Just enter your destination city and the dates you'll be visiting. Then choose "Name Your Own Price," and enter what part of the city you want, what you are willing to pay per night for your accommodation, and what level of accommodation you want (e.g. a 4-star hotel). This is your "offer." If your offer gets accepted, you'll have reservations booked at the price you wanted and will soon be told which hotel you'll be staying at. If your offer is rejected, you can try again with a higher offer up to three more times (this is why it's quite handy to do some research ahead of time to see what offers are currently being accepted so your initial offer is neither too low nor too high.)
So, what's my verdict on the Westin? Their beds and linens are as comfortable as they come. The hotel room was just that – a hotel room, and for a 4-star hotel, the rooms could use a good update. We parked our old Volvo on the street below to avoid the $35 Westin parking rate (ouch!) And there was no free wifi in the rooms, something this cheap sleeper has come to expect and enjoy. But the location is fabulous, right in the heart of downtown and a block or two from most of Tom Douglas's restaurants (which we took full advantage of!) At $69 a night, we had few complaints.
The next time we are lucky enough to have a weekend getaway near home, though, we're probably going to pass on the screaming deals at posh downtown hotels and try out the 11th Avenue Inn ($59 – $159) or the Capitol Hill Guest House ($75 – $155). These are unique, independently-owned places where the wireless internet is free, the coffee is strong, and friendships are made over a fabulous home-cooked breakfast. I'll let you know how it goes.