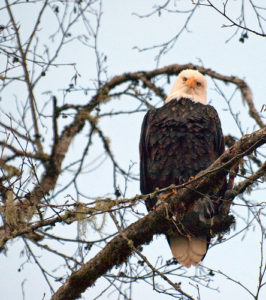 The upper Skagit River Valley in northwestern Washington is home to the western half of the North Cascades Highway, possibly the most scenic drive in the Northwest. It transects the rugged, craggy North Cascades mountain range as it climbs and dips its way east, and then drops and opens into the Methow Valley on the other side. On either side of the highway are the northern and southern sections of North Cascades National Park, and just off the highway are numerous trailheads of hiking trails into the park. This is a summer drive, as the highway closes each winter due to snow, restricting access to the craggiest scenery and many of the park trails, which would make for glorious snowshoeing, if only you could reach them. In the winter, the appeal of the upper Skagit lies in its quiet towns, peaceful lowland trails and star seasonal visitor – the American Bald Eagle.
Bald eagles numbering in the hundreds gather along the Upper Skagit River from late December through February to feast on the tens of thousands of chum salmon returning up the river to their spawning grounds. The spectacle of eagles perched on trees like Christmas decorations is worth the trip, even if you're not a complete bird nerd like I am. There are a few ways to go about seeing them, by car (click here for a map of promising locations to stop and look for them) or by boat (you can go on a guided tour or on your own, as I did with a friend who owns a raft.)
If you go, you'll want a place to stay the night. Accommodations are limited in this area, which is surprising considering the tourism traffic it gets from visitors to North Cascades National Park. Because the lodging is limited, there is little competition and few real bargains.
I've got a few good places to tell you about, but first I must disclose something. I am a vegetarian. And it just so happens that two of the best affordable sleeps in the upper Skagit Valley serve up sides of cattle with their rooms.  My fondness for four-legged creatures doesn't stop me from enjoying a cow once in a while… as long as its from a window as it roams free in the field beyond.  When I see buffalo, elk and ostrich on the menu at dinner, I usually just move on to the pie list. (I've enjoyed pie, only pie, for dinner a number of times.) This is all to say that if you're a vegetarian and have issues making friends with a calf that's going to be veal parmigiana a few weeks down the line, well then you might want to pass on these places.
Now about those buffalo. I have a friend Jodie from Australia who is living in Seattle for a few years with her husband and daughter (and enjoying many weekend getaways in the process). She and her husband love to hike, and so a few months back took advantage of some rare sunny days and hit the trails of the Upper Skagit Valley, using the Buffalo Run Inn in Marblemount as a base.  "We enjoyed our stay there. Our room, the bear room or #5, was quite large and had a comfortable bed and kitchenette. Very nice room for the price. The complimentary continental breakfast had lots of options and was available early enough to get in a full day of hiking. For an even cheaper deal, bunkhouse accommodations are also available." Jodie told me they spent an entire lazy afternoon near the river in Newhalem just watching the spawning salmon. "Our toddler was fascinated!" Another day they hiked the enchanting Thunder Creek Trail, then took advantage of the Skagit Valley bounty of berries. "Each day of hiking was capped off with a delicious shake or ice cream from the Cascadian Farm organic fruit stall." The Buffalo Run Inn has rooms $50 – $90 a night. Online reservations only: www.buffaloruninn.com.The Buffalo Run Restaurant next door features adventure meats from the owner's nearby ranch, including elk, ostrich and-you guessed it-buffalo. They prepare fabulous homemade pies, though fortunately for vegheads like me, they have a hearty vegetarian menu as well. By the way, if you're wondering about the buffalo… Jodie tells me they enjoyed the buffalo stroganoff, and it was delicious.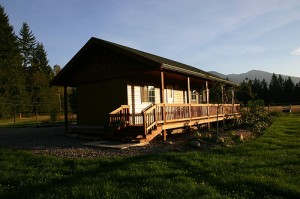 My favorite Skagit sleep is Ovenell's Heritage Inn in Concrete. It's a B&B in the main house, though I have only stayed in the cabins which run $135 – $145 – a bit higher than the accommodations I typically recommend here. They sleep four, though, so go with friends and split the cost, or bring the kids – this is a working farm and they'll love being up close to the animals. The lovely pine log cabins have full kitchens, woodstoves and high vaulted ceilings. Evidently a good deal of their loyal customers at the inn are loyal customers of the beef, too. When we arrived, we were asked if we wanted to put in an order for the Maine-Anjou cattle, and we respectfully declined. But again, if this is your thing, it's supposedly delicious, and I can vouch that the cattle are lovingly raised! And, my pumpkin bread recipe comes from the owner of this place… it's the best and I've been making her recipe for years. Info: www.ovenells-inn.com or call (360) 853-8494.
For a decent really cheap sleep in the upper Skagit, check out Eagles Nest Motel in Concrete. It comes solidly recommended from a friend who routinely crashes here after long backpacking hikes in the Cascades, and rates are around $50. Call (360) 853-8662.
Can't get enough of the North Cascades? Check out www.experiencewilderness.org for local hikes and much more.
Skagit eagle photo by armadilo60. Cabin at Ovenell's Inn by mhowry.