It's finally summer in the Pacific Northwest!
We've spent a good deal of time at the beach already this summer, starting with four whole days on the Washington coast in May. For my 3-year year old, that meant building a lot of sand castles. But it also meant plenty of beach hiking, which the little lollygagger wasn't always thrilled to be doing.
So we conned him into it. We came up with a beach scavenger hunt, and it was a big hit. Below are my ideas for creating a beach scavenger hunt for kids.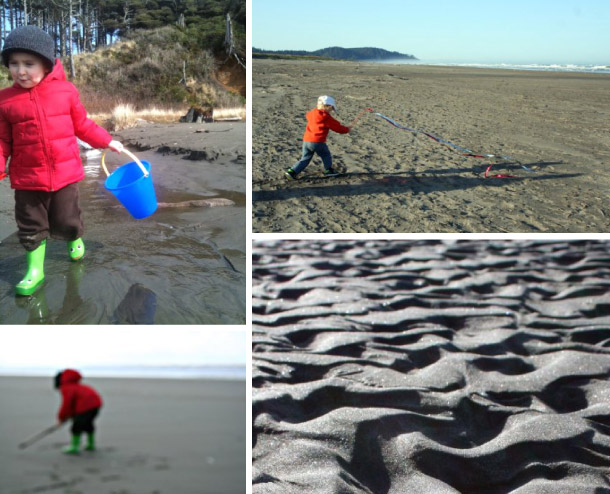 Turn beach-combing into a fun game with a scavenger hunt.
Create a list of objects to for kids to seek out, and give each kid a bucket to collect their findings. Here are some ideas of what types of objects to include:
few different kinds of shells
a strand of sea kelp
a piece of driftwood
a black stone
a black feather from a crow or raven
Tip: Monitor kids closely to make sure they don't approach dangerous items that may have washed up like sharp glass, needles or tsunami debris from Japan. (If you come across tsunami debris that could be hazardous, call the National Response Center at 800-OILS-911.)
By the way, if you come upon a feather of a bald eagle, like the one in my picture below, leave it on the beach. It is illegal to possess a bald eagle feather in the U.S. if you don't have a permit to do so. On a recent beach outing on Vancouver Island where we saw dozens of eagle feathers along the beach, my Canadian friend told me it is illegal in Canada as well.