Perhaps you've seen them fishing off the pier along Ruston Way in Tacoma, or casting from the beach in West Seattle. Have you wondered what those people are fishing for?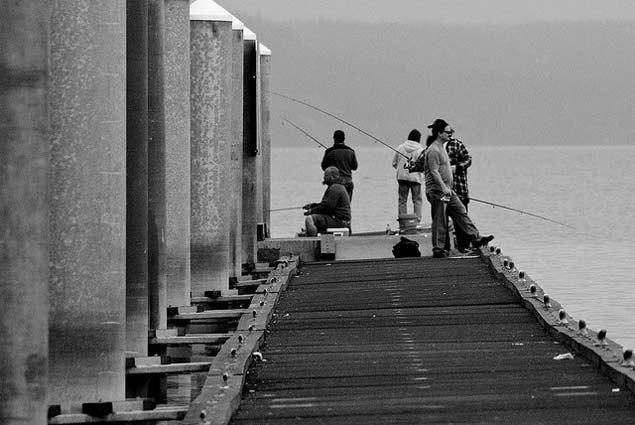 That depends on the season. And of course, the time of day.
This coming August we'll host a run of pink salmon in Puget Sound. They surge into our waters every two years, millions of them returning to spawn. Anglers will follow, lined up along piers and shorelines. Our last big run was 2011, and I wrote about the fishermen we encountered at West Seattle's Lincoln Park.
But what about those folks out on the lighted pier at night? They're out there in frigid temperatures in the middle of winter, especially in the early morning and late evening. Watch and you'll notice they might shine a light into the water at the exact spot their pole has dropped a jig. They huddle and wait.
They're jigging for squid, or calamari. These small cephalopods are attracted to the lights from the pier and handheld flashlights.
To fish for squid you'll need a Washington state shellfish license, a trout rod, fishing line, a bucket and a squid jig (a baited squid jig or an artificial squid jig that looks like prey to a squid.) Read more about squid fishing in Puget Sound here.
What about you — have you ever gone fishing in the city? What did you catch?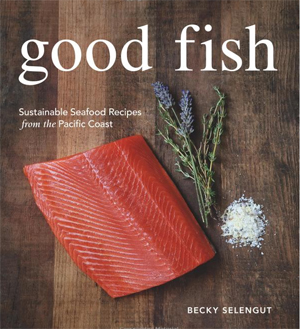 Good Fish: Sustainable Seafood Recipes from the Pacific Coast
Pacific Northwest chef and seafood advocate Becky Selengut knows good fish, and tells all in a voice that's informed but down-to-earth.  From shellfish to finfish to littlefish, fifteen good fish are featured, and the accompanying seventy-five recipes will appeal to a wide range of home cooks.
Photo above: fishing from the pier in Tacoma, by Bryan Davidson via Flickr Creative Commons