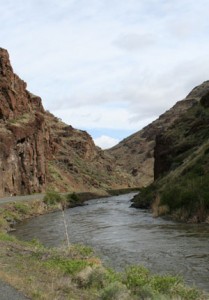 What a fantastic vacation a trip to Eastern Oregon makes. This varied landscape, rich with geologic history and natural beauty, features many surprising elements–ponderosa pine-topped mountains, meadows of tall native grasses and wildflowers, winding rivers and streams teaming with trout, stunning canyons and badlands, and real fossils that you can get close to. Add to this intrigue the fact that the John Day River Valley is seldom crowded, making this a great last-minute July 4th weekend getaway.
The John Day Fossil Beds National Monument, established by Congress in 1975, is situated in Eastern/ Central Oregon (Grant County), and comprises 14,000 acres in three separate units (see map and directions). My reaction when coming upon the badlands and canyons for the first time was disbelief. I said something along the lines of: "Are you sure were in Oregon?" The landscape is stunning. But its what's up close that truly makes this place unique – the badlands of the John Day Valley are fossil beds. Composed of sedimentary rocks, they preserve a record of 50 million years of plant and animal life.
The three distinct fossil bed units are a good distance apart, requiring a car and good planning for your visit to minimize driving but still take it all in. I'd recommend reserving at least three days for a vacation to this part of Oregon, including two days visiting the John Day Fossil beds National Monument, and preferably a few more days to explore other recreation opportunities in the area.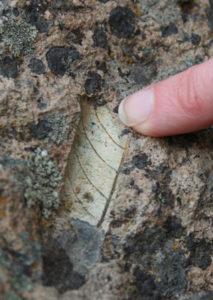 We approached John Day from the east to start our visit at the Sheep Rock Unit, which is where the new, amazing, and interactive Paleontology and Visitor Center is. The Paleontology Center features exhibits, interpretive programs, and audiovisual presentations on fossils, geology, and the processes of paleontology. It's also a great place to chat with a ranger about your visit and get info on local camping and hiking trails. Just across the street from the visitor's center at the Sheep Rock Unit is a museum, interpretive trail, historic ranch and orchard. To the west of Sheep Rock is the Painted Hills Unit, perhaps the most visually stunning part of the monument, and best visited in the late afternoon when the yellows, golds, blacks, and reds of the Painted Hills are most saturated in color and texture. It's really hard to describe how gorgeous this place is, and how unique of a landscape for the Pacific Northwest. The Clarno Unit is the furthest north and west of the three, and the only place in the park where you can see fossils up close in boulders strewn along the short hiking trails. All three units of the monument have trails, overlooks and picnic areas with restrooms.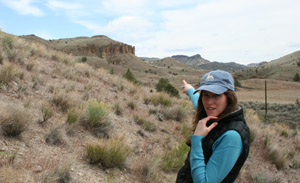 OK, so you've seen fossils and gorgeous painted hills – now what? There are plenty of other attractions and recreational opportunities within striking distance of John Day. Three National Forests (Umatilla, Malheur and Ochoco) are nearby, offering many trails for hiking or horseback riding. The John Day River is known for excellent angling and rafting. This whole area is a primo setting for a lazy, scenic driving adventure (see the Journey Through Time Scenic Byway.) And there are many great stopoffs in small towns around here with great names like Monument, Fossil and Kimberly for treats like homemade ice cream and orchard visits.
There is so much fabulous camping in the area that it would almost be a shame to not pitch a tent in one of the many scenic campgrounds. For a woodsy setting try Barnhouse Springs or Ochoco Divide in the Ochoco National Forest near the town of Mitchell. Pitch your tent along the John Day River at BLM campgrounds like Lone Pine or Big Bend near the town of Kimberly. There are numerous county and state park camping opportunities in the region as well.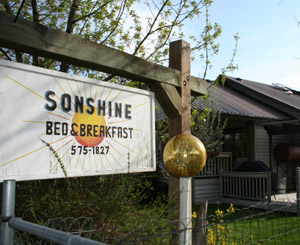 If you are interested in a roof over your head, try the Service Creek Lodge about 20 miles east of the town of Fossil. Another good bet, though a bit east of the Monument, is Sonshine Bed and Breakfast in the town of John Day (541-575-1827, $75). (update 2013 – sadly, this B&B has closed). Carolyn Stout's warm hospitality will blow you away almost as fast as her incredible homemade breakfasts each morning (she's famous for her blubarb sauce on pancakes and rice pudding). Across the street from Sonshine is another great area destination, the Kam Wah Chung Museum, an incredible stop for a unique lesson in Chinese immigrant history in 19th-century Eastern Oregon.
Become a fan of Northwest TripFinder on Facebook and never miss a post!