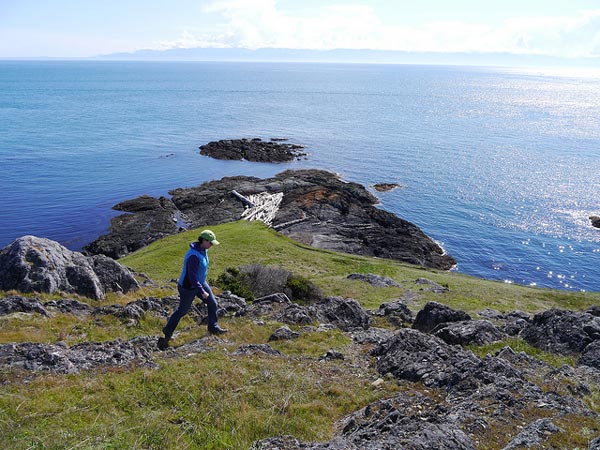 Location: Very southern tip of Lopez Island on the southwest side. Access is via nearby Agate Beach County Park, which has parking available.
The solitude you're likely to find on Iceberg Point says nothing about the beauty of the place, because if that were well known this gem would be crawling with people. As it is, Iceberg Point may be one of the most incredible public viewpoints in the San Juan Islands and on a midweek visit you could have the place all to yourself.
Most people explore this park on foot, though some explore by kayak after a launch from nearby Agate Beach County Park. Whatever your preferred mode of exploring Iceberg Point, your starting point will be nearby Agate Beach just to the north because that's where the parking is (You can tie up your bike there, too, if you're on two wheels.) There is no cost to park or launch a kayak from here.
The hike is about 3 miles round-trip and the elevation gain is minimal.
From Agate Beach, look for small, hand-made "Iceberg Point" signs on a pole – that will point you in the right direction. The start of your journey skirts private property, so be respectful of that. The signs direct hikers to walk around a gate, and when you come to a fork in the driveway keep to the left.
Your short hike will take you through tallgrass meadow sheltered by some ancient Douglas Fir and Sitka Spruce to rocky balds with amazing views. Prepare to be stunned; this landscape draws comparisons to the rocky beach outcrops of Ireland or Northern California. Wear layers to guard against the wind. Keep an eye out for orca whales that pass right by this point, especially in summer and early fall.
Iceberg Point is open year-round and is day-use only; although you can stay for the sunset, don't pitch a tent! Exploring here in winter can be particularly cool for storm-watching.
There are no facilities at Iceberg Point, but there are picnic tables and restrooms at nearby Agate Beach County Park.
More info: Bureau of Lang Management, (509) 665-2100.