Location: Southern tip of Bainbridge Island.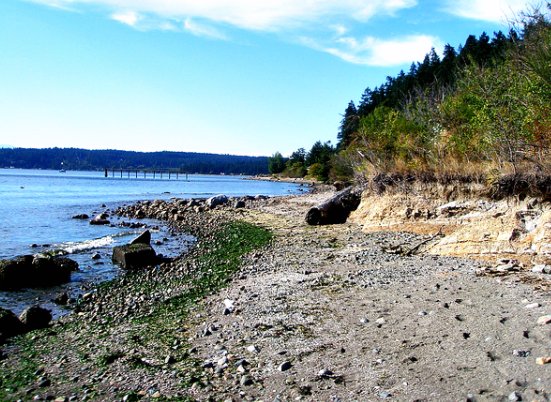 Fort Ward Park is still thought by many as a Washington State Park, but it isn't; in 2001 the land was transferred to the Bainbridge Island Metro Park & Recreation District. The park is open to the public and does not require a user fee.
It's new management is the latest in its long history of public agency managers. Fort Ward was officially commissioned as a seacoast fort in 1903 and its primary purpose was to protect the Bremerton Naval Shipyard. During World War II the fort was used as a communication station. The navy decommissioned the fort in 1958 and it was purchased by Washington State Parks in 1960, just five years after Parks purchased Fort Flagler and Fort Worden to the north.
Fort Word comprises 137 acres and 4,300 feet of saltwater shoreline on Rich Passage. It is day-use only except for some Cascade Marine Trail campsites that are $5 per night. Its two-lane boat ramp is one of its biggest attractions, and the boat launch fee is $5.
Many of Fort Ward Park's structures reflect the historic military significance of the area. Two remnant gun batteries are located in the park.
More info: Fort Ward Park is located at 2241 Pleasant Beach on Bainbridge Island (see map). Contact the Bainbridge Island Metro Park & Recreation District at (206) 842-2306 for additional information. The park is open year round, 8 a.m. to dusk.