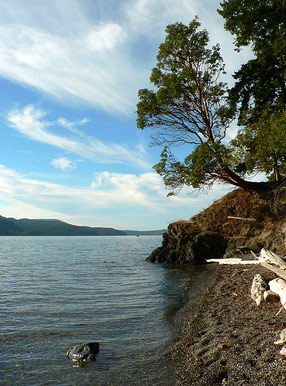 Location: Southeast corner of Orcas Island, Washington.
If ever there was a downside to beautiful Orcas Island, it is the dearth of public saltwater beaches. For this reason alone, we generally prefer San Juan and Lopez over Orcas when we want quality beach time.
But now, we know about Obstruction Pass State Park! This 80-acre waterfront parcel just past the town of Olga on Orcas Island changes things. See, it was a well-kept secret to us until recently. The park's 150 yards of pebble beach delivers major solitude in part because you have to hike to reach it (though the hike is only an easy half a mile long).
The parcel of land is owned by the Washington Department of Natural Resources and sits at the very tip  1-1/2 miles off the Olga to Doe Bay Road at the end of a gravel road. Washington State Discover Pass required.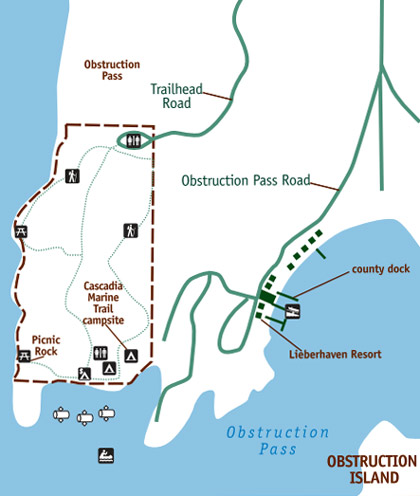 Camping: nine marine (boat-in) or walk-in primitive campsites with pit toilets, fire pits and picnic tables. Rates are$10-15. No reservations accepted, campsites are first-come, first-served.
Obstruction Pass State Park is part of the Cascadia Marine Trail, a network of  more than 50 campsites on beaches throughout Puget Sound. Campers can boat to the campsites from many public and private launch sites.
More info: (360) 376-2326