Looking to squeeze in a May getaway in Washington?
Bad news for outdoor enthusiasts – you probably won't be hiking in the Cascades just yet. Record winter snowfall has put a real damper on spring hiking and campground accessibility. You could head east and get in some great desert hiking, or hit the Olympic coast for some spring storm watching.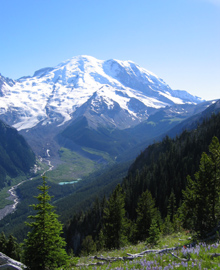 Why not time your weekend excursion with a local event or festival? May kicks off with the Rainier Independent Film Festival, May 2-4 in Ashford. Here, you'll screen true independent films in some unique venues–an authentic circular Yurt, a 1920s elementary school, or in the Nisqually Lodge. Despite the rustic venues, all projection is shown in the latest in digital technology. Info: www.rainierfilmfest.com. For a cheap sleep, check out the Hobo Inn in Elbe (360.569.2500) where you can rent out one of eight remodeled cabooses for the night that have comfortable beds and bathrooms. For about $85 a night, your caboose stay for two includes a free drink in the adjacent bar at night and breakfast in the morning.
Mid-month, grab a pair of binoculars and your spotting scope, and head to Leavenworth for the Leavenworth Spring Bird Fest, May 15-18. The Leavenworth area boasts some spectacular bird habitat, from ponderosa pine forests to wetlands. Some unique birds to the area include calliope hummingbirds (the smallest birds in North America!), white-headed woodpeckers, harlequin ducks, osprey, western tanagers and MacGillivray's warblers. While birding is the heart of the weekend, activities will also include geology, wildflowers and the arts. Professionally guided trips and activities range from leisurely strolls to active hikes–fun for experienced and novice birders of all ages. For lodging, try sleeping among the birds at one of the splendid campgrounds up Icicle Creek Road (note these are typically open by mid-May, but do call ahead to the Leavenworth Ranger Station at (509) 548-6977 just to make sure, given the heavy snowpack this year.) As for hotels in town, most are expensive but we've gotten good rates at the Linderhof Motor Inn, and at some of the chain hotels in Wenatchee, like the Super 8 or Econo Lodge.