Island life. A pace or two behind the city, of course, but isn't that why you go there?
South Whidbey Island is one of the quickest, hassle-free getaways for those of us that live in the Seattle metro area. You just pack up your car, head to Mukilteo, and get yourself on a ferry. It would be perfect, indeed, if it weren't so expensive. Well, it's not entirely expensive.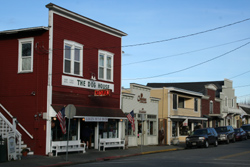 The little seaside, art-filled town of Langley probably has more bed and breakfasts per capita than anywhere else in the Northwest. An internet search to narrow down a possibility can be dizzying, and unfortunately, most of them are rather pricey. For our recent weekend getaway, I booked us a $70 room at Drakes Landing, which is not a bed and breakfast after all, but perhaps the cheapest sleep in the Langley area. And, its not bad. (Update – Drakes Landing is closed until further notice- click here.)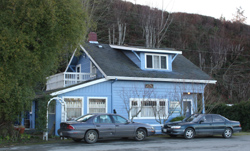 Drakes is a renovated 1914 house situated right on the Langley Marina, and from here it's just a short walk (uphill) into downtown. The owner of Drakes Landing is Christine (her parents were the Drakes) and she manages the four-room inn with her husband. Christine let us into our (small) room and had a few suggestions and menus for restaurants in town. Drakes is a friendly establishment, affordable for Langley, and in a great location. Our room was small but comfortable, with a double bed, an antique bedside table with a lamp and alarm clock, one small window, and a bath with a shower. The room is carpeted and has a coffeemaker. No phone or TV. In addition to the two $70 rooms, we saw Room C which goes for $90 and is comfortably bigger with far more natural light, a slight view, and high ceilings. There is evidently an upstairs suite as well.
After getting settled at Drakes on a crisp spring Saturday afternoon, we started our Whidbey weekend with a trip up the highway to Greenbank, specifically to the Greenbank Cellars tasting room. We're particularly fond of their Alsatian style sauvignon blanc which has a taste that I can only describe as the best granny smith apple you'll ever have. Brian likes to visit tasting rooms where he can actually talk to the winemaker, so I left him to that and went off to browse their art gallery, which features prints and cards and original artwork by Betty Rayle, one of the owners of Greenbank Cellars. Of course, Betty staffs the gallery herself, so I got to chat with her for a bit. After our purchases there, we headed to South Whidbey State Park for a late afternoon walk along the Discovery Trail. We found beach access to be closed due to winter storm damage until further notice. Hopefully the washouts will be fixed in time for the campers who come to this lovely spot in the summertime.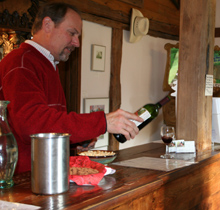 Dinner options in Langley run the gamut from pricey (The Fishbowl is a particularly good splurge) to good and cheap pizza. We opted for in between and hit Prima, a bistro upstairs above the grocery on First Street (the main drag) that has great summer deck dining in the-you guessed it- summertime. Alas, it was March. We were fortunate to get in without reservations – several tables were already reserved. We find this to be the case most places in Langley – so be forewarned. I had a great plate of fish and chips (mostly fries, but they were great fries) and Brian enjoyed a small bowl of pasta. One of Prima Bistro's high points is the wine list, which has a good selection by the glass at reasonable prices.
Langley has a sleepy nightlife, but that was fine by us. We passed on the second-run movie theater and retired to bed in hopes of waking up early enough to watch the sun rise from the docks of the marina across from Drakes Landing.
It turned out to be a perfect sun rise, slow and relaxed as it rose from behind the Cascade mountains. After that, we packed up, hit The Braeburn for some stuffed apple strudel french toast and strong coffee, and headed out for a quick hike at Ebey's Landing before catching an afternoon ferry back home, more than satisfied with our relaxing weekend that didn't break our bank account. Our whole weekend getaway cost us about $135, including the ferry trip.