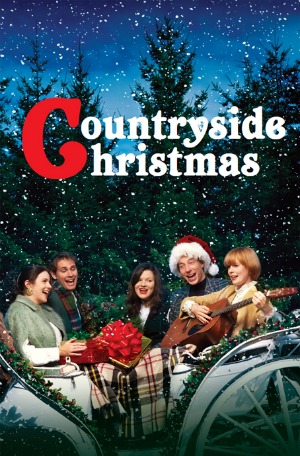 When I left the Chemainus Theatre after seeing it's new original play, Countryside Christmas, I couldn't quell the spring in my step. It was as if I'd just spent a music and folly-filled Christmas Eve with my very own family.
And I'll bet that stirring of family holiday nostalgia is exactly what the playwrights are hoping for.
Countryside Christmas  plays in real time, opening in the afternoon of Christmas Eve, 1983 at the Cornwall family cabin on Vancouver Island. Although the Cornwall children, Tom and Sissy, have flown the coop, they just can't stay away on this particular day. Family Christmas is what they live for. Every family tradition is savored, from following the family's homemade "Santa Tracker" to trimming the tree together.
The real glue that bonds the Cornwalls together, though, is their shared love of music and singing. Not that they have the same tastes, mind you. Teenager Tom rocks his long, curly locks onto the stage to ACDC's Back in Black in a plume of stage smoke. Sister Sissy, who attends University, dresses more new wave and strikes me as a girl who probably bops out to Duran Duran. Their neighbor, Whiskey Joe, treats us to a fantastic rendition of Desperado. My favorite performances were an all-family performance of Elton John's Step Into Christmas and a mother/daughter duet of You Can't Hurry Love by the Supremes – both were just brilliant and brought the house down.
While favorite family tunes and Christmas carols provide the soundtrack at the Cornwall family cottage this particular Christmas Eve, evolving family dynamics provide the storyline. Sissy's new serious relationship with a spiky-haired psychology major strains her father's tolerance and acceptance. Sibling squabbles are unexpectedly carried into adulthood. And a neighbor's crush on grandma shows that tender love can blossom at any age.
The Chemainus Theatre Festival is small-town company theatre with big town talent (many of the actors hail from Vancouver and Toronto). They put on six to seven shows a year, drawing audiences from all over Vancouver Island and the lower mainland.
Countryside Christmas runs through December 31, 2011 and you can find ticket information here.
Where to Stay: Read our review of the nearby Chemainus Inn.
Photos provided to me by the Chemainus Theatre Festival.