Taking a camping trip this weekend?  Pack your gear using our handy Car Camping Checklist and you won't forget anything, ever.

UPDATED: September 1, 2017
Going camping? There are campfire restrictions in place. In fact, 2017 marks the fifth summer in a row that has seen restrictions on campfires in the Northwest. It seems it is our new normal.
To see an updated status of all current wildfires, visit Inciweb for Washington and for Oregon. If there is a wildfire in or near an area you plan to visit, hike or camp in, it may close access roads, campgrounds and trailheads.
Current Campfire Bans and Restrictions
WASHINGTON STATE PARKS: "All eastern Washington State Parks are at a Fire Ban Level 4 or higher so wood fires and charcoal are not allowed. Many state parks in the drier parts of western Washington have campfire restrictions as well."
For a list of state parks and fire ban levels, visit the following pages (note: if these links below take you to a blank page, try a different browser. For me they work in Mozilla/Firefox but not Chrome):
• Eastern Region state parks: http://parks.state.wa.us/DocumentCenter/View/5655
• Northwest Region state parks:
http://parks.state.wa.us/DocumentCenter/View/5656
• Southwest Region state parks:
http://parks.state.wa.us/DocumentCenter/View/5654
Unless otherwise indicated, you can still have propane and gas self-contained camping stoves or propane fire pits.
OREGON STATE PARKS: Several Oregon State Parks have campfire restrictions and some have total bans. For details: http://oregonstateparks.org/index.cfm…
WA DNR lands: The Washington State Department of Natural Resources (DNR), in partnership with local county fire marshal offices, is instituting an outdoor burn ban effective 12:01 a.m. Friday, Sept. 1 until further notice. The ban applies to all outdoor burning including recreation fires on state forests, state parks and forestlands under DNR fire protection within Whatcom, Skagit, Snohomish, Island and San Juan counties. This ban also includes all outdoor fires on improved lands under county jurisdiction. Burn restrictions on federal lands such as national forests, national parks, national wildlife refuges or other areas administered by federal agencies are set by local ranger stations.
NATIONAL PARKS:
North Cascades National Park has banned campfires and the ignition of wood, briquettes or any fuel in fire pits, fire pans and barbeque grills. This ban includes the national park as well as Ross Lake National Recreation Area and Lake Chelan National Recreation Area. It includes all National Park Service lands and campgrounds along State Route 20 as well as Hozomeen and the entire Stehekin Valley. Fires powered by gas or propane stoves are allowed.
Olympic National Park has less stringent campfire restrictions in place. Starting 9/1, campfires are allowed only in developed campgrounds & picnic areas.
NATIONAL FORESTS:
Okanogan-Wenatchee National Forest: ALL campfires banned since Aug 19. Prohibited: Maintaining, attending, or using a fire or campfire, and use of charcoal briquette barbecues, Tiki torches, and other devices that use solid fuel.
Mount Baker Snoqualmie National Forest: As of Sept 1, ALL campfires are banned throughout the forest. The campfire restriction will remain in effect until October 31, 2017 or rescinded based on weather conditions. The Fire Use Restriction Order prohibits the following: Building, maintaining, attending or using a fire, campfire, briquette fire, or stove fire.
Olympic National Forest: Starting 9/1, campfires are allowed only in developed campgrounds & picnic areas.
Some national forests in Oregon have banned campfires outside of developed campgrounds, including Siuslaw and Willamette National Forests.
Does Your Campground Allow Campfires?
Northwest campgrounds are managed by many different public land agencies and scattered throughout many different counties that might have burn bans. If you're headed out for a camping trip this summer and want to know whether or not you can have a campfire, try these steps:
1) Check with the agency that manages the campground to see if any campfire restrictions are currently in place.
2) Check to see if the county the campground is in has enacted a burn ban, and if it extends to recreational fires in campgrounds. Many county burn bans make exceptions for designated fire rings within national parks or forests within the county. Each case is different.
Please note, even if your destination campground is allowing campfires at the moment, conditions can change quickly. Land managers have the discretion to restrict campfires in campgrounds at any time based on their assessment of current conditions. If you plan to cook over a campfire, bring a camp stove and fuel as an alternate for cooking your food just in case you arrive and find out you can't have a campfire after all.
Please follow all campfire rules and ban regulations. Fines just for violating a burn ban range from $100-$5000 and can include jail time, and the personal cost to you could go much, much higher if your campfire sparks a wildfire.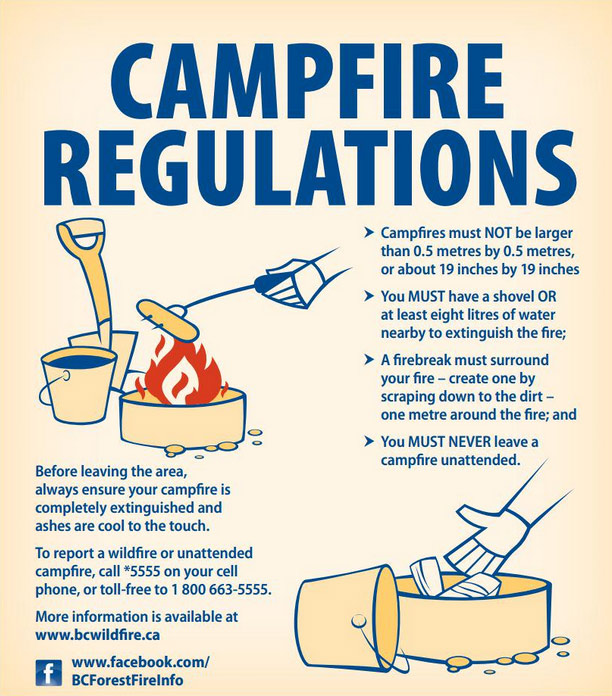 More on Northwest Campfire Bans
To report a wildfire in Washington, call 1 (800) 562-6010.
Wondering how you will make s'mores over a gas grill or bbq? It can be done.