ACTION ALERT: This land is your land… but it'll cost you! Your comments are needed now to stop a 180% increase in the admission fee for National Parks to $70 per vehicle in 2018.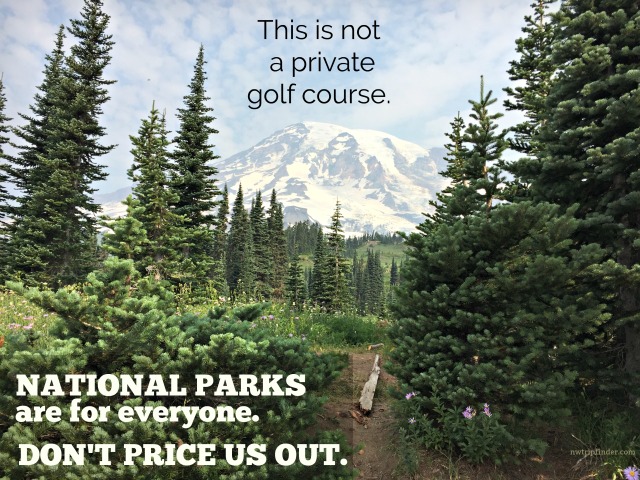 When was the last time you soaked in the majesty of a giant Sitka Spruce in Olympic National Park, or meandered through a wildflower meadow on the flanks of Mt. Rainier National Park? I've got some bad news for you – this incredible experience of enjoying our public lands is about to cost you about three times as much as it did before.
If you visited these natural treasures in 2017, you paid $25 for your vehicle to enter the national park. If you visit one of these national parks in 2018, you will pay $70 to get in. Yes, you read that right, $70 to enter your national park and hike your national park trails. While some can afford the new fee, for hundreds of thousands of families in the Pacific Northwest this unexpected fee hike puts our national treasures out of reach.
THE ISSUE: The Trump administration has proposed a massive 180% increase to the national park entrance fee at 17 national parks starting in 2018. The list of parks that will charge $70 per vehicle includes two in the Pacific Northwest: Mt. Rainier National Park and Olympic National Park.
Other parks on the list are Denali, Glacier, Yosemite, Sequoia / Kings Canyon, Canyonlands, Grand Teton, Zion, Bryce, Arches, Yellowstone, Joshua Tree, Rocky Mountain, Shenandoah, Acadia and Grand Canyon. The reason given for this unprecedented fee increase is to fund deferred maintenance projects in our parks which would cost $11.3 billion. The news of this increase just dropped yesterday, October 24, 2017. Citizens have just 30 days (until November 23, 2017) to submit a comment on this proposal.
Theresa Pierno, President of National Parks Conservation Association, has this to say about the proposed fee increase:
"We should not increase fees to such a degree as to make these places – protected for all Americans to experience – unaffordable for some families to visit. The solution to our parks' repair needs cannot and should not be largely shouldered by its visitors.
"The administration just proposed a major cut to the National Park Service budget even as parks struggle with billions of dollars in needed repairs. If the administration wants to support national parks, itneeds to walk the walk and work with Congress to address the maintenance backlog."
WHAT YOU CAN DO:
Submit a comment opposing this fee increase before November 23 at this link: https://parkplanning.nps.gov/document.cfm?documentID=83652
Share this action alert with your friends and family and urge them to comment as well.
TALKING POINTS FOR YOUR COMMENTS OPPOSING THE FEE INCREASE:
Note: Northwest TripFinder is committed to sustainable, affordable local travel and recreation that benefits the travelers and communities they visit, and we strongly oppose this fee increase for many reasons. These talking points support our position. We hope you find them helpful in crafting your own comments.
The fee increase is elitist and unfair. It prices millions of Americans out of nature. Our nation's National Parks belong to everyone, regardless of income, society status, age or ability. Millions of low and middle-income American families will be priced out of our parks if there is a $70 entrance fee. Our parks are not a gated community, luxury golf course or private amusement park. They belong to us!
This fee increase will hurt the economies of rural gateway communities to our national parks who depend on tourism. Recreation on public lands is one of the biggest sectors of Western states' economies. When families visit our national parks, they stop and drop money in surrounding gateway communities for gas, gear, lunch, and lodging. The 180% fee increase will not only result in fewer visitors to these small towns, but those who do visit will have less money left over in their wallets to spend. It's important to note that many of these rural gateway communities are in red counties, they're in Trump Country, and they might not be pleased to see their economies hurt by this short-sighted fee hike.
Annual fee increases should be incremental, no more than 30% per year. Past entrance fee increases to our national parks have been incremental ($5 per year, a 20-30% increase) and vetted through extensive public processes and visitation modeling. This method has lessened sticker shock for visitors, and helped ensure visitation numbers will not be unexpectedly lower than prior years. If the administration wishes to continue to increase entrance fees, it should follow this model. Increasing the entrance fee by 180% in one year is far too risky when the parks and surrounding gateway towns depend on park tourism dollars for their livelihoods.
Find smarter ways to address the maintenance backlog in our national parks. Tell the Trump administration to get to work with Congress on providing sensible, long-term funding for the National Park Service. It's not fair or smart to put the burden on park visitors.
For more talking points, visit the following great resources:
National Parks Conservation Association – The 17 Parks Where Entrance Fees Could Skyrocket — and What You Can Do
National Geographic – More Expensive National Parks may Threaten Access to Nature
Sierra Club – Our National Parks Might Become a Gated Community