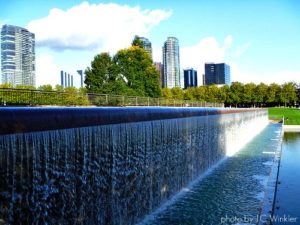 Bellevue is having a coming of age moment.
The construction cranes that littered the downtown skyline just a few years ago are gone. In their place are towering glass boxes that house the likes of Microsoft offices and luxury condos. You think Seattle has high-end shopping? Bellevue has higher end shopping. It's called The Bravern if you want to go. I peeked in one of the windows, but wasn't quite sure my Converse All-Stars would fit in at Jimmy Choo.
Bellevue prides itself as a shopping mecca, and weekenders flock here from as far away as British Columbia for a Neiman Marcus fix. This upper-crust slice of Bellevue's culture pie dominates its reputation, especially across the lake in Volvo-driving Seattle where I live. Ask a Seattleite their impression of Bellevue and you might here a snarky retort with adjectives like sprawling and homogeneous.  The perception of Bellevue as a sleepy, wealthy suburb persists.
But a transformation is taking place, and Bellevue is emerging out the other side as more of a twin city than a suburb.
On a recent visit to Bellevue I took a stroll around downtown to get a street-level view of how the city has evolved culturally. I noticed city streets are slowly making room for bicycles next to the ample lanes for SUVs. Pedestrians have taken over the widened downtown sidewalks. Over on historic Main Street, small independent shops are holding their own alongside the Bravern and Bellevue Square chain stores. And all around me I heard languages spoken that were not my own – Mandarin, Spanish, Russian, French, Vietnamese.
Over a third of Bellevue's residents were born outside of the United States. More than 40% are ethnic minorities, a good chunk of those Asian-American (including its Mayor, Conrad Lee, who is from Hong Kong). Over 80 languages are spoken by students in Bellevue's public school system, which is ranked as one of the best in the nation.
What happens when a city known more for its population of Birkin bags or free parking stalls is suddenly one of the most culturally diverse cities in the Pacific Northwest? It becomes an intriguing place to visit, I'll tell you that much.
Okay, I'll tell you more. Below is my trip guide to Bellevue. Pay this changing city a day trip or overnight visit to see the transformation for yourself.  Grab a coffee at Belle Pastry alongside European ex-pats chatting over their morning cups. Stroll through Downtown Park on a summer day. Stop by the Bellevue Arts Museum to take in the rotating exhibits that showcase crafts and design. Paddle in an urban wetland. Go bowling. Eat steamed dumplings. And if you want to, by all means go shopping.
__________________________________________________________________________
DO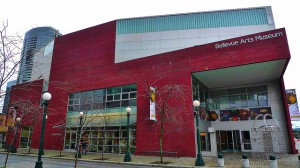 Bellevue Arts Museum
510 Bellevue Way Northeast  
map
(425) 519-0770 | 
bellevuearts.org
Head to the Bellevue Arts Museum in the heart of downtown to take in the rotating exhibits that showcase the fine art of craft and design.  There's always something of interest to see here, and the exhibits are constantly changing. It's a modern exhibition space that invites intimate viewing and learning about featured works by Northwest artists as well as national and international craftspeople. New exhibitions include Gathering up the Fragments: the Andrews Shaker Collection and Knitted, Knotted, Twisted & Twined: The Jewelry of Mary Lee Hu. Admission: $10 adult / $7 senior / $25 family / kids under six free. Hours: Tuesday – Sunday: 11am – 5pm, Free First Friday: 11am – 8pm.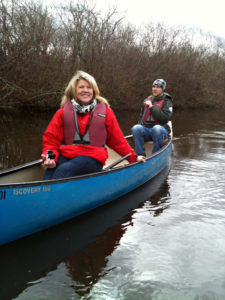 Paddle Mercer Slough
Enatai Beach Boathouse 3519 108th Avenue Southeast, Bellevue  
map
Canoe or kayak? That's the only choice you'll have to make before paddling away into the largest wetland complex on Lake Washington.  Rent your boat at the Enatai Beach Boathouse (see rates), put on your life vests (very important!) and paddle into the Mercer Slough. Keep an eye out for Great Blue Herons, dabbling ducks like Mallards and Gadwalls, Song Sparrows and many more species of birds. On a recent paddle trip we spotted a river otter and he wasn't too shy, giving us plenty of good looks at him as he swam around in the water. Want to go with a guide? You can do that too.  The Bellevue Parks Department offers half-day guided canoe trips with a park naturalist for just $16 a person on Saturdays and Sundays, May – September. The trips depart at 8:45am.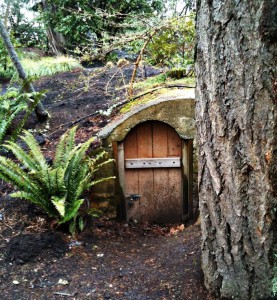 Bellevue Botanical Garden
12001 Main Street, Bellevue  
map
(425) 452-2750 | 
bellevuebotanical.org
Who's behind the hobbit door? Little surprises around every corner are what make the beautiful Bellevue Botanical Garden a fun place for visitors of all ages. New to this 53-acre refuge is a cool 150-foot long suspension bridge across a wooded ravine that gets you up close and personal with the lush tree canopy. The various gardens themselves, from Rhododendron Glen to the Japanese Yao Garden, provide quiet places of serenity and beauty. See a map of the gardens and trails. A series of trails take you from one garden to the next. Come to get ideas for your home garden, like water-wise plant ideas and perennial border design.  Check their calendar for upcoming plant sales or summer concerts, and around the holidays come for their popular holiday light festival. Bellevue Botanical Garden is free and open daily from dawn to dusk.
Downtown Park
10201 Northeast 4th Street
map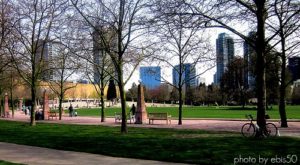 Set between Bellevue Square Mall and Main Street is one of the region's greatest urban parks. This 20-acre expanse of green, much of it grass sprinkled with trees, helped transform downtown Bellevue into a truly livable urban community.  A circular tree-lined promenade about a half-mile long follows a stepped canal that eventually spills over into a reflecting pool that is popular with mallard ducks. I love how there's ample room for city dwellers to do whatever kind of passive recreation they want to. Come on a sunny day to toss a frisbee, take a jog, have a family picnic or just read on a blanket under the shade of a cherry tree. There's a children's playground in the park's southwest corner.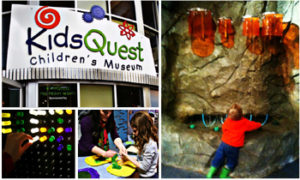 KidsQuest Children's Museum
4091 Factoria Square Mall Southeast  
map
(425) 637-8100 | 
kidsquestmuseum.org
If your kids like to splash, build things, climb and create things, they'll love Bellevue's hands-on children's museum. Here are just a few of the things they'll enjoy here: climbing in the cab of a real Peterbuilt purple rig, using buttons to make water rhythmically drop on drums, making images on a giant light bright board, watching teeter and totter, the resident red-eared sliders, and climbing around in a giant enclosed treehouse. For now, KidsQuest is out at Factoria Mall, but will be moving in 2015 to downtown Bellevue. Admission: $8 (12 months and under free).
Go Bowling
Lucky Strike Lanes 700 Bellevue Way Northeast #250, Bellevue  
map
(425) 453-5137 |
bowlluckystrike.com
Posh and dimly lit, patrons here are more likely to be sipping martinis than tall boys of PBR. In other words, this is not your vintage neighborhood bowling alley. It is a state-of-the-art bowling and arcade facility with top-shelf prices to match. The place turns 21 and over after 8pm.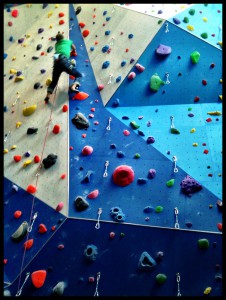 Stone Gardens – Indoor Climbing Gym
Crossroads 15600 Northeast 8th Street, Bellevue  
map
(425) 644-2445 | 
stonegardens.com
Want to try rock climbing? I climbed for the very first time here at Stone Gardens in Bellevue and could not have had a more supportive, fun time of it. The expansive facility (over 21,000 feet of climbing terrain) has multiple areas and configurations to please all levels, even the total beginner (like me!) There's a tilting wall, belay and rappel ledges, top out bouldering, 40 foot walls, and a cool kids area. Stone Gardens also provides all the equipment you need to climb. Beginners should call ahead to reserve one of their instructors to introduce you to the basics of climbing and assist you – to do this ask for a "Pro Belay." An instructor will assist you and your group of up to four climbers to take turns climbing while he or she manages the rope for you. Pro Belay is $50 an hour for up to four people and includes all equipment. To use the facility on your own, rates are $18 per day for adults and $13 per day age 14 and under. Add on $10 to rent climbing shoes, harness, belay device and chalk bag, or bring your own.
Bellevue Strawberry Festival
June 28-29, 2014 |
more info
__________________________________________________________________________
SLEEP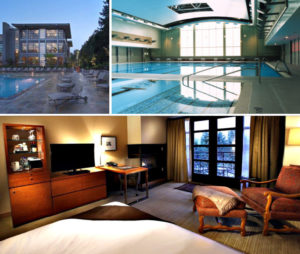 Hotel Bellevue
11200 Southeast Sixth Street, Bellevue  
map
1 (800) 579-1110 | 
thehotelbellevue.com
This is one of the nicest hotels in the entire Seattle area, and completely unique in that it's adjacent to the uber exclusive Bellevue Club where hotel guests enjoy full use of those awesome facilities as part of their stay. The health club is staggering, with 200,000 square feet of fitness and wellness spaces. These include three pools (two are indoor and different temperatures), six indoor tennis courts, 80 fitness classes a week (Zumba, yoga, cardio, etc.), multiple cardio rooms, racquetball courts, a pilates studio, a childcare room, a climbing gym, a full-service spa, four different restaurants, and more. The hotel rooms are pure luxury and modern, with plenty of extras like fluffy robes, bath salts, ample desk room to work on a laptop, and a terrace or balcony. The hotel and club have multiple common areas, rooms and libraries where guests can read, work or just hang out. Hotel Bellevue is independently-owned and the service is superb. Weekdays are busy here with business travelers, but room availability is common on the weekends and rates are lower. The hotel provides two chauffeured town cars available for guests, gratuity only. Come here for a family staycation (there is so much for the kids to do in the athletic club, including movie nights in the pool!) or for a romantic getaway. Weekend rates range from $199 – $254.
Other accommodations in Bellevue include high-end chain hotels like the Westin and the Hyatt. If you're on a budget, check rates at the Silver Cloud Inn and the Coast Bellevue Hotel. You're likely to find a weekend rate at either of these for $110 – $130.
__________________________________________________________________________
EAT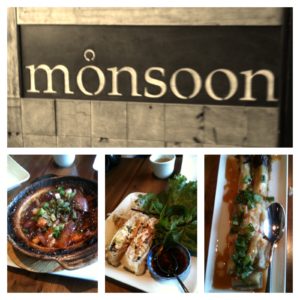 Monsoon East
10245 Main St., Bellevue  
map
(425) 635-1112 | 
monsoonrestaurants.com
Sophie and Eric Bahn brought simple, modern Vietnamese to Seattle in 1999 with Monsoon on Capitol Hill. To the delight of East-siders, the Saigon-born sibling chefs opened their Bellevue branch on Main Street ten years later, adding a raw bar and cocktails to their offerings. Start with the green papaya salad with caramelized pineapple and peanuts, or something from the raw bar like fresh local oysters. Among my favorite entrées are the claypots, particularly the caramelized Idaho catfish claypot with sweet onions and cracked pepper. The asian eggplant with lemongrass in spicy coconut milk is delish.
Mayuri
15400 Northeast 20th St #6, Bellevue  
map
(425) 641-4442 |
mayuriseattle.com
My friend Shiva brought me to Mayuri for the first time a decade ago, declaring it the best choice in the Seattle area for authentic, delicious south Indian cuisine. I returned many times to feast on Sambar, Paneer Masala Dosa, Karaikudi, Guthi Vankaya and much more. Mayuri's menu is not limited to south Indian dishes and they specialize in northern dishes as well, but there are so few Indian restaurants that serve any south Indian cuisine in the area that you should order a few of those items even if you have your heart set on a northern dish, like Mayuri's famous murgh makhani (butter chicken).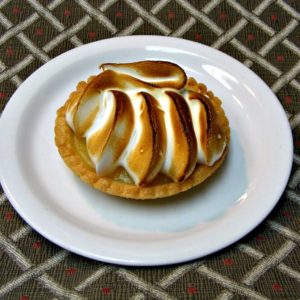 Belle Pastry
10246-A Main Street, Bellevue
map
(425) 289-0015 |
bellepastry.com
Where is Seattle's best croissant? When the Seattle Times set out to answer this question last year with a cadre of croissant connoisseurs, they settled on two winning bakeries. One of the winners was Belle Pastry in Bellevue. Chef-owner Jean-Claude Ferré has been making flaky, buttery croissants since the 1960s in Paris. Beyond basic croissants here are a variety of cookies (try the palmier) , pastries, artisan breads, daily soups and sandwiches. Belle Pastry is a bit of a hangout for European expats, and I always enjoy sipping a Caffe d'Arte coffee in here while listening to the chorus of different languages all around me.
Ginza Japanese
103 102nd Avenue Southeast (just off Main St), Bellevue  
map
(425) 709-7072
Where's the best sushi in Bellevue? On Main Street, at Ginza, a small joint that is almost always hopping with regular customers. We're talking super fresh, melt-in-your-mouth sashimi and perfect rolls. And if you don't care for sushi, they have Japanese dishes like nasu dengaku (broiled eggplant with a delicious miso-based sauce) and kabocha (pumpkin) fried rice that draws eaters from as far away as my neighborhood in West Seattle, at least. Though I love sushi, too, so I usually leave here quite satiated.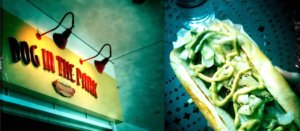 Dog in the Park
575 Bellevue Sq (outside Bellevue Square)  
map
Skip the mall chain food and head outside for the best hot dog you'll ever eat. We love this locally-owned cheap eat on the east side of Bellevue Square, located just across the street from the Bellevue Art Museum. It's a walk-up food stand with cafe tables outside to eat on. We order tofu dogs, but they have 100% beef and others. They'll make your dog to order and fry up a whole mess of onions and cabbage to top it off with. Add more goodies, like horseradish, mustard or jalapenos at their topping bar. Order a lemonade — it's fresh-squeezed.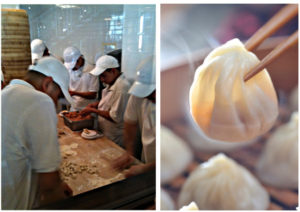 Din Tai Fung
700 Bellevue Way NE Ste 280
map
(425) 698-1095 
This place makes dumplings, though they are no ordinary dumplings. Din Tai Fung is a small Taiwan-based chain with only two restaurants in the United States, one of them in Bellevue's Lincoln Square. While you're out in the hallway waiting for your table (and unless you show up as soon as they open, you'll probably be waiting for a table) you can watch the dumpling-makers make dumplings through the window. The small steamed dumplings are called Xiaolongbao. Order them stuffed with pork, crab or vegetable. Other popular dishes are the chicken-fried noodles, green beans with garlic, baby bok choy, and Shanghai rice cakes.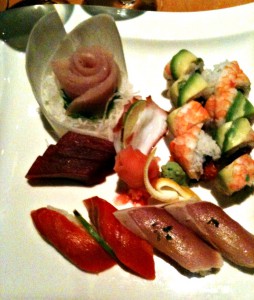 SeaStar Restaurant and Raw Bar
205 108th Avenue Northeast, Bellevue (425) 456-0010 /
seastarrestaurant.com
Feel like splurging?  SeaStar showcases Northwest cuisine and does an especially nice job with seafood dishes and wine pairings. Raw oysters and crab cakes are delicious as starters. Ahi poke is a good choice from the raw bar, and the sushi chef's platter with sashimi, maki and nigiri sushi is super fresh and filling. SeaStar is known for its cedar plank roasted wild salmon and  grilled scallops wrapped in pancetta. Parking is valet. There's a good-sized bar as well as an expansive dining room, so take your pick. Opened in 2002, SeaStar was the first restaurant from local chef John Howie (there's a SeaStar in Seattle now too, and he also owns John Howie Steak in Bellevue).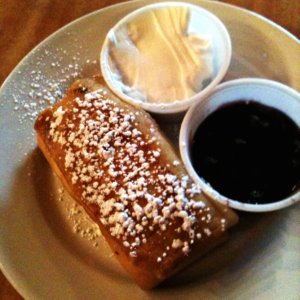 Goldberg's Famous Deli
3924 Factoria Boulevard Southeast, Bellevue  
map
(425) 641-6622 | 
goldbergsdeli.com
Where can you get a farmers' cheese blintz with a side of blueberry sauce in Bellevue? The exact same place you get lox and a bagel, a potato knish and a Reuben piled sky-high with corned beef– at Goldberg's Famous Deli in Factoria Mall. The belly lox and rugalesh ships from NYC. Save room for New York Cheesecake or a Banana Split for dessert. This deli has a fun vibe and is kid-friendly, a perfect spot to stop after playing at nearby KidsQuest Children's Museum (see above).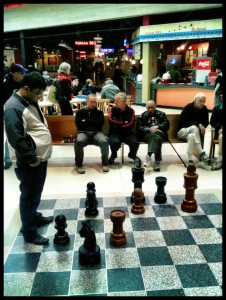 Crossroads
15600 NW 8th St, Bellevue
map
crossroadsbellevue.com
Crossroads is an older mall in east Bellevue, yet this community-centric shopping center and its multicultural food court are unlike any mall I've seen anywhere. Owned and developed by Ron Sher, the bright mind that brought us Third Place Books in Lake Forest Park and Seattle, Crossroads is a gathering spot for nearby residents to create, play, learn, communicate, and yes, eat. The food court has 20 restaurants and only one of them (Starbucks) is a chain – all the rest are independent. Your head will spin from all of the wonderful food choices — Indian, Ethiopian, Chinese and Greek are just a few. The huge dining area is bordered by a giant chess board on one end and a bandstand on another. You'll see kids gathered around tables doing their homework in one spot and teens playing dungeons and dragons in another. Crossroads is a vibrant, lively part of the city of Bellevue, and I highly recommend a stop here.
__________________________________________________________________________  
SHOP
Downtown Bellevue is a shopper's paradise. The stores are seemingly endless and there is plenty of free parking for shoppers. For details on store locations and hours for places like Nordstrom, Apple, Anthropologie, Sur La Table, Crate and Barrel and the like check out The Bellevue Collection (aka Bellevue Square – if you have kids don't miss the third floor play area–it's awesome) and the newer, swanky mall to the east, The Bravern.
In east Bellevue, Crossroads is an older mall with stores like Michael's Crafts, JoAnn Fabrics and Half-Price Books. Like I mentioned just above, Crossroads is a community hub and has a lot more going on than just shopping.
Bellevue's old town Main Street is where you'll find small independent shops like Glassy Baby and Fran's Chocolates.
Here are my picks for where to shop in Bellevue.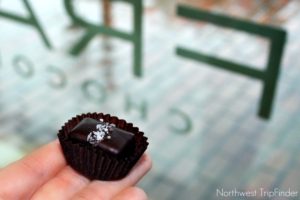 Fran's Chocolates
10036 Main Street, Bellevue  
map
(425) 453-1698 | 
franschocolates.com
If you take a stroll along Bellevue's old town Main Street, make a stop into Fran's Chocolates. Their confections are delicious and come in beautiful packages, so if you've got a gift to buy, you cannot go wrong here. My favorite truffle is Fran's grey-salted caramel, and the story around this tasty truffle is that Fran was the first chocolate maker to put salt on top of a caramel. Sweet.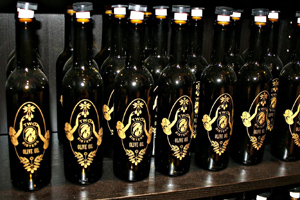 Two Sister's Olive Oil
10129 Main Street, Bellevue  
map
(425) 454-2194  |
twosistersoliveoil.com
I make my own salad vinaigrette, so I was pretty delighted to find myself in this little storefront in old town Bellevue surrounded by stainless steel tasting carafes of herb and fruit-flavored oils balsamic vinegars. Taste as much as you like before you buy, and try pairing them up – the owners will gladly make pairing suggestions. I took home an orange-infused extra virgin olive oil that has been delightful on spring greens, and a cinnamon pear balsamic that I drizzle on vanilla ice cream. Yum.
Bellevue Farmers Markets
bellevuefarmersmarket.org
The mega Whole Foods Market just east of downtown Bellevue is an easy stop for organic foods, but if you want the absolute freshest produce and flowers, much of it from farms in eastern King County, seek out one of the weekly summer and fall farmers markets.
Thursdays, 3 – 7 pm from May 10 – Oct 11 at First Presbyterian Church, 1717 Bellevue Way NE  map (service dogs only)
Saturdays, 10 am – 3 pm from June 2 – Nov 17 at First Congregational Church, 752 108th Ave NE  map  (dogs allowed)
There's a third Farmers Market in town at Crossroads on Tuesdays.
Tuesdays, 12-6:30pm, Southeast Parking Lot of Crossroads Mall, 15600 Northeast 8th Street map
__________________________________________________________________________
GETTING AROUND
On a bike? The city has this full-color map of recommended bike routes.  Here's a map of downtown Bellevue that shows the location of bike racks.
Walking? View or print this walking map of downtown Bellevue.
Driving? Here's a link to driving directions to Bellevue. Parking is generally plentiful and often free.
On the bus? It's totally possible to get to and around Bellevue without a car. Like Seattle, King County Metro serves the city of Bellevue, and its bus system is very good. Here's a map to Bellevue bus routes. The best route from downtown Seattle to downtown Bellevue is Sound Transit Route 550. From SeaTac Airport to downtown Bellevue, try Sound Transit route 560.
__________________________________________________________________________
TRAVEL TIPS
Bellevue is full of business travelers during the week, so look for discounted hotel rates on weekends. Ask about packages, too, as many hotels offer shopping packages where you might get a gift card with your room.
For more information on traveling to Bellevue, check out visitbellevuewashington.com
About the Bellevue Trip Guide: I've visited Bellevue many times and wrote this trip guide based on several recent trips, including one visit that was arranged and hosted by Visit Bellevue. I appreciate their financial assistance in my research and the local knowledge they shared with me to make this Trip Guide possible.