I quit my job.
Really. Yes, in this economy. No, I'm not crazy. Well, yeah, sure, I am a little. But I'm not that crazy.
After nine awesome, incredible years as the communications director for Washington Trails Association, I decided it was time for a change. You can read about it here if you want to.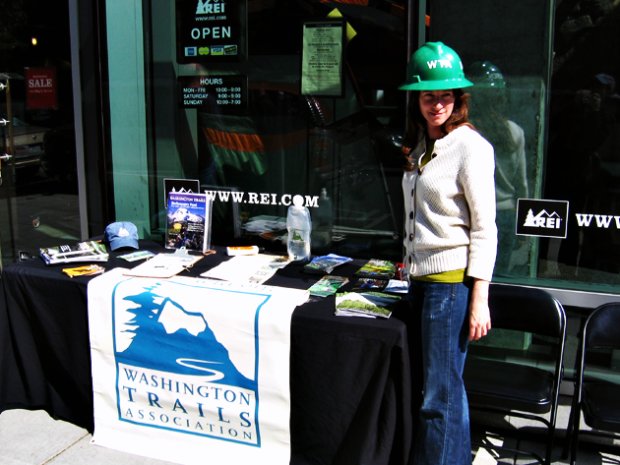 It's been exactly two weeks since my last day at WTA, and in that time I have planted two of my four garden beds, met with the editors of two local magazines on freelance writing projects, and took an incredible 5-day trip with my family down Washington's coast with stops at Copalis Beach and Long Beach. I rode a horse in the sand, ate more oysters on the half shell than I can count on both hands, and combed beaches for seashells with my son. So far, it's been pretty darn good.
To be honest, part of the reason I left my day job is to spend more of my time and energy right here, with Northwest TripFinder. I am passionate about local, sustainable travel. I love the Pacific Northwest. I love to travel here, and I love to write stories about it. I like inspiring people to explore their backyards and support the small town economies that thrive on local tourism. Northwest TripFinder's traffic is growing. We've gotten 17,485 pageviews in the past month, almost all of that from Washington, Oregon, California and British Columbia. I'm truly excited about what the future holds for this website.
The thing is, I need to cultivate ways to generate some income for Northwest TripFinder so that I can keep this great website great. You can help support this website. You can like us on facebook and tell your friends to become fans, too. You can share our content through facebook, twitter or pinterest. You can do your online shopping through our Amazon Store link, earning us a small commission from whatever you buy with no additional cost to you. You can support our sponsors when you travel, many whom offer nice discounts to our readers, like Kitsap Tours (20% off) or Blue Goose Inn B&B ($10 off). When you stay at an inn or visit a winery you found through Northwest TripFinder, please let them know. When you return from a local trip, share your Trip Story right here, and we'll publish it. Every little bit of your support helps, and it is deeply appreciated.
And now, back to our regularly-scheduled Friday. Here are a few recent local travel stories I thought were worth sharing.
1. Washington state is home to over 600 wineries, a number that boggles my mind. Wine Enthusiast Magazine recently profiled four of the state's wine regions: the Columbia Gorge, Lake Chelan, Walla Walla and Woodinville, and included a bunch of useful info for each like where to eat, the best tasting rooms to stop at, and even budget travel recommendations. For example, in the Gorge they tout the affordable 1923 cabins at Carson Mineral Hot Springs as an overnight option. Bookmark this article for your next wine country excursion.
2. Next time you're on an Oregon beach, look down. There's food under your feet! I spent much of the past week happily noshing on bivalves, so I was excited to read Digging for Dinner on Oregon's Beaches in the Seattle Times. Writer Cheryl Lu-Lien Tan takes us through her briny adventure digging for razor clams on a northern Oregon Coast beach, then making a delicious chowder from her foraged treasures.
3. In just a month, the desert lands of eastern Oregon and Washington will be hot–too hot to hike for some. But now, right now, the wildflowers are blooming and the birds are singing. Check out this online guide to desert hikes in Washington to get yourself in the sagebrush.
4. I was born in a small town. And I can breathe in a small town. That's why I love this article in Seattle Mag this month –  Cascade Escapes: Small Town Getaways. From Snohomish to Winthrop, they find us all the western flair-filled getaways our small-town hearts desire.
5. Did you know that Cascade Huts just added two additional backcountry huts on Mt. Hood? Neither did I. Read about it here.
Like this article? Like us on Facebook and get more like it, every day.