Pssst. I'm writing this blog post in a whisper.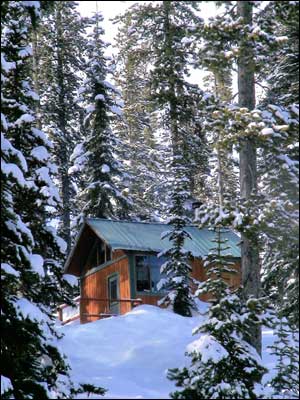 Just to the northwest of Leavenworth, Washington, nestled in the Chiwaukum Mountains near larch-ringed lakes, is a very special place. It's a collection of rustic, cozy cabins near a fabulous network of hiking and ski trails. Indeed, if paradise were found at 5000 feet elevation in the North Cascades, it would probably be called Scottish Lakes High Camp. And although its existence is hardly a secret to many of the state's avid hikers and cross-country skiers, it feels like it should be. Yet here I am telling you all about it. The truth is, I can never keep a great place to myself!
And neither can Pam Roy, a member of Washington Trails Association. Pam recently penned a piece for Washington Trails magazine, The Joys of High Camp, writing of her winter adventures there, both past and present. High Camp's glorious ski trails and blazing autumn foliage have lured outdoor lovers for over three decades, and Pam's article got me thinking about returning there for a visit myself.
My own Scottish Lakes High Camp adventure was in October a few years back for a staff retreat. The larch trees, native high-elevation conifers whose foliage turns bright yellow in autumn, were just starting to blaze. We hiked the network of trails to nearby lakes and lookouts, cooked dinner and played board games together in the main lodge, and soaked our stresses away in the funky wood-fired hot tub. Our sleeping quarters were rustic cabins named for Cascade wildflowers, like trillium and lupine, heated with wood and lit by light from propane. Our daydreams were of a return trip to ski in the middle of winter, where blue skies and powdery snow keep the reservation booklet there full for weeks in advance.
Visit their website, call 509-763-3044 or email to hicamp@scottishlakes.com for more information and reservations. But keep your voice down – we certainly don't want everyone to know about this awesome place!